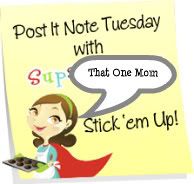 It's Post it Note Tuesday again... time to play with sticky notes!
They can be fun, lighthearted, notes to self, to do lists or just plain bitch notes left for others. Your choice. Get creative.
For some reason my computer keeps messing up when it comes to making the Post-it Notes, so today's version will just be me writing. If I spend anymore time trying to figure out what's going on with the damn computer, I will loose my mind!