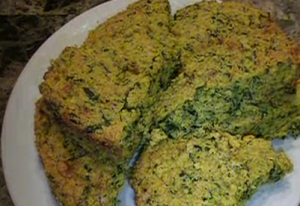 See Video Below
Delicious, Delicious, Delicious! That"s all I have to say about this cornbread.  Enjoy!
Low Carb Cornbread
1 1/2 cups almond flour
1/4 cups coconut flour
1/4 cups wheat protein isolate 8000
1/4 cups soy grits
1 teaspoons baking powder
4 tablespoons melted butter
1 tablespoon splenda
2 eggs ( beaten)
1 cup calorie countdown milk
1 tsp turmeric
1/2 cup of Gorgonzola cheese
2 tablespoons chopped chives
Method
Mix the dry ingredients together. Then set aside.
Mix the wet ingredients together and pour into the dry mixture.
Pour mixture  into a 9 inch dish.
Bake at 400 degrees for 25 minutes.
Serves 12