by

Sharon |
March 8, 2013 · 6:16 pm
What colour do you associate with Spring?
For me, it has got to be ♥ yellow ♥ 
Everywhere I look at the moment, I'm seeing this beautiful, fresh colour.
In my garden the yellow primroses are in bloom…
as are the sweet little narcissus.
It won't be long before the daffodils are in full bloom too

As well as being the colour of spring, yellow also happens to be my mum's favourite colour ♥
Here in the UK, it's Mother's Day on Sunday.  I haven't seen my mum since Christmas so I'm really looking forward to spending the day with her.  Inspired by her favourite colour, I've chosen to bake a Lemon Drizzle Cake to give her on Sunday as a little home-made treat.
With its light texture, zingy citrus flavour and flecks of bright yellow zest, I think this is the perfect cake for this season.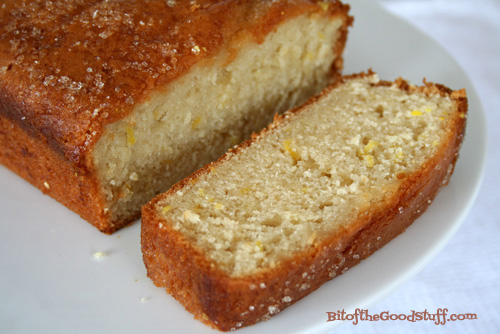 Since I'm giving this cake as a gift, I haven't 'healthified' it to the extreme (I'm sure my mum will appreciate that

).  However, it is free from dairy and eggs, so will be suitable for anyone with those allergies.  I've also given tips below on how it could be made sugar and wheat free.
Lemon Drizzle Cake is meant to be a light and fluffy sponge, which is why I opted to use white flour instead of wholemeal.  I also added some apple cider vinegar to the batter, which helps to give a lighter texture to egg-free cakes.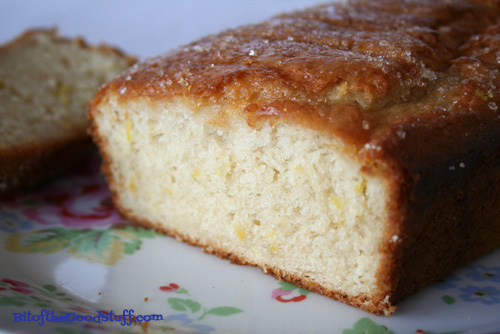 To make the cake super zingy and moist, once it was cooked I pierced it all over with a toothpick and drizzled over the juice from a freshly squeezed lemon mixed in with a couple of tablespoons of granulated sugar (which gives the top of the cake a great, crunchy texture).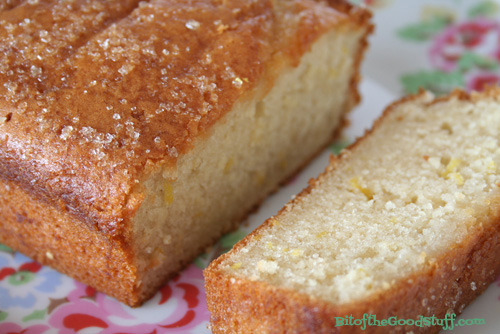 Just in case you fancied trying it for yourself, here's how I made it:
    Print This!    
Serves 8 -10
13cm x 23cm (5″ x 9″) loaf pan (measured from the top of the pan)
Batter:
250g / 8¾oz / 1 2/3 cups plain flour
2 tsp baking powder
¼ tsp salt
170g / 6oz / ¾ cup + 3 tbsp unrefined caster sugar
2 tbsp maple syrup (or agave syrup) (I used Clark's Original Maple Syrup)
85ml / 3 fl oz / 1/3 cup rapeseed (canola) oil
250ml / 8½ fl oz / 1 cup fortified soya milk (or other non dairy milk) (I used Alpro Original Soya Milk)
2 tsp apple cider vinegar
2 tbsp freshly squeezed lemon juice
zest of 2 lemons
Drizzle
juice of 1 lemon
2 tbsp unrefined granulated sugar
Method
Lightly oil the loaf tin and line the bottom with non stick baking paper (or use a loaf tin liner).  Preheat the oven to 180C / 350F / Gas 4.
Sift the flour, baking powder and salt into a large bowl. Mix through.
In a separate bowl, whisk together the sugar, oil, milk, vinegar, lemon juice. Stir in the lemon zest.
Pour the wet ingredients into the bowl with the dry ingredients. Stir until thoroughly combined (but do not over stir).
Tip the mixture into the prepared tin.  Place on the middle shelf in the oven and bake for about 40 minutes, until a toothpick inserted into the middle comes out clean.
Meanwhile, place the juice of one freshly squeezed lemon in a small bowl with the granulated sugar.  Stir to combine.
When the cake is baked, remove from oven and pierce all over with a toothpick.  Spoon the lemon drizzle evenly over the top of the cake.  Allow to cool for ½ hour or so before transferring to a wire rack.  Leave to cool completely before storing.
The cake will last about 3 days in an airtight container.  It also freezes well.  If you wish, you can slice the cake into single sized portions prior to freezing.
Notes
- If you use a round cake tin, I suggest testing after 30 minutes with a tooth pick to see if it's cooked through.
- If you are avoiding cane sugar, I recommend using coconut sugar instead (I often use this myself).
- If you are gluten intolerant, use a flour such as Doves Farm Gluten & Wheat Free Plain White flour instead of wheat flour. You  may need to add a little more liquid to the batter (as per the instructions on the packet).
Have a wonderful weekend everyone ♥
"Happy Mother's Day" to all the mums out there.  I hope you get spoilt rotten. You deserve it

xx