by

Sharon |
June 7, 2013 · 4:55 pm
What glorious weather we've had this week in the UK!  The blue sky and sunshine has been very welcome indeed.  I doubt that it will last but I'm determined to make the most of it while it's here

Since it's been so warm, we've had some lighter dinners this week.  On Tuesday, we had one of my all-time favourite soups – Mexican Black Bean Soup – which we served with some toasted tortilla segments and a side dish of cornbread.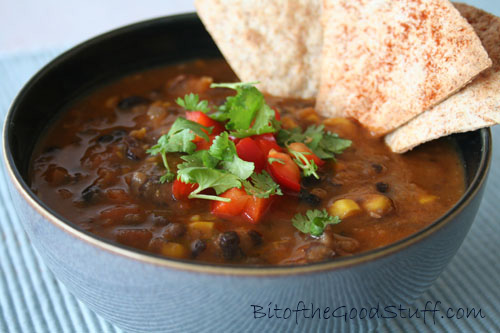 I've tried many cornbread recipes over the years, but they've never suited my family's tastes.  The American recipes tend to be too sweet, while Hugh Fearnley-Whittingstall's recipe (which only uses cornmeal rather than a mix with wheat flour) was too overpowering for us.  It was also really dry (or maybe that was down to me).  M didn't even think the ducks would like it, so we ended up throwing it in the compost!
Anyway, I'm relieved to say that my third attempt of the week turned out really well.  I revisited my old cornbread recipe and tweaked it slightly, adding more liquid and a tablespoon of apple cider vinegar so that it was lighter and less dry.  I really liked the texture of this latest batch – it had a lightly crisped exterior and fluffy, moist interior.  It was perfect for dipping into the soup and didn't need any margarine or oil on it.  The quantities made 9 large slices, so I've frozen the remaining slices for future Mexican dishes.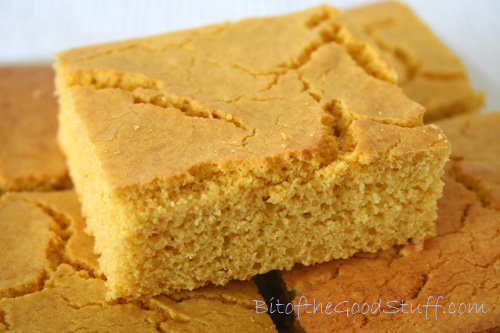 This cornbread recipe may not be authentic, but it's got great texture and flavour (plus it's 100% plant-powered!)  It's very simple to make, requires little hands-on time and will be ready in 30 minutes.  Prepare the bread first and it can be baking while you cook your Mexican dish.
Here's the recipe:
    Print This!    
Makes 9 portions
Hands on time: 10 minutes    Cooking time: 20 minutes    Ready in: 30 minutes
Ingredients 480 ml / 16 fl oz / 2 cups fortified soya milk (or milk of choice)
1 tablespoon apple cider vinegar
140g / 5 oz / 1 cup yellow corn meal
140 g / 5 oz / 1 cup fine wholemeal (wholewheat) flour (I use chapatti flour)
2 teaspoons baking powder
½ teaspoon baking soda
1 teaspoon salt
50 ml / 1¾ fl oz / ¼ cup rapeseed (canola) oil
2 teaspoons unrefined sugar (or use more if you like sweet cornbread)) Method 1.      Pre-heat the oven to 200C (180C fan) / 400F / Gas 6. Lightly grease a 20cm x 20cm / 8" x 8" baking pan and line the bottom with non-stick baking paper. 2.      In a small bowl, whisk together the milk and vinegar and set to one side. 3.      Sift the flours, baking powder, baking soda and salt into a large bowl. Make a well in the middle and pour in the milk, vinegar and oil. Stir until fully combined but don't over mix! Tip the mixture into the prepared pan and bake for 20 minutes, or until a toothpick inserted into the middle comes out clean. Remove from the oven and leave to cool for a few minutes before transferring to a wire rack.  Allow to cool completely before storing in an airtight container or slicing and freezing.
In this recipe, I used East End fine cornmeal and Tesco Chapatti flour.
If you need a gluten free recipe, check out my friend Candy's Gluten Free Corn Bread Muffins.  They look really yummy!
Have a great weekend everyone! xx
Have you tried corn bread before?  If so, do you prefer it sweet or savoury?