October 26, 2012 · 3:00 pm
The black bean (aka 'turtle' bean), is a small, shiny bean that's highly popular in Latin America and and a staple ingredient in their cuisine. Here in the UK, though, this little bean tends to get neglected in favour of its big red brother, the kidney bean. It's a shame because its flavour and texture is way superior to its big brother (in my opinion!) For me, the black bean has a beautiful smoky flavour and 'meaty' texture that makes it the perfect bean to add to our home-cooked Latin American dishes.
I think it's high time we gave this fantastic bean the recognition it deserves!
One of my favourite ways of serving black beans is in a chunky, richly flavoured, lightly spiced soup. For children, the soup can easily be blended to produce a smoother soup.
For lunches and light suppers, we like to serve this soup with some toasted segments of wholegrain tortilla. It can easily be served as a main meal by adding a side dish of corn bread. It's so easy to make your own corn bread. It hardly takes any effort at all

Here's how we make it…
    Print This!    
Mexican Black Bean Soup
Serves 6-8
Hands on time: 10 minutes    Cooking time: 20 minutes
Ingredients
1 tbsp olive oil
1 onion, chopped
2 garlic cloves, crushed
1 tsp ground cumin
1 tsp paprika
½ tsp mild chilli powder (or more if you really want to spice it up)
1 large carrot, diced
1 large sweet potato, diced
2 x 400ml / 14oz cans black beans, rinsed and drained (or 1 cup dried beans, cooked to yield 3 cups of cooked beans)
1 cup sweet corn
1 x 400ml / 14oz can chopped tomatoes
1 litre / 35¼ fl oz / 4½ cups vegetable stock
sea salt & ground black pepper (or cayenne for a spicy kick)
handful coriander (cilantro), chopped
red bell pepper or chilli, finely chopped (for garnish)
Method
Heat the oil in a large saucepan on a medium heat. Sauté the onion, until it starts to soften. Add the garlic, cumin, paprika, chilli powder, carrot and sweet potato, and sauté for 5 minutes. Add the beans, sweet corn, chopped tomatoes and stock, and bring to the boil. Reduce the heat and simmer for 20 minutes.
Allow the soup to cool slightly, then blend to desired consistency. Children may prefer the soup completely smooth (like Lil' L does). For adults, I blend half the portion and keep the remaining half chunky. Season to taste and serve in warm bowls with a sprinkling of coriander and red pepper or chilli for garnish.
This soup is delicious served with toasted tortilla segments and/or corn bread.
Cornbread
Serves 6
Hands on time: 5-10 minutes    Cooking time: 30 minutes
Ingredients
1 cup fortified soya milk (or other non dairy milk)
2 tsp apple cider vinegar
1 cup fine wholemeal flour (I use chapatti / atta flour)
1 cup cornmeal
¼ cup sugar (or less, if you prefer your cornbread less sweet)
2 tsp baking powder
½ tsp sea salt
¼ cup rapeseed (canola) oil
Method
Pre-heat the oven to 180C / 350F. Lightly grease an 20cm x 20 cm (8" x 8") baking pan.
In a small bowl, mix together the soya milk and vinegar and leave it to curdle.
Sift the dry ingredients into a large bowl. Make a well in the middle and fold in the milk, vinegar and oil. Do not over mix! Tip the mixture into the prepared pan and bake for 30 minutes, or until a toothpick inserted into the middle comes out clean. Allow to cool slightly then transfer to a wire rack.
Enjoy!
If you would prefer a gluten-free corn bread, check out Candy's awesome recipe for Gluten Free Corn Bread Muffins. They're also dairy free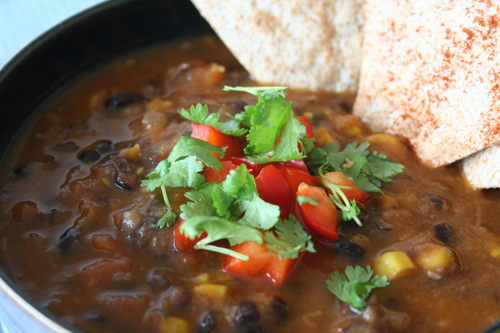 Have a great weekend everyone

Do you cook with black beans? If so, what's your favourite recipes? If you've published any recipes online, do post the links below x