October 9, 2012 · 3:12 pm
When I saw that Chocolate Covered Katie (CCK for short) had posted a recipe on her blog for healthy chocolate brownies I got very excited. In the past I've attempted to make a healthy version of these dark little beauties, but they've always been a flop. Never one to throw out food, I would turn the unset gloop into a chocolate pudding instead

However, when I saw that Katie had perfected her chocolate brownie, I knew the recipe would be a winner. She is, after all, the Queen of the Healthy Chocolate World or, as I like to call her, my 'Fairy Chocolate Mother'

Yesterday I finally got round to trying out her recipe. And oh my gosh it was good!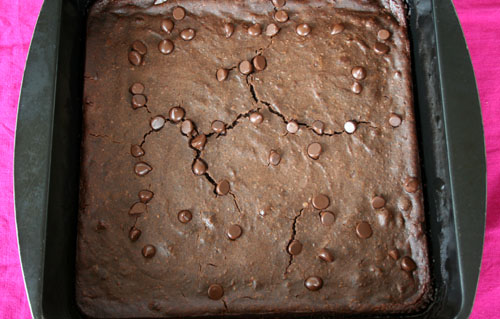 It was a little soft when it came out the oven but, as Katie states, you need to leave it at least 10 minutes before you trying cutting it. I left it at least half an hour and it had firmed up beautifully by then. I even managed to get it out of the tin in one piece.
Lil' L couldn't wait to tuck in…. but I told him I needed to take a couple of shots first.  This was followed by a sinking of the shoulders and a big sigh. I promised I wouldn't take long. The photos aren't great but I was under extreme pressure to get them finished in 30 seconds flat.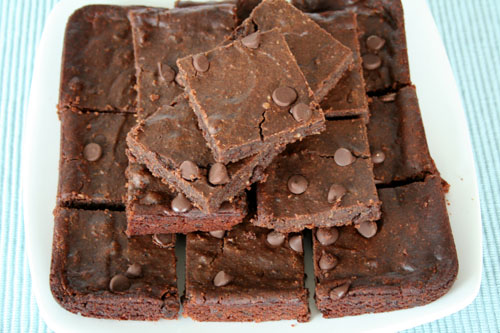 Seriously, just look at how moist these brownies are.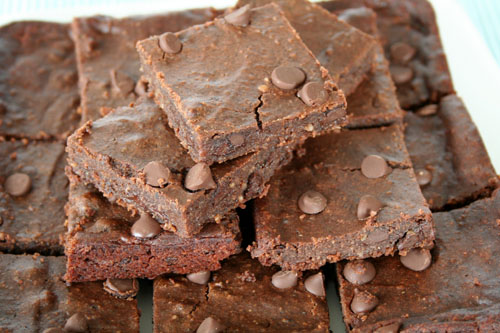 Katie's shots are way better than mine, so you must check them out.
So how do they taste? Oh my word! Without a shadow of a doubt, they are the best brownies I've tasted in my life! Sweet, chocolatey and beautifully moist.  Lil' L loved them and said that they were as good as his regular, favourite brownie from a certain coffee shop (that's good right?)
As well as being dairy free, they can also be made gluten free, as they don't contain any flour.
However, they do contain a secret ingredient.  Here's a clue…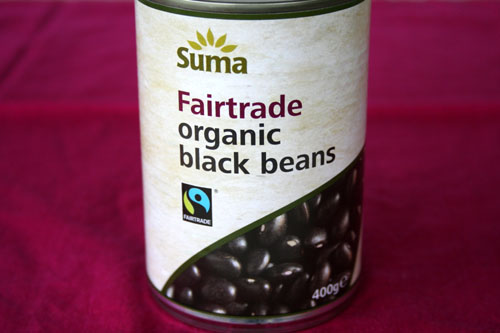 Yep, a whole tin of black turtle beans!  My favourite beans in a chocolate brownie. You can't imagine how much that makes me smile

Lil' L, on the other hand, was a bit disgusted, so maybe don't tell your kids, partners or friends about the secret ingredient unless they're bean lovers like me. They'll never detect them.  I promise!
Here's Katie's recipe with my notes (in purple). Do make sure to check out her original post. As well as the beautiful shots, she also provides the nutritional facts and calories per slice.
    Print This!    
CCK's Black Bean Chocolate Brownie (dairy free, gluten free, vegan)
 Ingredients
1 1/2 cups black beans (1 15-oz can, drained and rinsed very well) (250g after draining) Our cans are metric (400g / 240g drained) but this reduced amount worked fine
2 tbsp cocoa powder- dutch or regular (10g) (add a little extra if desired)
1/2 cup quick oats (40g) I used Mornflake Superfast Oats. Any porridge oats should be okay as they get blended. Use GF oats, if needed.

1/4 tsp salt
1/3 cup pure maple syrup or agave (Honey will work, but not for strict vegans.) (75g) I used agave.
2 nunaturals stevia packs or 2 tbsp sugar (or omit and increase maple syrup to 1/2 cup) I used unrefined caster sugar. Next time I'll try coconut palm sugar.
1/4 cup coconut or vegetable oil (40g) I used rapeseed (canola) oil
2 tsp pure vanilla extract
1/2 tsp baking powder
1/2 cup to 2/3 cup chocolate chips (115-140g) (Not optional. Omit at your own risk.) I used 115g.
optional: more chips, for presentation
Preheat oven to 350 F (I have a fan oven and still kept it at 180C). Combine all ingredients except chips in a good food processor (I've got one of those now!

), and blend until completely smooth. Really blend well. (A blender can work if you absolutely must, but the texture—and even the taste—will be much better in a food processor.) Stir in the chips, then pour into a greased 8×8 pan. Optional: sprinkle extra chocolate chips over the top. Cook 15-18 minutes (I baked it for the full 18 minutes), then let cool at least 10 minutes before trying to cut (I left it half an hour or so). Makes 9-12 brownies. I actually cut it into 16 pieces. This size is great for lunch boxes… or if you don't want to feel guilty about going back for a second slice

)
Thank you so much Katie for sharing your amazing recipe. You truly are my Fairy Chocolate Mother

Time for a cuppa and another slice of chocolate brownie heaven

http://twitter.com/urbantolerance

Tolerance

Looks good to me. All that Beanie Goodness dressed up as a Brownie!

http://twitter.com/rachelkyle0402

Rachel Jacobs

I have tried these from Katie and they are indeed absolutely delicious. Glad you liked them as well (Owen in fact took one to school each day while we had them).
I made your chocolate smoothie today and instead of nibs I used bing cherries….Oh My Goodness it was like a chocolate covered cherry to drink.

http://twitter.com/picnicsarah

Sarah Fuller

These sound delicious. I love beans so I have no problem with the secret ingredient, but I don't think my boyfriend would be too impressed, so if I get round to making them I just won't mention it!

Hola….the Brownies look amazing…uhhhh….I can see myself giving up my coffee..and joining the "healthy world "out there..