They recommend swallowing the tabs, instead of chewing them, since they can look like little green mints as much as they like but they
do not
taste like mints. They taste, well, distinctly green. And not in a particularly great way - I chewed one just to taste it and it wasn't great. It also made my teeth
GREEN
. Like The Grinch green! I should have had these on Halloween :) But a few swallows of water later, my teeth were back to normal. So no worries! But you'll still want to swallow them - and swallowing 30 tabs? Not really something I'm into doing.

Anywho, I know what you're all wondering - are they the make energy boost that'll make sleep redundant? For me, no. I didn't really notice a huge energy difference, though I did feel a little more energetic after eating them and ended up not getting as tired later in the day. But was it a crazy huge difference, like some of the testimonials claim? No.

I did only have about one serving's worth of energy bits to try, so I'm not saying that they don't work - maybe they just don't work in one go, or maybe they don't work if you already eat veggies now and then, or maybe they did work but the results aren't extreme enough to be hugely noticeable in the first go.

I'm sorry I can't give a more positive review, but there's no point in having a review blog if you're not going to give a 100% honest review. My policy is always to write exactly what I think in my reviews!

I certainly imagine that they wouldn't be bad for you, but at $115 for 1000 tablets (or 33.3 servings), they're too pricey for me to buy without proof of miraculous results. And since I don't have that, I'll save the $3.45 per serving and buy some tasty SunCakes or Energy Bars instead. Plus, get a little sleep now and then ;)

But enough with the exam talk, it's exactly a month until Christmas!

So instead of giving in to the final exam stress that will inevitably begin tomorrow, I'm going to enjoy this last day of my break just as fully as I enjoyed the first. Tomorrow will come soon enough!

And a month isn't really that long. Especially when there's happy things to keep you going.

Like planning presents. Like making wish lists. Like doing Christmas crafting (when you're supposed to be studying, whoopsies). Like entering (and winning) the 25 Days of Giveaways!

Today I'm giving away a loaf of Radical Culinary's famous Banana Bread with Nuts and Streusel!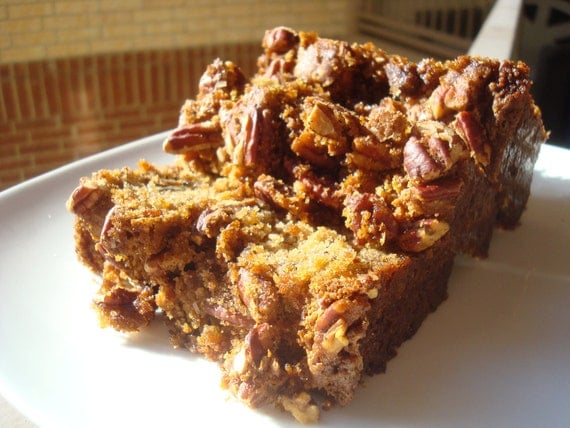 Yep, famous. It's been on TV and everything.

Plus it's made by a former Navy Culinary Specialist turned baker . Cool, huh?



You know what else is cool? Sam and Carey bake their banana bread the all-natural, preservative-free way, with only quality ingredients. That's great news for your body!

It's not so great for international readers - sorry folks, this giveaway is for readers in the continental US only. But don't despair, I have more international giveaways coming up!

And for you lucky US readers, you have until December 9 to enter the giveaway!

 
I definitely encourage sharing this giveaway on Twitter, Facebook, Pinterest, your blogs, or even the old fashioned way - with friends and family. After all, Christmas is all about sharing love!

And who doesn't love getting a loaf of yummy in the mail?

How do you stay stress-free during finals?

What's been the best part of your Thanksgiving break?

Have you tried algae?