Which family isn't a little weird? Sofia Vergara and Eric Stonestreet carry the show and, while there have been one or two episodes that were more or less duds, the show puts a funny spin on the (sometimes irksome) things families have to deal with every day. It's (97% of the time) a riot!

The Neighbors - Marty Weaver buys a new home, only to discover, to his wife's horror that the neighbors are aliens masquerading as suburbanites. From Dan Fogelman (Crazy, Stupid, Love, the writer of Cars, and Tangled) comes this new comedy about close encounters of the 3rd kind, in New Jersey.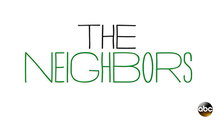 Lots of firsts. Angsty teens. Awkward kids. British accents. The suburbs. Aliens (and not the green card-carrying kind). New Jersey. Need I say more?

Suburgatory - 
Tessa (Jane Levy) and George (Jeremy Sisto) have been on their own ever since Tessa's mom pulled a "Kramer vs. Kramer" before she was even potty trained. So far, George has done a pretty good job of raising Tessa without a maternal figure in their lives, but suddenly he's feeling a little out of his league. So it's goodbye New York City and hello suburbs. At first Tessa is horrified by the big-haired, fake-boobed mothers and their sugar-free Red Bull-chugging kids. But little by little she and her dad begin finding a way to survive on the clean streets of the 'burbs. Sure, the neighbors might smother you with love while their kids stare daggers at your back, but underneath all that plastic and caffeine, they're really not half bad. And they do make a tasty pot roast.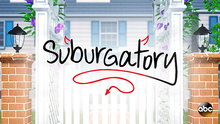 Jane Levy is definitely a favorite in this show, but so far it has never failed to amuse! 

Well, except that one episode, where some poorly timed comedic choices and overwritten dialogue resulted in a little chuckle rather than the usual gasping-for-breath chortle...

But it's a great show!

What is with all the suburban focus in these shows? Maybe, as a suburbanite (at least, for most of my life) I'm just more attracted to these sorts of shows and appreciate the humor in them more? Maybe it's funny to look back and laugh, now that I live (80% of the time) in the city? Who knows. Maybe the suburbs are just funny!

The Middle - 
Frankie Heck is a superhero. Well, no, not an actual superhero - not unless you count getting her kids out the door for school every morning as a superfeat. Middle-aged, middle class and living in the middle of the country, this harried wife and working mother of three uses her wry wit and sense of humor to try to get her family through each day intact. Frankie has a job selling cars at the town's only surviving car dealer; her husband, Mike, is a manager at the local quarry. Together, they're putting THE MIDDLE on the map.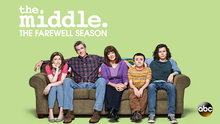 A lower middle class family struggling to make ends meet and raise their three children (all three total handfuls), the Hecks are an endearing pair. There are moments where The Middle feels a bit like a Malcolm in the Middle throwback, but overall I much prefer this show. I hate to say it (I know there are a lot of Malcom fans out there) but the acting is stronger, the dialogue wittier, the premises more interesting, and each episode much more engaging. The characters are also just better written!

Other great shows include Happy Endings, Whitney, 1600 Penn, and a Guys with Kids.
While I joked that my suburban past may incline me to prefer these sorts of shows, there's no avoiding the fact that there's a trend towards realism these days. Gone are the fantastical whims of the escapist Disneyland days - these days we want reality and as much of it as we can get. 
From these realistic sitcoms to best selling realistic fiction novels to trashy (and, on rare occasion, less trashy) reality television, we're obviously craving entertainment that hits closer to home. Thoughts?
What are your favorite television shows?

How do you watch shows most often? I like the big television screen, but Hulu is so convenient!

Do you prefer movies or television shows?