We weren't told where we were going, we were just told to pack things to swim, bike, run and hike and that we would be leaving in about an hour and fifteen minutes.  Awesome.  This was going to be interesting.  Jessie, Jennie and I (my housemates for the camp) packed everything we could think of into the car and followed Coach and the other athletes to the White Mountains.  The first day we were told we would be biking five hours with 9,000 ft of climbing so we got our gear on and headed out.  We ran before and after the ride and it was incredibly beautiful (and hard).


It was also my anniversary of eight years so it was a little sad not to be with Kyle that day, but I definitely thought of him a lot out there and how thankful I was that he encourages me to go do these amazing things.


Everyone in the group ended up being pretty amazing at hiking.  Jennie was also a new kid on the block and showed me up royally with her skills, but I didn't mind!  Most of all I just wanted to be safe and make it out without and broken ankles which would have been very easy to have if you lost focus for even a second.  You can see a picture of a part of the hike below.  Coming down or going up you had to be on your game every second.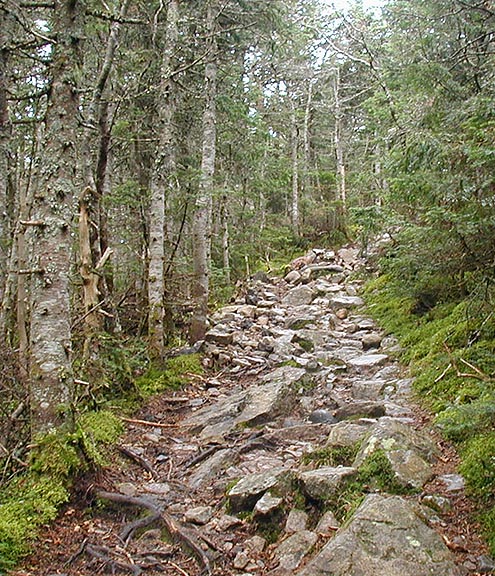 Jesse said the hike we did should have taken the average person about 10-12 hours so we would be aiming for roughly half that amount of time.  Great, speed hiking.  We ran the trails between mountains when we had any clear ground and at some point I started hitting the caffeine I was in such bad shape!



All in all, it was an awesome experience with some incredible people that I will never forget! Left to right are Cait, Matt, Jessie, Jennie, Jesse, Pat and me!



We all came out a little stronger and feeling pretty spectacular about the day we just had.  That was until the next day when no one could barely move.  I couldn't even sleep I was so sore the bed hurt to roll over!


The Lake!


We had a small visitor at the house on our final night and we were so tired and sore I seriously thought I was hallucinating!  We ended up putting a bowl over him, sliding a magazine under it and getting him outside.  Thanks to my housemate Jessie D. for helping to execute his departure!



I spent a lot of time, sometimes multiple times per day, in my NormaTec Recovery Boots!



We all worked so hard and on the last day of camp, just when we thought we couldn't give any more, we took on a 7 hour ride.  Just when I thought there was NO possible way I could make any good of that ride, my legs showed up about two hours in and from there I just started cranking away believing, as usual, that anything is possible.  You just have to have a little heart!



Sometimes you also have to have a little star!  Jennie made this spaghetti squash casserole in one of the pans provided at the house that had some character!  I had a bite and it was delicious!  I enjoyed spending that time, as tough as it was, with teammates that also wanted to work hard an push themselves.  It was a time I will never regret putting in to prepare for the World Champs.  I could have never trained that hard on my own and while it hurt, it definitely gave me some confidence by the end that I am stronger than even I think I am sometimes!  Thanks to my Coach for putting such a wonderful experience together for each of us and to my teammates for pushing me to new levels!!