The last several weeks, 4 to be exact, for Manicure Monday has been the mini-set of the Bond Girls Collection from OPI . Now I will go into the last 2, this and next weeks post, of the OPI Liquid Sands that was not included in the mini-set.

This is Tiffany Case. I already did swatches for Jinx , Pussy Galore , Solitaire , and Vesper .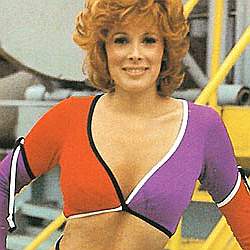 Tiffany Case was played by Jill St. John in Diamonds are Forever (1971).

Here's a closer look at the nail polish.

Here's a look at the brush. It's a medium-size brush.

From the Bond Girls Collection, they're all unique. If I have to choose one, Tiffany Case is the only one that is closest to past Liquid Sand nail polishes. I compared Tiffany Case (left) to Get Your Number (right) from the Mariah Carey's Collection .

They're both blue, but they are extremely different. Tiffany Case (left) is light, shimmery blue with metallic blue sparkles. Get Your Number (right) is blue outside in the sun, whereas, inside it's darker blue. It has more a jelly-like look with silver sparkles. From this picture they look similar in the sun, but they are no where close indoors.

Now going back to Tiffany Case, here's how it looks on my hand. The first, second, and last from the left is 2 coats with no top coat. The third from the left is 2 coats of nail polish with Seche Vite Top Coat. To be honest when it comes to the naked eyes, there's no difference with or without the top coat. When it comes to using your touch, there's a big difference. Without the top coat, you can feel the sandy-texture.

Now for my overall opinion... Since I did a thorough review of Liquid Sands from the Mariah Carey's Collection , I will base this nail polish from that. It's easy to apply and goes on smoothly. With other Liquid Sands, I can tell when it dries. With this one, I had a hard time. It feels like a real nail polish and with the naked eye, you could not see the sandy-texture. Once the nail polish dries, that's when you can feel it. The sandy-texture become less with each day. That's nothing new with the Liquid Sands. They're all like that. When it comes to longevity, it only lasted 4 days.

Would repurchase: Maybe, I'm a little mixed on this.
Rating: 
 4/5 Tobey's Paws

For the Bond Girls Collection I have reviewed/swatched:
Jinx Pussy Galore Solitaire Vesper
Disclaimer: The product mentioned in this post is bought with my own money. I am not affiliated with the company nor getting paid to advertise the product. This post is written with my honest opinion.