The Fire and Ice Race Series consists of four races that start in August (hence the Fire, I assume) and run through November (the Ice). It is sponsored by my favorite local running store, Fort Worth Running Company. The best part is that (unlike most races) you don't have to break the bank in order to run. With each race at $10 each and only $30 if you run all four, it is downright affordable. When I first heard about the series, I was excited. I like the extra motivation that training for a race provides, plus the feeling of accomplishment afterward out shines the regular runners "high" you get after doing a long run on your own. Not to mention, it all takes place practically right in my own back yard at Trinity Park. I've never run 4 races in one year before and I am up for the challenge. I liked that the race distances were progressively longer, building up to a half marathon. Each race had two distance choices and me and my running partner & BFF extraordinaire Jessica chose the following
August 13th - 10K
Sept 17th - 15K
October 15th - Half Marathon
November 5th - 10 miles
I wake up at 6 on Saturday morning ready to run. Garmin? check. running belt? check. Russ' compression sleeves that I can steal because he is still sleeping? check. Jessica and I agree to meet at my house at 6:20 and head to Trinity Park together with plans to arrive a few minutes before start time. I open the front door to see if Jessica has arrived yet and am completely shocked by the pouring rain and lightening. I had no idea. We've been under extreme drought conditions for months and TODAY is the morning it chooses to rain? I start to wonder if they will cancel. I check the Fort Worth Running Company's Facebook page for an update and their status update reads
"Fire and Ice race is still ON! "If it ain't rainin', it ain't trainin'"
With that message of encouragement we head down to 7th street, windshield wipers earning their keep. We arrive a few minutes before 7am and take our obligatorily pre-race picture.
A little after 7am and we are off and racing. Technically speaking it is a race, but I am not breaking any land speed records over here, just participating and finishing is enough for me. Jessica and I start off together in the rain. The first mile or so, I was just warming up and feeling a little sluggish. My brain immediately starts to switch to negative thoughts like "I'm tired, My legs feel heavy, How long is this thing again?" I worry about the puddles and uneven terrain. I worry that my foot will slide in the mud or on the gravel and I will wipe out. I am not exactly the Queen of Grace. My husband often refers to me as 'Hurricane Lea'. I have the irrational fear (like I do at every race) that I will come in last place. I almost immediately have to remind myself to correct my thinking with positive thoughts like "You run a 10K almost every day, this is no different than your regular morning runs." I focus on the pretty park surroundings, nature, fresh air, and cooler than usual temperatures to get me through the warm-up period. Speaking of cooler than usual temperatures, it was 75 degrees! I don't think I have ran outside in weather this cool since May. Right around mile two I am really starting to enjoy the rain. I'm thankful for the unusual weather and that I didn't let a little (or a lot) of rain cause me to miss this experience.
Jessica and I cross the 5K mark together and go on to complete the last half. This is where Jessica's exercise-induced asthma combined with the higher than usual humidity started to cause her breathing problems. I start to get ahead of her and at first, would slow down once in a awhile for her to catch up. After all, we planned to run this race together. It wasn't about winning or breaking any records, just finishing. After a few slow downs, she insisted that I just go on ahead. She told me later it was causing her more mental anguish to try to keep with me than if she just dealt with her breathing issues at her own pace. By now, I was more than warmed up and feeling pretty good. I wanted to finish out the race strong. She insisted that I go ahead and although still worried that she would be be secretly mad, I obliged. She wasn't mad.
I finished the last couple of miles slightly faster than what I consider my comfortable pace. Soaking wet, but extremely happy I cross the finish line with a short last-minute sprint at 1:04 according to my trusty Garmin (official times to be posted on Fort Worth Running Company's website later today). Nowhere near last place, by the way. Irrational fear thwarted.
Just a few minutes later, I wait at the finish line for Jessica to complete her accomplishment! She finished very strong with a sprint to the finish line.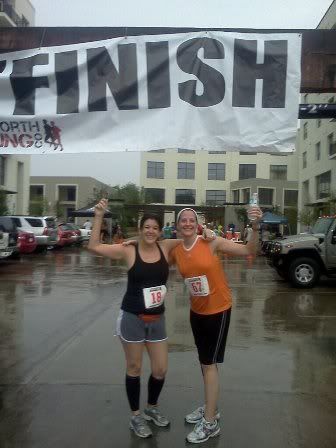 I'm proud of myself and I'm proud of Jessica because she is stronger than most people. Most people would let something that you can't control like exercise-induced asthma stop them from running or competing in races. Nothing can stop this girl. She rocks and I am thankful I have her for a running partner and friend.
I also want to thank Jim and James Newsom for organizing these great races at Fort Worth Running company and making this all possible. These are good people running a great little business on 7th avenue in Fort Worth. You should check them out. I think I need new running shoes, so I will be visiting them again soon myself.
UP NEXT: 15K in October. We better get training!