Geoff and I headed to the greenhouse to put on some finishing touches, then stood by the fire waiting for the 10k heat to take off.
Geoff in the warm greenhouse, pre race.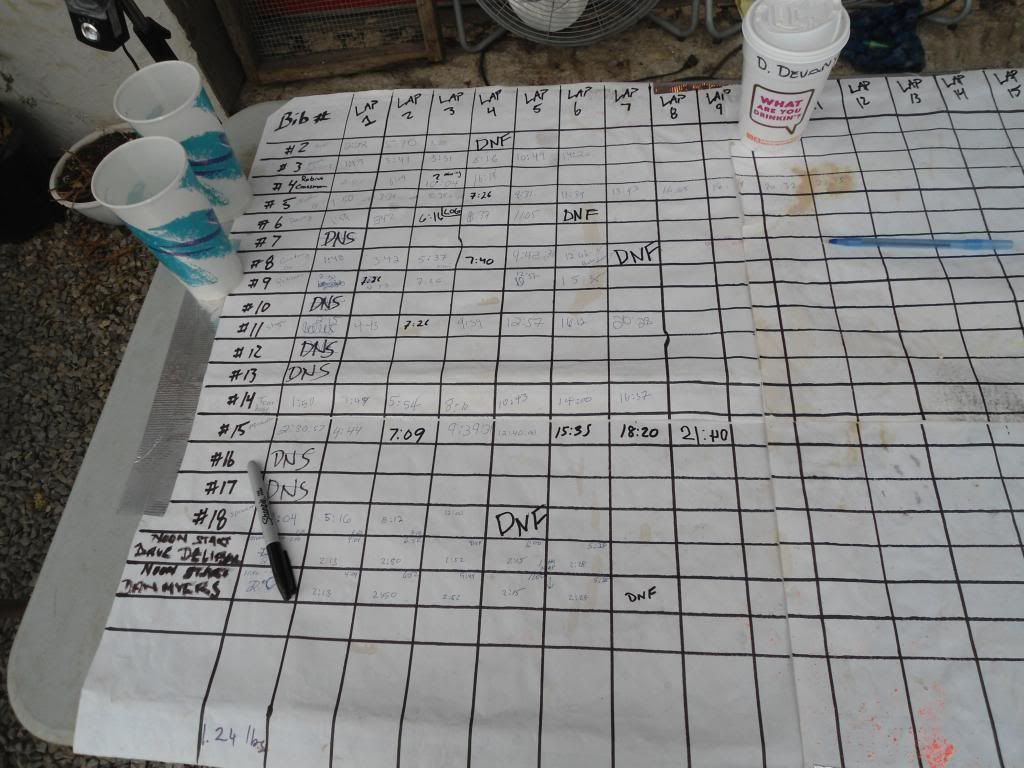 Keeping track of the 100 mile racers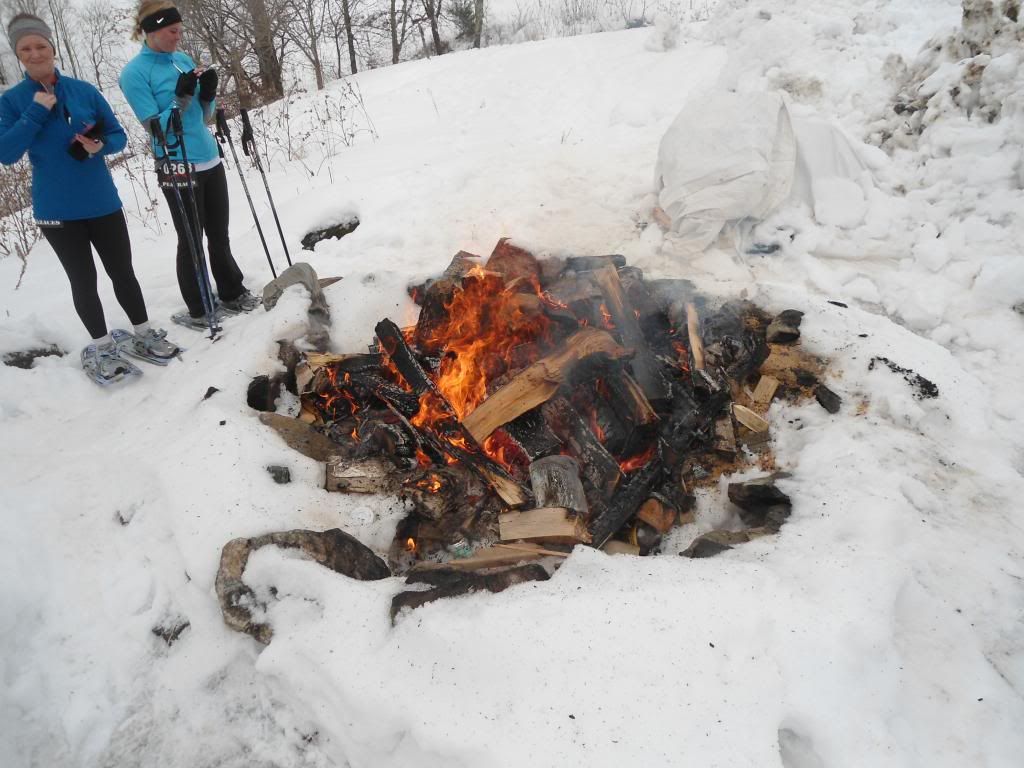 Eventually it was our turn. Same quick instructions (including the moose warning), and we were off.

For the first 300 yards, we walked.  Slowly.  Single file track, behind some racers who seemed to be in no rush whatsoever.  I knew we were there for FUN, no way was I able to currently compete in snowshoes, on a mountain side.  But at the same time, I had hoped to push myself a little bit, and wasn't too happy about the thought of resigning myself to strolling 6 miles up and down a mountain side.  Fortunately, someone behind us yelled "ON YOUR LEFT" when the opportunity to pass arose, and took off as people stepped aside. I fell in line right behind him, and Geoff behind me.  Soon enough, we were clear, and able to run. 


We quickly approached the bridge that took us across the White River.  We had been warned to space ourselves out over this, as to not all end up *in* the river.  Thankfully, when I got to the bridge, I was the only one on it, so we had no problem passing.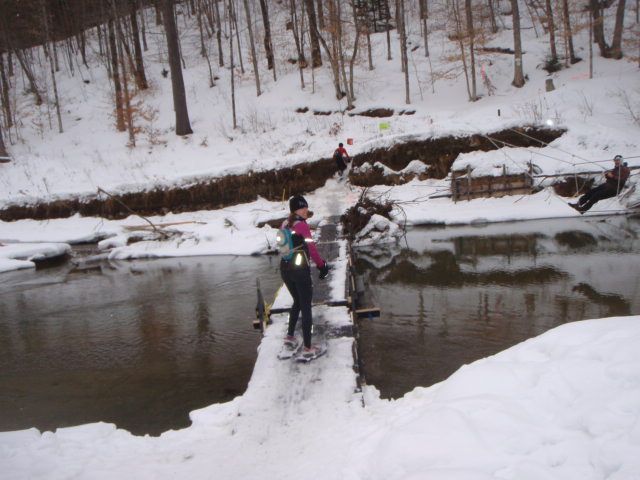 We ran around a few corners, and then it began: the climb. 

I had been warned that there was a 1200 foot elevation climb over the course of each 6 mile loop. What I didn't know was that the 1200 foot climb would be covered in the first 3 miles.  We climbed, and stopped to rest, and climbed some more, and stopped.  My calf muscles were on FIRE.  My climbing skills have significantly increased over the last year, but 30 years of either a) not running, or b) living at sea level, have put me at a slight disadvantage to the rest of these mountain goats I was racing with.  For the next three miles, we played the cat and mouse game with about 15 other people.  They pass us, we pass them. And so on.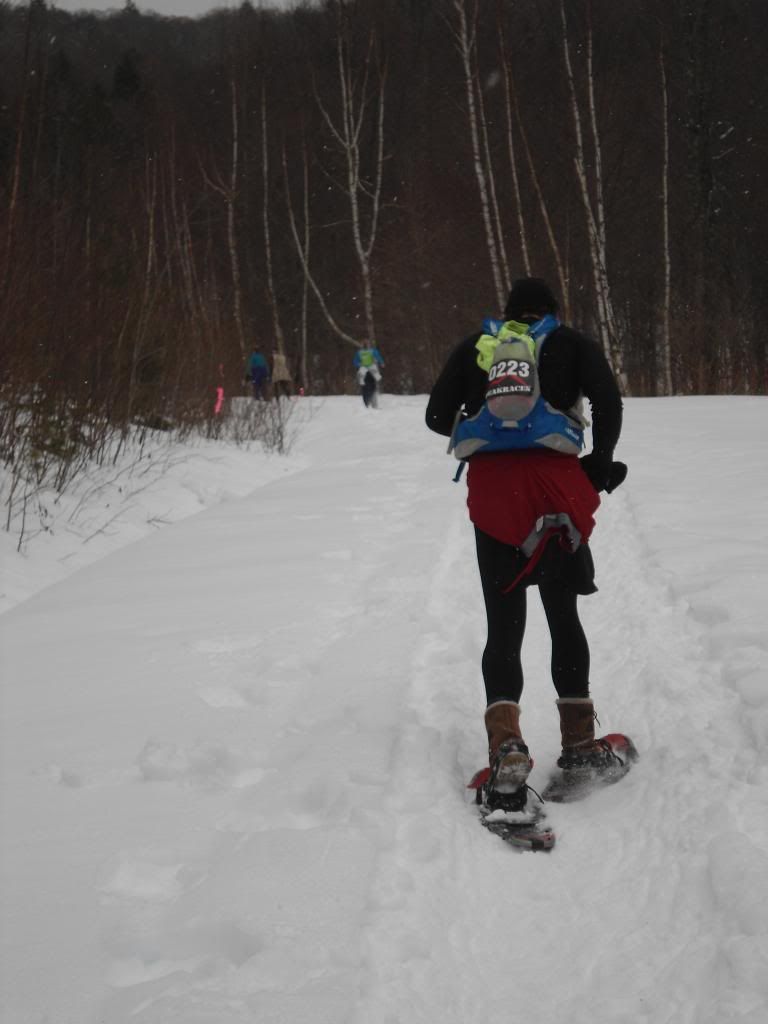 One of the very few clearings from running in the forest.


  And just when I thought my gastrocnemeiuses were so tight they were going to hop off my leg and roll down the hill, we reached an area called the "labyrinth": tons of young pine trees spaced very closely together, with just a tiny trail carved out for us to run through. It was dark and very fairy tale -esque.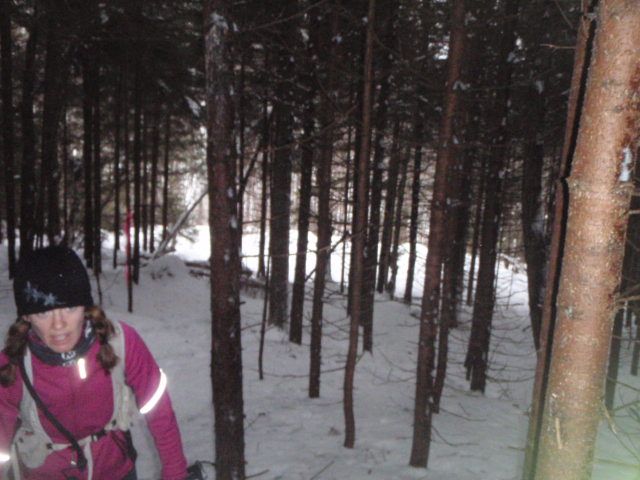 No really, I promise I'm having fun here.



  I must say, as stoked as I am to move back down South, I'm really going to miss the beauty of these mountains.  Soon we exited the labyrinth and we were at the peak.  Praise the mountain gods, my legs were spent.   At this point, we started passing some half marathoners, which gave me a much needed energy (and ego) boost, as we had started 30 minutes after them. I suppose the mountain wasn't kicking my butt as *much* as I had thought, though we were still light years away from the leaders.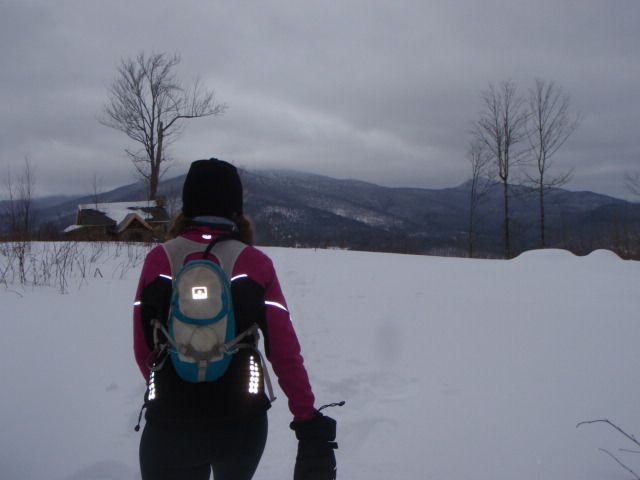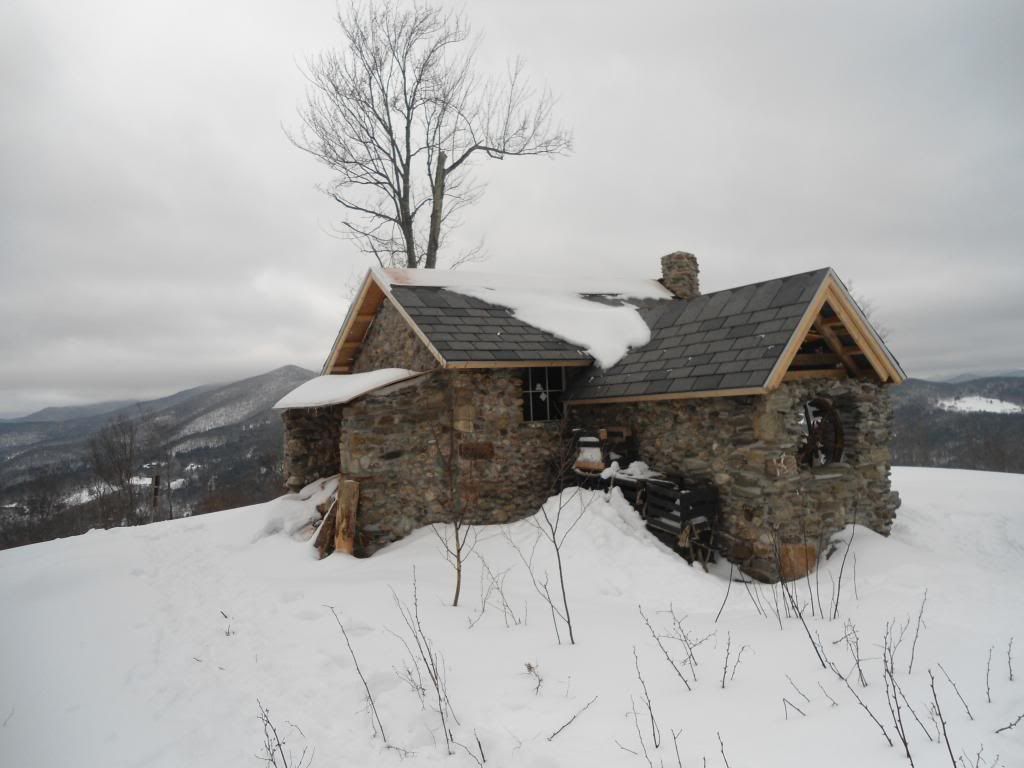 Cabin at the halfway mark.


Then, the downhill began.  Oh it was wonderful!  I have never really "run" in snowshoes before, but soon I fell into a nice rhythm, and we were making pretty decent time...for being in snowshoes.  I enjoyed the beautiful scenery, and laughed at poor Geoff and his GIANT snowshoes , which kept tripping over each other on the narrowly packed trail.  We started passing people left and right, and I was having an amazing time.  

And then disaster #2 happened  (I consider disaster #1 my severe lack in mountain climbing skills).  We came around a corner and found ourselves stuck behind about 15 or so racers who were walking on a very narrow trail (with a hill on one side and a huge, steep bank on the other) .  After about a minute or two, Geoff yelled up "Hey guys in the front, would you mind if we pass through?"  Like the parting of the red sea, every single one of them simultaneously said "sure" and stepped to the side.  It was really awesome.  We ran ahead and yelled "thank you!" as we passed each one of them.  No sooner did we get to the front of the pack , that I turned to tell Geoff "thanks for doing that", when **BAM**out of the sky fell a small tree.  I kid you not, a branch, the width of a sapling (and probably just as heavy), just came out of nowhere and managed to hit me square on the head, while I was running.  I'm not sure what the chance of that were, maybe one in a trazillion. I immediately stopped, trying to figure out what on earth just happened, and Geoff yelled "woah hold up!" to everyone behind us as he moved the massive branch off the trail.   Everyone looked at me wide eyed, like deer caught in headlights, and hesitantly asked if I was OK.   I remember mumbling something like "I've got to run this concussion off" and just took off running down the trail.  It was such a freak accident, I wish someone behind me had a GoPro or something on to record it.  

I felt a little dizzy, and an immediate headache began to set in.  But by that point, I had felt so good running down the trail that I just didn't want to stop.  Besides, if it was a concussion or something serious, I'd have to either wait forever for someone to come rescue me, or make my way down the mountain regardless.  So to keep moving forward seemed like the only logical option. 

We ran and ran, and eventually hit a few spots of steep downhill.  This is tricky on foot, trickier in the hard packed snow, and near impossible on snowshoes.  At one point, I did fall.  I landed right on my butt and started sliding down the hill.  The trail took a sharp 90 degree turn left, and instinctively I broke out my old sledding skills.  I dug my left hand into the snow to steer myself on the trail.  By that point, I was in a totally controlled, yet decent paced,  downhill slide on my rear.  It was hilarious and quite useful; and I laughed my head off as I covered a decent bit of trail in a very short period of time.  We have since contemplated if this would be considered cheating, however, the snowshoes were still on my feet, even if I wasn't technically on the snowshoes.   I say it counts.

Again, we REALLY need a GoPro. 

We finally hit the bottom of the hill, and trekked across the trail to connect the loop at the same bridge we crossed at the beginning of the race. It was at this point that I realized how much pain I was in.  Not injury pain, just the "wow that was REALLY HARD" end of race type of pain.  I knew the finish line and Amee Farm were just around the corner, so I kept pushing forward.

We finished in 1:55:55, and I have to admit, once we hit the finish line, I was very pleased that we had opted to do only the 10k, and had MAD respect for others who were going out for their second, third, or even 10th or 11th lap.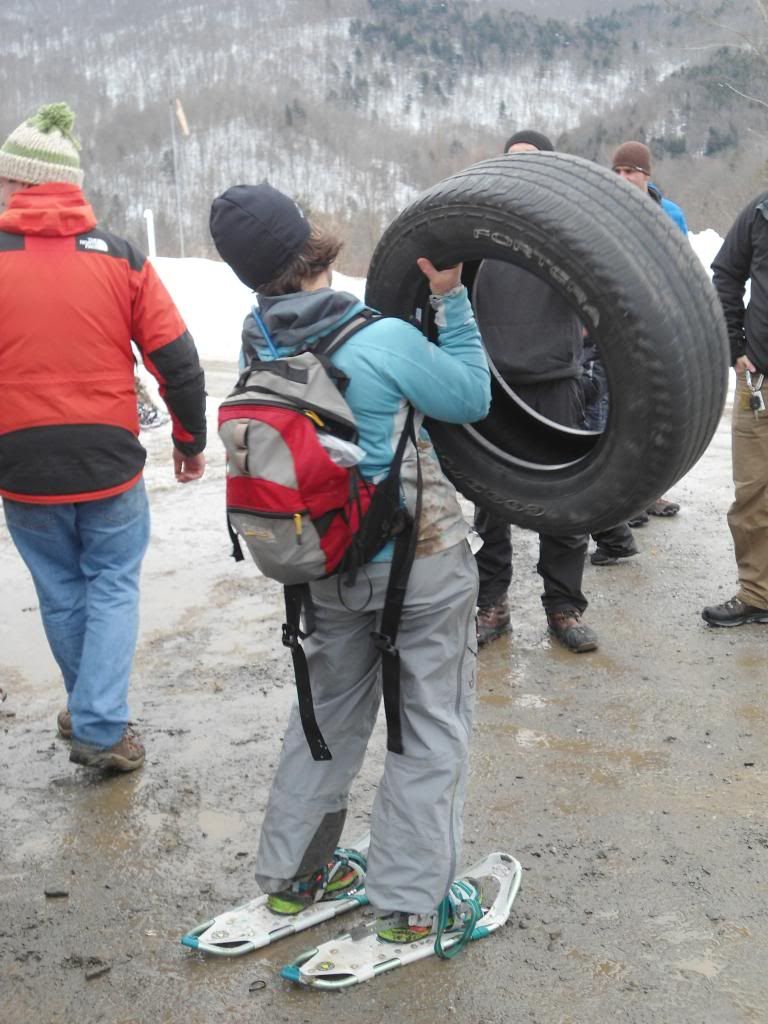 Remember Jane from the BadA$$ moms post? Yeah,that's her, gearing up for her second loop of the half marathon...while CARRYING a tire. 


We were given really nice finishers medals. I want to call them "elegant" but that seems highly inappropriate for such a kick butt race. Handsome perhaps. Or just badass.   We spent a few minutes contemplating if, once all medals in the Peak race series are earned, a super power is unlocked, a la carebears or captain planet.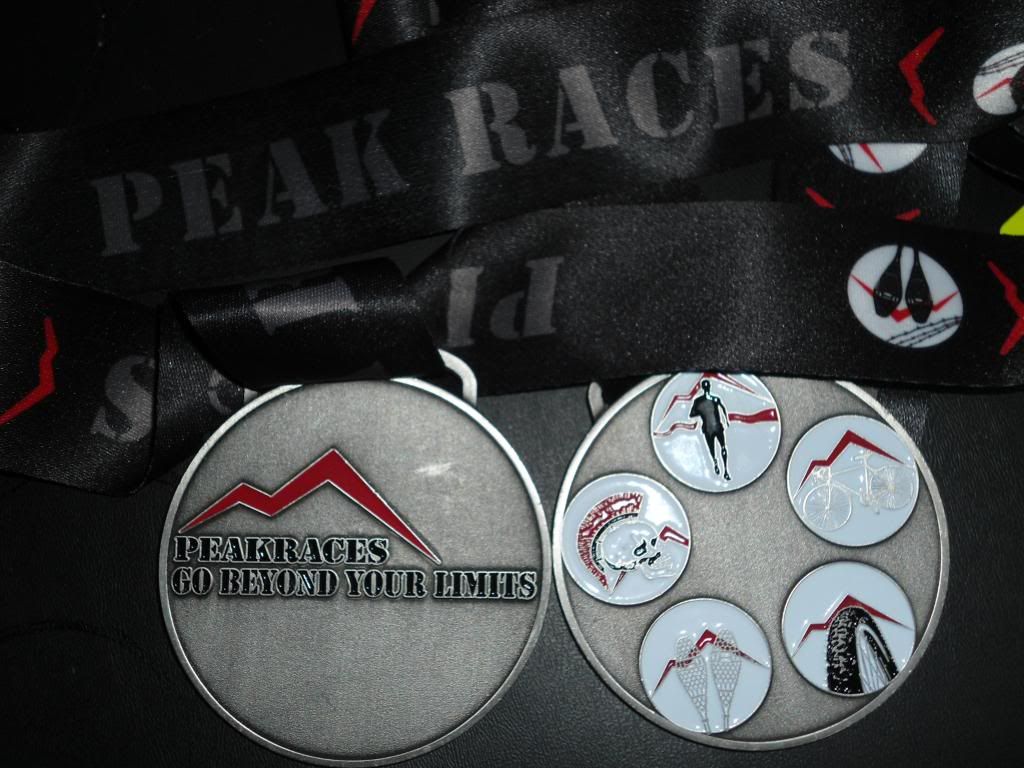 Peak Races Snowshoe medal.  Next target: Peak 50 miler



TAKE HOME MESSAGE: (another gem from my many college professors)

Step outside of your (warm) comfort zone and challenge yourself, because nine times out of ten, it's really freaking fun. 

Peak once again, put on a stellar race.  Life works in mysterious ways.  I never imagined I'd wind up back here in Vermont, and as it turns out, I won't be here for much longer.  But the opportunities I've had, the people I've met, and the memories I've made while here have been out of this world.   I wouldn't trade them for anything.  

The first day of age 31 was near perfect (missing a few important little guys...but they will be back in just a few weeks time).   And now that this race is over...bring on the spring!!  #ULTRABEAST training has officially begun...