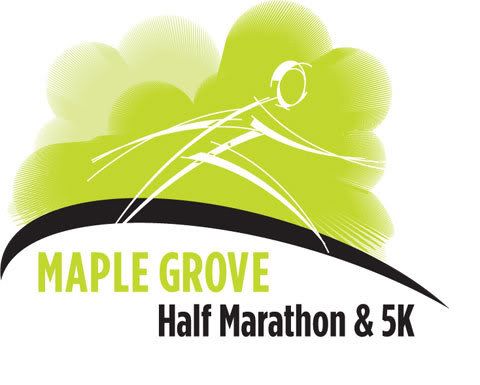 On Saturday, I ran my first half-marathon.  (I never thought I'd be able to say or type those words!)  I had always thought this would be an elusive goal.  And now, I can cross it off my bucket list!
I was stressed on the days leading up to the half.  I was scared that my legs wouldn't be able to carry me that far, due to shin splints on the insides of both legs, a sore IT band, and weak knees.  I had been going to sports rehab for 3 weeks, and in my final appointment before my half-marathon, Dr. Dave worked me hard.  After the appointment, I had bruises and red spots all over the skin on my legs.  So in short, I was sore.
Adding to this stress was the fact that my longest run in 4 weeks had been a couple of 6.5-7 mile runs.  I was worried that I lost my endurance.  My goal when I started training was to be able to run the entire half-marathon, and I was worried that my hiatus due to injuries would make that goal impossible.
And finally, my running partner (aka the boyfriend) had some work issues.  He works at a college in the IT department and as of Thursday/Friday, most of the printers across campus were not functional.  He wasn't sure whether he'd be able to run the half-marathon at all, because there was the possibility that he'd be working all weekend.
Thankfully, the boyfriend was able to get time off work, so we headed over to my parents' house the night before to have a spaghetti dinner.  I ate WAY too much.  My family, going overboard as usually, provided spaghetti, bread sticks, apple crisp (my weakness!), ice cream, and a root beer taste testing (my little sister wanted to decide which kind of root beer keg she should get for her high school graduation party).  I tried to limit myself, but the little voice in my head kept telling me that I'd burn it all off tomorrow.
After a surprisingly peaceful (but short) night of sleep, I woke up at 5:55 a.m.  Thankfully, I did not feel sick from all the food.  About an hour from race time, I ate half a bagel with peanut butter and a banana.  Unfortunately, the boyfriend's blood sugar was sky high that morning.  He had to guess how much insulin to give himself, because running often makes diabetics' blood sugar go low.  Yet, he proceeded to inform me that if he let himself stay high, the running could make his blood sugar go even higher.  Jeez.  He gave himself some insulin, and then I packed 2 Gu gels and a package of Clif Shot Blocks.
Then we were off to the race!  The race was to start around the high school stadium track.  We arrived with plenty time, so I went to the restroom twice and took a short warm-up jog.  The boyfriend and I decided to run with the 2:30 pace group, because we figured that would be our goal time.  7:30 a.m. came up fast, and soon we were off and running.
The weather was beautiful, which I was super excited about.  The weatherpeople said it was supposed to be a high of 82 and sunny, but the temperature did not get above 68 degrees during the entire run.  Seriously, I could not have asked for a better day.
Almost a mile into the run, I saw my parents for the first time!  They were such awesome spectators.  I think I saw them a total of 4 times during the race!  It was nice to have those pick-me-ups during those couple hours.
After about a mile, I realized that the 2:30 pace group was SLOW (at least for me).  So I started picking my pace and the boyfriend was fine with that.  I think that was the first time that I started thinking that maybe, just maybe, I would be able to run a sub-2:30 half.
At about mile 5, I started noticing that the boyfriend was lagging a little behind.  I slowed down a couple times to let him catch up, but then a little while later, he'd be behind again.  Not thinking much of it, I just kept checking on him to make sure he was in my sights behind me.  Finally, at the 10K point, I waited about 30 seconds to a minute for him, and I asked if I could go ahead.  He said that was fine, so I gave him a Gu and the Clif Shot Blocks and went on my own way.
I started wondering how hard I could push myself without my knees or legs feeling pain.  After 6.2 miles, I was feeling pretty good, so I started to kick up the pace a bit.  I started to pass people one by one.  I would pick out someone ahead to me and make it my goal to beat them.  And one by one, I was passing people.  Eventually, I started looking for a pace group ahead of me.  I could not find one for the life of me!  I realized that it was just me, my Garmin, and the road, and I needed to set my own pace.
The 2:15 pace group (below) would have been the next one ahead of me.  Unfortunately I never caught up to them!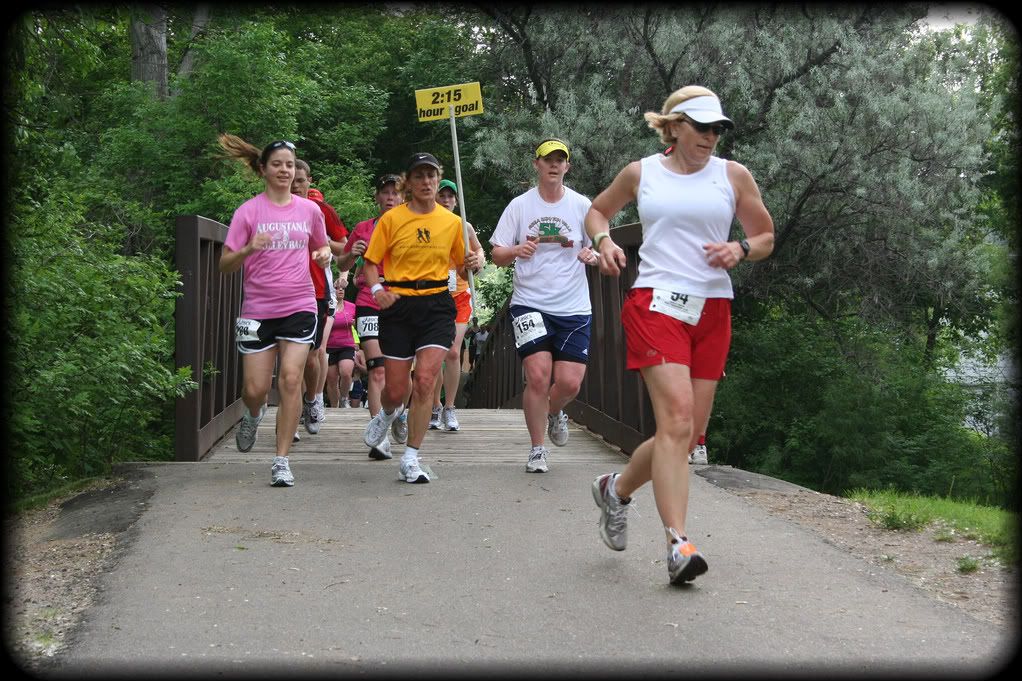 [ source ]
From about mile 7 to mile 10, I really enjoyed the run.  I was running trails and streets that I was not familiar with.  I believe that not knowing the course really made me run faster, because I did not know what was around the next corner.  I just ran.
There were a lot of walkers during these miles.  One woman kept driving me nuts, because I would pass her when she was walking, but then she'd be passing me running.  One walker guy I passed yelled "Keep on going!" as I passed him.  This put a smile on my face, because it gave me the boost to not slow down with the crowd.
I saw my parents for the last time before the water stop at mile 10.  I was feeling good and seeing them gave me a little push to keep going.
It was at mile 11 that I started to doubt myself a little.  In my training, my longest run was 11 miles.  I started thinking: Can I really keep this up for another 2.1 miles?  My legs are basically numb.  Can they move for that much longer?  I never really had a mantra while training (I should really come up with one), so what did I think of?  Oddly enough, I thought of all the food I ate the night before.  I kept telling myself to USE THE FUEL IN THE TANK!  I just repeated this over and over, believing that all those carbs could get me through this race.
Soon it was mile 12, and I started to realize that I was getting close to the finish line.  I kept WILLING my legs to move faster.  Soon the high school was back in my sights, and I knew the finish line was somewhere on that track.
When I entered the stadium, I saw that I had half of a lap to complete to the finish line.  Somehow, I started sprinting.  I actually passed one guy during this short distance.  As I crossed the finish line, I looked at the clock and saw 2:22:00.  For a second, I thought I was seeing things.  There wasn't any chance I finished that early was there?
My official chip time was 2:21:05.  I surpassed my expected time of 2:30 by almost 9 minutes!  I hugged my parents, got my race shirt, and ate part of an orange.  And then, the waiting began.
I had no idea how far behind the boyfriend was.  After about 20 minutes of waiting, I began to worry.  Like a puppy dog, I sat by the entrance to the stadium and waited for him to show.
Finally, I saw him!  I rushed out to run with him, but by this time, my legs were too stiff to run by his side.  The boyfriend crossed the finish line at 2:51.
I later found out that he had a lot of blood sugar issues during the run.  Shortly after I left him, his blood sugar crashed!  He went through the Gu, all the Clif Shot Blocks, and 4 bottles of Gatorade that he begged off the volunteers at the water stops.  He told me that he walked a lot, and at one point, stopped entirely.  I felt bad that I was not there for him, but he made it clear that he was happy for me and my time.
About 5 minutes after he finished, the skies opened up and it started POURING!  We were so happy to be done by that point!!
The rest of the day included pancakes, naps, and lying around on the couch.  We both couldn't believe that we ran our first half-marathon.  I was thrilled, and he was like, "I am SO glad this is over!"
It is no surprise that we both have different takes on what we should do next :)  He wants to hold off doing another race until fall, so that he can "get in shape" (since only ran once a week during my training weeks).  I, on the other hand, want to do another race ASAP!  We'll see who wins, eh?