Written by Tera on September 11, 2012 – -
by Heather Gardner
If you take a turn around your local meadow in the height of summer you will surely see the creamy coloured fluffy flower topped plant called meadowsweet. Inhale deeply as you dance past and you will be rewarded with the scent of honey on the breeze. Meadowsweet is an absolute herbal sweetheart of mine but does not make it on the list of well known herbs that we use regularly. When I was a child I suffered badly with stomach upsets, a reason why I began my quest for healing knowledge. As I was doubled up in pain with a bloated poorly belly my mother would give me herbal
potions
containing meadowsweet much to my relief.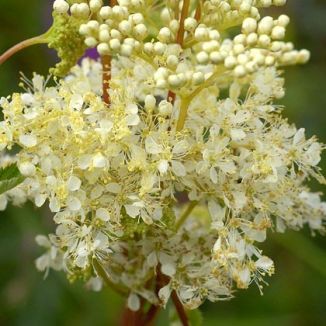 Though not a well known herb meadowsweet, also called queen of the meadows, meadwort or bridewort, has an illustrious history. Plant historians say that the name meadowsweet may be more to do with the famous drink mead than the meadows it adorns. Meadowsweet is one of the herbs that lends its flavour to the famous drink called mead, a fermented honey wine favoured among celtic societies, and drank for a whole moon cycle after a wedding to ensure fertility. Meadowsweet was also made famous in ancient Irish mythology as the plant given to one of the heroes of Ireland Cúchulainn, to calm his fits of rage and fevers. This was a warrior who would take on whole armies single handed and defeat them. In medieval times it was a popular herb herb amongst the kings and queens of England for digestive issues. Queen Elizabeth 1 preferred it to any other plant to strew in her chambers to make them sweet smelling. It was from meadowsweet that aspirin was born. Though willow has a longer history of being used to control pain due to its high content of salicylate, and was used by Hippocrates 'the father of medicine' in the 5th century, it was actually research on meadowsweet that led to the discovery of aspirin in the 19th century. This drug is now synthesized in the lab but we can still utilize these plants as natures gentle pain reliever.
Before we get lost in the mists of time with romantic tales of queens and heroes lets explore what can this do for us today! Meadowsweet is truly a herb that can help us for many modern day complaints and worth a place in every household herbal first aid collection. Apart from the fact that it tastes delicious, reminiscent of elder flowers with a sweeter honey flavour and can be drank alone as a refreshing infusion or used in combination with other herbs for a tasty tea. It comes with healing benefits that are perfect to counteract stressful 21st century living.
indigestion
excess stomach acid
heartburn
gastritis
stomach ulcers
diarrhea
inflammation of the digestive tract
reduces fevers
promotes sweating
muscular aches & pains
arthritic & rheumatic aches
cools inflamed eyes when cold infusion is applied
To use meadowsweet it is easy to pick the fresh flowers if you have them growing nearby (be sure you know exactly what they look like or ask an expert, there are poisonous plants with white flowers also that grow in the meadows). Or buy the dried flowers from your health-shop or herbalist.
Making an infusion is the easiest and yummiest way to access its healing benefits. Just add 1 teaspoon of dried herb per mug of boiling water and infuse for a minimum of 5 minutes preferably with a lid on.
1 part meadowsweet flowers
1 part marshmallow leaves & root
Marshmallow like meadowsweet is also very soothing and healing to the stomach and digestive system, it is very good in any cases of irritation and inflammation. Just mix equal parts of the fresh or dried herbs and allow to steep in just under boiled water. For 1 cup use 1 teaspoon of each and for a pot use 1-3 tablespoons of each. Other herbs that will also help a poorly tummy that can be added in as well are mint, fennel and liquorice. Serve with lemon and honey if desired.
Melt a cup of coconut oil over a bain marie, and add in 5-6 fresh heads of meadowsweet or half a cup of dried herb. Leave the mixture to simmer slightly over the heat for 10- 20 mins. Strain the mixture through a colander or a cloth (not plastic), and pour into a completely dry and clean glass jar. Add in 5-10 drops of lavender essential oil or any other you prefer. if you leave it plain you will enjoy the scent of the flowers. Allow to cool with the lid off and when solidified, add the lid, label and date. If you live in a climate where coconut oil is liquid then make 1/4-1/2 of the quantity of oil with cacao butter.
Learn the
Skills and Experience
You Need to Feed Your Family for Free, Live a Sustainable Lifestyle and Eat the Healthiest Foods on the Planet!  An easy-to-follow, 17-week online course completely laid out to introduce you to   the food and medicine waiting to be discovered in your backyard or local forest!
**Our next session starts soon**
As a lifelong 3rd generation vegetarian Heather began learning about herbs and wild foods at a young age from her herbalist mother while growing up on a remote mountainside in Ireland. Due to numerous health challenges at a young age, she began delving into the world of foraging, potion making, herbs, nutrition, and raw & living foods as a teenager searching for solutions. She went on to study many different healing modalities and work as a health & beauty manager in London for 10 years. Now she lives in the west of Ireland, devising raw recipes, making beauty potions, foraging, writing, teaching and running her business 
www.consciousearthcompany.com 
as well as running after her feisty little toddler!  Connect with Heather on 
facebook
Tags: , , ,
Posted in
Raw Food Health
,
Raw Food Recipes
|
No Comments »