Welcome to Day 3 of the "To Mom or Not to Mom" Open Salon with yours truly and Pamela of Silent Sorority . We created this dialogue to discuss both sides of the motherhood debate from our unique perspectives. Why? To parse out the concerns and vulnerabilities of transition within the ALI (adoption/loss/infertility) community without tripping over political correctness and delicate sensibilities.
We hope you'll join us every day this week and will be inspired to add your own responses in the comments here and at Pamela's blog or by writing your own blog posts. If you do write a post inspired by this salon, please link up in the comments!
Today, we're talking about the culture of motherhood – or, as I like to call it, the Queendom of Mommyhood – in America.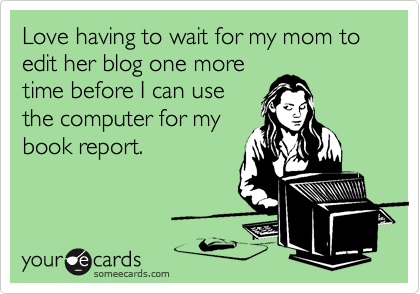 "Moms represent a $2.4 trillion market."
- Marketing to Moms Coalition, State of the American Mom 2011 Report
"Using the strength of their online networks, moms today communicate far beyond the backyard fence and at lightning-fast speed. And that means their influence is nothing to trifle with."
- Melissa Schorr, Boston Globe Magazine, July 29, 2012
"The best thing a girl can be is a good wife and mother. It is a girl's highest calling. I hope I am ready."
― Nancy E. Turner, author
. . .
"Mothers are all slightly insane."
― J.D. Salinger, The Catcher in the Rye
. . .
There is no denying that motherhood – in all its epic glory* – has been placed on a cultural pedestal higher than it's ever been before. *This epic glory, I might add, is an attitude bestowed on moms and mommyhood, a result of this cultural shift and not the catalyst of it.
Don't believe me? Check out what a male commenter had to say on a marketing article discussing that 2.4 trillion dollar mom purchasing power factoid above, emphasis mine:
Lets hope that this economic power leads to social power and influence on the way our world is run. Mothers often work harder, are more organised and efficient with their time (because they have their priorities right), and have more empathy than the rest of us (yes, this is a gross generalisation, but think objectively – and see if it doesn't fit with your own experience of mothers you have worked with, and your own mother – if you are past adolescence and can forgive her for "ruining your life" lol). A world run by mothers would be a better place – with less war, more forgiveness and empathy, and more equitable sharing of resources between the rich and poor, fairer trade between nations, and they look much nicer than the current crop of "leaders" too (.)
Moms have taken the internet by storm – it's a fact that can't be denied and one to which brands and marketers have been paying attention. A 2010 piece from Parents Magazine sheds some light on why this is the case. It's a combination of strength in numbers, new paradigms in online social communication and a shift in credibility, authority, and consensus-building:
More to the point, mothers online have become powerful: raising and honing their voices, writing best-sellers, moving products, stepping up as spokesmoms, and transforming culture. Call it Because I Said So 2.0: The trusted authority of Mom, plus the platform of the Internet, times 35 million (according to eMarketer's 2010 projections of mothers online) equals a collective voice that's not only self-affirming but that politicians and others in power are also listening to.

"Being courted online is extremely empowering. Mothers are realizing that they have a voice, and it has impact when they raise it," says Elisa Camahort Page, cofounder and COO of BlogHer. "There's tremendous opportunity. It can be personal, professional, or political, but it's definitely powerful." ( Source .)
We live in a new age of social media and social communication where moms are driving the conversation. Perhaps this is the empowered response that's been 60 years in the making, shouting back from the days of June Cleaver and her ilk waltzing around the kitchen kowtowing to Don Draper's every beck and whim.
I will fully admit that I have bought into the Queendom of Mommyhood, the cult of Saint Mom the Martyr, the Having It All paradigm. As Nancy Turner notes in her quote above, it's a message that's been conditioned and massaged into girls from an early age. I've emerged a modern woman with the fire of Kali burning in her eyes, piles of Barbies and Polly Pockets and Baby Alives laid waste in my wake of feminist destruction.
To be a Jewish mother, and all the hilarious stereotypes that come with it: bring it on. Actually, no, no – you go ahead, I'll bring it on later, I'll wait – it's fine.
I eat this shit up.
I fully own that I buy into this culture. Case in point: later today, I have my first mom-related product review going up on my #GoTeamZoll page. It's the most traditional "mommyblogger" review you can think of: I got paid, I got a product to take home and keep, and I've got a "here's what I love about this carseat" review going up for it in return. Some might call this bribery. Brands see this as smart marketing – and they're right. There's no denying that purchase power and brand advocacy to be found in the hordes of online mommybloggers.
But.
I am not a mommyblogger.
At least – in this space, I am not a mommyblogger. My work here focuses on those still on the other side, still seeking resolution, support and compassion. For those women (let's face it, I know who reads my blog, but hello guys that are reading this) who are ignored by Big Media and Big Brands because they haven't happened to have their Queen Mom coronation ceremony (yet), I like to think that this blog exists as a refuge from the deluge of the online mom culture.
As Pamela notes in her post today , as many as "one-in-five American women ends her childbearing years without having borne a child, compared with one-in-ten in the 1970s, according to the Pew Research Center." When, as of 2009, 79 million adult women in the U.S. are using the Internet, and you decide to ignore an entire fifth of that population? Well, you leave out almost 16 million women from the conversation, and that's nothing to laugh at. In fact, jokes on them, because now they've lost the purchasing power and brand influence of 16 million women in the process, which is never good for business.
So, on the one hand, I will happily wear my crown (well, tiara, let's face it, my face is too tiny for a whole crown) and play into all the culture of revered motherhood in this country. Just because I went through infertility to get here doesn't mean I can't revel in the things that all the "regular" moms get to do. And I think every woman who becomes a mother through infertility is entitled to all of this, too. It's the infertility amnesia part I take issue with the most.
Belly shots? Happening. Am I posting them on Facebook, my blog, or anywhere publicly on the internet? Hell no. Y'all don't need to see my fat ass, thankyouverymuch. Ultrasound photos? Yes, we'll be taking them. Sharing them on the internet? Nope. Not really fair to my kids since they literally have no say in the matter right now.
Product reviews and complaints of early pregnancy nausea that came barreling into my life this week like the 9:30am Acela Train into Penn Station? Yes, those will be happening. Will I share them here? Yes, but on a separate page and, after a lot of thinking since we got the big news two weeks ago – they will eventually be moved a new space entirely.
The thought of designing, launching and writing a new blog in addition to the many that I already maintain is daunting yes, but necessary. It's not fair to all of you reading who really don't want to get tangled up in my admittedly selfish need to indulge in "normal" mommy online behaviors. Because that's not what you come here for when you come to The Infertility Voice. You don't come here for pregnancy complaints and celebrations and triggering photos. You come here for support, empowerment and a compassionate, empathetic understanding of your experience.
You come here, I like to think, because the broader Internet community has appeared to have forgotten about you – but here, you're remembered, you're honored, you're given your own crown as a rite of this most difficult passage. You've earned your crown through the literal blood, sweat and tears of the infertility experience: a crown of strength, of hope, of empowered consciousness.
Our royalty of womanhood – mothers, non-mothers, sisters, daughters, friends – our royalty of womanhood is our birthright. We all deserve our crowns, no matter what our experiences may be.
I've claimed mine.
Claim yours.
Be sure to swing by Pamela's blog today to read her take on the culture of motherhood in America – trust me when I say, it's a necessary read. Tune in tomorrow when we talk about the concept of "passing" when it comes to infertility, motherhood and beyond.
Have you been inspired by our salon and written a post at your blog? Add a link to your post below!