"Here is my tattoo honoring my infertility journey. I got it on vacation in Hawaii after my husband returned from a seven month deployment. Sea turtles are known fertility symbols and represent strength, patience and the power to endure and persevere. We went on a snorkeling tour while there and on one of our dives there were a ton of sea turtles surrounding us out in the ocean! So with everything combined- the infertility journey, the spirit of the island, the memorable vacation, and experience of all of those symbols of fertility and strength surrounding me, I thought what better a time to finally get that tattoo that I have been wanting?

I placed it on my foot to remind myself that this is something I have walked through and that I am still standing despite it all (so far ) and also because I didn't want it in some horrid place that will look awful when I am 70! It all came together in some great way, so I am glad to have it and use it as a reminder when I need it."
Jessie sent me this lovely little blackbird that sits on the inside of her wrist: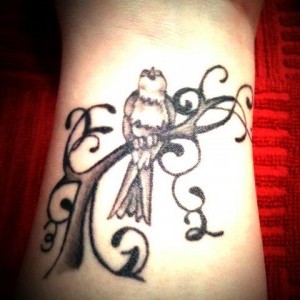 "Take these broken wings and learn to fly."
"Here's my tattoo and the story: we did IVF in January 2012. We transferred 3 embryos. It ended in a chemical pregnancy. My tattoo has "2012″ in the branches to represent the year of our loss, as well as a "3″ in the bottom left corner to represent the three embryos we transferred and lost. I chose the picture of the bird in the tree because I love the song "Blackbird" by The Beatles. My brother played it on the guitar as I walked down the aisle to marry my husband. Back then, the lyrics 'All your life, you were only waiting for this moment to arise' resonated with me. During this whole journey, the lyrics 'take these broken wings and learn to fly' were a reminder that this does not define me nor will it destroy me. I got the tattoo on the inside of my left wrist six months after our loss."
Catie shared a wonderful story about how she and her mom Kelly got matching tattoos: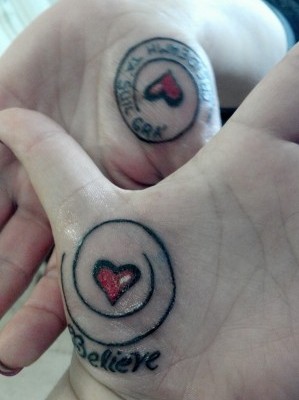 A mother-daughter bond of love, told in ink.
"Here are my Mom's and my tattoo. Its a simple version of the infertility awareness symbol. Mine says BELIEVE, because I have to always remind myself to believe that I WILL be a mother (one way or another). My Mom's is actually written in Irish, and it says FAITH, HOPE, LOVE because she wanted to support our journey and she says that's what it takes. They are on our left palms so that they are visible to us and everyone else, and people can ask what they're for. I love them!"
And finally, Anasara sent this picture of her bumptious looking pomegranate tattoo: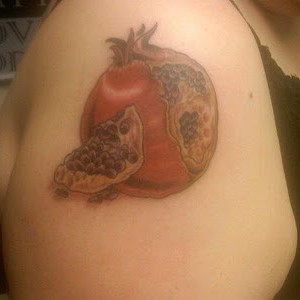 "Pomegranates, a longstanding symbol of fertility, serve as a strong analogy to those of us dealing with infertility."
"I got my infertility tattoo in late 2011 prior to undergoing our 1st IVF cycle. It was my 8th tattoo overall (#9 is scheduled for my birthday in April) so I'm no stranger to the needle even before infertility, LOL! Although all my tattoos have special meaning, this one was by far the most cathartic to get. I think it had to do with finally ackowledging the fact we were entering "the final frontier" (to my DH & I) of ART since IUIs never worked. I wanted something that was both beautiful and yet not obvious to the world, not for privacy's sake (I've been 'out' as an infertile since we started seeing an RE almost 4 years ago) but so people would ask me 'why a pomegranate?' and I would get to educate them on the meaning." Read Anasara's full post about her tattoo here .
Do you have a tattoo honoring your journey so far? Thinking about getting one? And what do you think about getting a tattoo in general? Share your thoughts in the comments and link up to any blog posts you might have about your own tattoos!