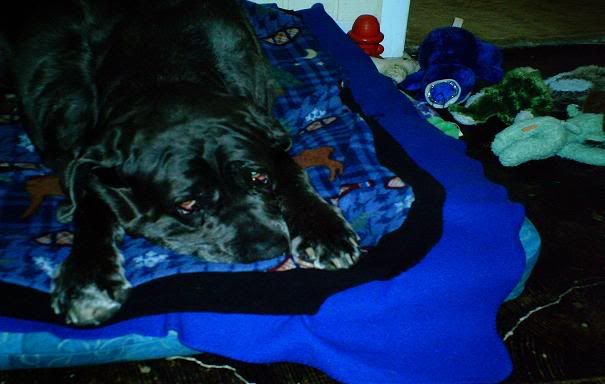 I'm waiting…and waiting…and waiting for humans to figure out the REAL problem here. Sigh. It's NOT us, WOOF! Oh and one more time pitbulls aren't a breed, WOOF! I keep hoping by sharing all this news people will learn and then maybe the politicians will cop a clue…well I can always dream. Please read this all the way through and get busy helping us dogs, please! Dogs in Europe over 35 lbs are being banned! That would mean ME and a whole lot of YOUR dogs too, even if they aren't pitbulls, rrrruffff!! Dogs are just the beginning on worldwide restrictions too!
If Your Town is Considering BSL
Vicious Pitbulls: Here's the Problem
Surrender For Destruction - A Canadian Dog Owner's Nightmare
Council Amends Dog Ordinance
She is a Pitbull's Best Friend
OH: Sandusky seeks to curb pit bulls
MD, Balt: Lawmaker Proposes Pitbull Restrictions
***UPDATES FROM ' FOR THE LOVE OF PITS ' & ROVERLUTION ***

From: "For the Love of PITS" shana@fortheloveofpits.org (@fortheloveofpits.org)
Date: Sun, 23 Sep 2007 10:14:47 -0400
***ALERT*** Sandusky, Ohio
I know everyone thinks this does not affect them, either because BSL is not being considered in their city, or they do not own a Pit bull type dog; however, this affects everyone that owns a dog in any city in our state. This is the third city in Ohio considering BSL. It's moving closer and closer to us, and is getting out of control.
Please take the time to email the below contact or, if there is no email address, to send a polite and respectful letter to each council member. This is extremely important for us all. First, we will see bans on pits, then other dogs will start to be added to the list. If you've been following what's happening around the world, places in Europe have banned dogs over 35 pounds. Can you imagine??!!
Please take 15 minutes to write the contacts identified below. Please CROSSPOST this to anyone and everyone you know, whether in Sandusky or not.
Please don't put this off as this will pass very, very quickly.
There are examples of letters and more information on many websites, including:
http://www.stopbsl.com/links.htm
PLEASE WRITE LETTERS TODAY!!!!! IF THEY HEAR FROM ENOUGH OF US, WE MAY BE ABLE TO STOP THIS FROM GETTING OUT OF CONTROL IN OHIO!!
*********************************
Shana Klein, President
For the Love of PITS
P.O. Box 19292
Cleveland, Ohio 44119
www.fortheloveofpits.org
__________________________________________________
From ROVERlution:
WARNING: Arkansas has adopted breed bans in three cities—now confiscating family dogs!!! Your Attention Please! This Press Release has been updated. Disregard previous PR for Third Annual Luv-a-Bully March on October 27

Blog it… Post it… Plaster it… GET THE WORD OUT
YOU decide—just DO IT! Not for me. Not for my family. Do it for our dogs and thousands more who are being hunted and killed.
FOR IMMEDIATE RELEASE
OUTRAGED DOG OWNERS WILL MARCH IN PROTEST TO HALT BREED DISCRIMINATION BY CITIES AND INSURANCE COMPANIES ON OCTOBER 27
Discriminatory Breed Bans are Killing Thousands of Innocent Dogs – Forcing Dog Owners to Flee Homes or Surrender Their Dog
ROVERlution.org, a grassroots protest movement comprised of devoted dog owners strongly opposed to Breed Specific Legislation, will hold its Third Annual Luv-a-Bully March on October 27. Dog owners across eight states will begin the protest March starting at 10 a.m. Some cities will march to the steps of City Hall.
——————————————————————————–
(PRWEB) October 1, 2007 – ROVERlution.org is holding its Third Annual Luv-a-Bully March, a protest movement against Breed Specific Legislation (BSL). Nine marches are planned in eight states across the country on Saturday, October 27, starting at 10 a.m. Marches will take place in Brea, California; Indianapolis, Indiana; Kansas City, Missouri; Pelham, Alabama; West Palm Beach, Florida; Chicago, Illinois; Lincoln and Scottsbluff, Nebraska; and Voorhees, New Jersey. More information can be found on ROVERlution's web site, www.roverlution.org.
March protestors are opposed to laws that restrict or penalize their freedom to keep dogs of certain breeds and uphold that breed bans violate citizens' Constitutional rights. Protesters maintain that no reputable study has found any particular breed of dog to be inherently dangerous and cite irresponsible dog ownership as the root of problematic dogs in society. In fact, both the Humane Society of the United States and the American Veterinary Medical Association have spoken out against BSL. Dog experts agree that failure to properly penalize the owners of dangerous dogs has put the public at risk, not the responsible dog owner who is becoming victimized by discriminatory laws.
Three breeds most under fire are the American Pit Bull Terrier, the American Staffordshire Terrier, and the Staffordshire Bull Terrier, all commonly referred to as Pit Bulls. It now seems forgotten that the Pit Bull has been used to signify sturdiness, dependability, and loyalty by such organizations as RCA, Buster Brown shoes, and even the lovable Petey of the Little Rascals. Noted historical figures such as Helen Keller and President Franklin D. Roosevelt kept one of the "pit bull" breeds as family pets.
Celebrities Cesar Milan and Rachael Ray share their homes with family dogs Daddy and Izzy, both targets of breed discrimination who have been outlawed in the cities of Denver, Colorado, Overland Park, Kansas and Independence, Missouri and most recently the cites of Beebe, Jacksonville, and Lonoke in Arkansas. Dog owners must flee these cities or risk having their family dogs confiscated and killed. Earlier this year, residents that lost their dogs after a breed ban was enacted in Denver, Colorado (2005) filed a civil lawsuit against the city.
Other breeds that have been the target of BSL in cities around the country include the Rottweiler, Doberman, Chow Chow and the German Shepard.
Leading the California march this year will be Chloe, the trained service dog that was wrongly kicked out of Wal-Mart when a panicked store manager spotted the dog and illegally told shopper, Gina Pettrow, to get her Pit Bull out of the store. This violation of the American Disabilities Act later forced Wal-Mart to publicly apologize at the risk of legal action.
Also joining the California March this year will be Bogey, the very first American Staffordshire Terrier in AKC's history to earn the Rally Advanced Excellent Title Award, and Rowdy, who received the AKC's 2007 Honorable Mention ACE Therapy Dog Award for her work with children at the Metropolitan State Hospital.
Chloe, Bogey, and Rowdy are recognized breed ambassadors who expose the myth that pit bulls are dangerous dogs.
The behavior of "Pit Bulls," like any breed of dog, is largely determined by the hand of man. " Until such a time that all dogs are judged by their actual behavior and not stereotyped as breed aggressive, I will work against any insurance company or government entity seeking to penalize dog ownership based on breed prejudice," said Dr. Paula Terifaj, veterinarian and leader of ROVERlution.org.
Terifaj further asserts that the media has largely contributed to the irrational fear that surrounds this breed by haphazard news reporting. Neglect by the media to acknowledge the role played by the actions of irresponsible bad dog owners puts the focus of blame on the dog, not the owner. Sloppy news reporting leaves out important details such as the failure by animal control to enforce existing dangerous dog laws that could have prevented an attack. Lazy news reporters have falsely reported mix breed dogs to be Pit Bulls, rushing to create more headline hype. Reported attacks by "Pit Bulls" are erroneously represented as a breed problem when experience shows that all dog attacks can be traced back to failure by the owner to properly train and socialize the dog, owner neglect/abuse, and failure to enforce existing dangerous dog laws to remove dogs known to be a threat.
Terifaj said her outrage at the growing trend toward breed specific legislation targeted at dogs such as the American Pit Bull Terrier is shared by the thousands of Americans across the country who have joined her protest movement, ROVERlution.org.
ROVERlution.org encourages voter support for lawmakers who will respect the interests of dog owners and will vote down discriminatory dog legislation that penalizes the responsible dog owner. " Dog owners comprise 48 percent of the voting population, therefore politicians need to be aware of policies that affect us in a negative way," Terifaj said.
Local dog rescue organizations and animal advocacy groups will participate with information on how to promote public safety and offer tips to help dog owners integrate their dogs as good canine citizens in their communities.
Pre-registered dog rescue groups will be presenting available dogs for adoption to loving homes.
Individuals or organizations interested in organizing a Luv-a-Bully March in their hometown in 2008 are encouraged to sign up at www.roverlution.org.
# # #
Have a pawsitively, tail waggin', BSL-free day, WOOF!
Bark 'N' Blog is brought to you by Aspenbloom Natural Pet Care