There's also the matter of this wall that needs to be un-decorated to make room for all the art they've been creating this summer! We gotsta rotate the gallery before it gets Artkived.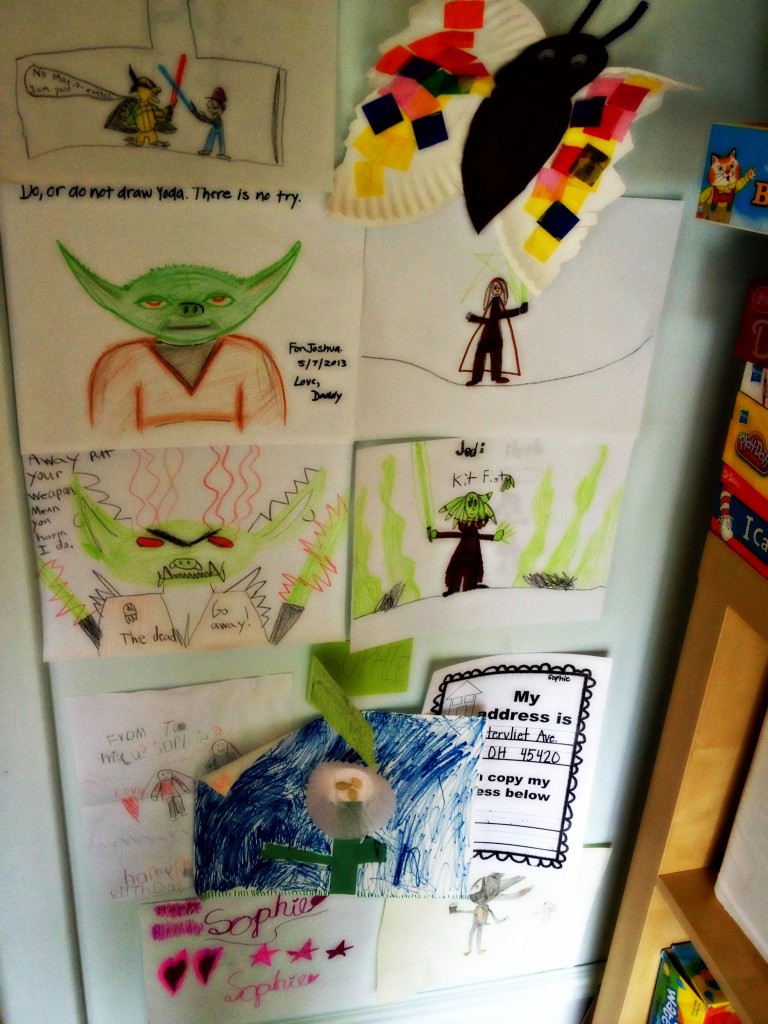 There is clearly some Picasso-quality work here.
Allright, so Artkive RULES! You get it, right? And for all NEW Artkive users, we have a $10 coupon credit toward your first Artkive book! Say what? It's true! But you gotta act fast – between now and July 16, if you are an iOs user, download Artkive here , then go to the 'Account' tab and find the 'Group Code' box. Type in the word "momminitup" (no quotes) and your $10 credit will magically appear by July 17, 2013.
BUT WAIT I haven't told you the best part!!! And no, the best part isn't that you can print your petite Picasso's art into an awesome hard-cover book, and the best part isn't that we're also giving away $50 credit toward a free Artkive book of your own. The VERY best part is that Emily and I met some of the Artkive guys at Mom 2.0 and they are…wait for it…COUSINS!!!
At first we thought they were bloggers and we were all, "Oh no you dit-int, we got the CORNER on the cousin blogger market, so step off before we hafta get NASTY." And they were all, "Hold up! Don't cut us! We're not bloggers! We're the Artkive guys!" and we were all, "Yay! We love Artkive! We've been using Artkive for months!" And then we did a cousin fist-bump and the rest is history.
So to recap A) Artkive is an awesome free app that stores your kid's artwork B)You can print the awesome artwork to a gorgeous hardcover book C) If you sign up for a new Artkive account now and use the code momminitup you will get a $10 credit in your account D) We are giving away $50 credit toward said book. E) Cousins rule the world!
Here's how to enter to win $50 credit to make your Artkive book! (books start at just $25!)
1) Leave a comment on this post telling me what piece of your kids art you most want to Artkive.
2) For an extra entry, follow ArtKive on twitter and leave a separate comment letting us know you did so.
3) Readers who like Artkive on Facebook can also earn an extra entry, so if you already do, leave us a separate comment letting us know that as well.
One lucky winner will be chosen Thursday July 18 at 6 pm EST. Good luck and happy Artkiving!