Photo:  
Some rights reserved
by 
noir imp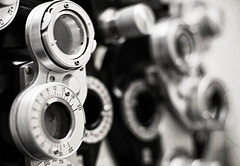 When should I take my child for their first eye test?
The simple answer to this is that you should take your child for an eye test as soon as they are old enough! When exactly they are old enough will depend on a few factors such as the skill of the Optometrist and the cooperation of your child! Some Optometrists will see children from as young as 2 years old as there are tests that can be done that do not require your child to read letters off a reading chart etc. The reason it is important to get your children's eyes tested when they are young is because below the age of 7 years old, their eyes are still developing and if any problems arise such as a lazy eye, then there is a greater chance that it can be treated. Once your child gets beyond this age it is impossible to treat a lazy eye.
There are however some signs that your child may demonstrate if they are having problems with their vision and these would indicate the need to have an eye test as soon as can be arranged. The most common signs are as follows:
Headaches: Most children complain of headaches and it can be hard to know what the cause could be. If the headaches are worse after reading, TV or computer (play station) then this could mean the headaches are vision related. Visual related headaches are most likely to be located either at the front or side of your child's head.
Eye strain: If you child complains of eye strain the likelihood is that they may need glasses. Eye strain could manifest in a few ways such as aching eyes, tired eyes, itchy or stinging eyes. You may see you child continually rubbing their eyes if they have eye strain.
Screwing their eyes up: If you see your child screwing their eyes up then this is a definite sign that they are having visual problems. It could mean they are either short sighted or have astigmatism, both of which are easily dealt with by glasses.
Turn in the Eye: A turn in your child's eye could indicate a lazy eye and it is important to get your child to the Optometrist as soon as possible. An eye turn can usually be corrected with either eye exercises, glasses or an operation. Your optometrist will be able to advise you on this but the sooner you get your child seen, the better the prognosis of a lazy eye.
Closing of one eye: If you child has a weakness in one of their eyes they may close that eye when they are concentrating on things. This will need to be seen by an optometrist as it could indicate a lazy eye which may need eye patch therapy to fix it.
In summary, regardless of whether you feel your child has a visual problem or not you should take them for an eye test as soon as possible. Poor eye sight could affect your child's academic ability at school and also their sporting ability. Both eyes need to be working well together in order to competently play any sports which involve a moving ball such as tennis or football. Even if your child needs glasses it may not be forever and advancements in laser eye surgery mean once they are 18 years old their vision could be easily corrected. Laser eye surgery risks are now extremely low meaning more and more people are deciding to have it done.
Tim Harwood is a laser trained optometrist from the UK who spends much of his time answering questions for his laser eye surgery forum .