on video
.  (Fortuntately I am mostly hidden but
Pauline
is a SUPAHSTAH!) The next morning we were off bright & early to
Kalahari Resort
, which OHMAHGAH is FLIPPIN' HUGE!  And I didn't even know it was there!  It's like what I imagine a Disney resort to be like.  GINORMOUS, with indoor activities (including a bazillion restaurants and candy shops and the largest indoor waterpark IN AMERICA) and outdoor, like it's own ZOO with 350 animals, splash parks, a rope course, and a zipline.  Oh, and did I mention they HAVE A SPA!?  It's soooo nice!  I know this firsthand because we got treated to treaments. Here's how I was feeling after my massage:
soooooooohappppyyyy

We had a wonderful dinner and dessert in the restaurant at the resort, then we hit Sawmill's in-house bar, the Black Bear Saloon, for a little Mommy Blogger dance-a-thon. Which may or may not be

Here are some pics of Kalahari. The water park was indescribably huge and breathtaking. I am DYING to take my big kids there, they will be in heaven. I can really see just plopping our stuff down and staying there for hours, even with Jonah. The baby area was AMAZING.

The rest of the day was a blur of FUN and activity. We made chocolate bars at Tre Sorelle Ciococolato , where we all RAWKED the hair net. It was really fun AND yummy! They do birthday parties and kid's chocolate-making classes, if you live up there you should TOTES get in on that.
Jealous?
My candy before I trimmed it. AND DEVOURED IT.

 Next, we were off to Firelands Winery for wine tasting and lunch.  I brought Emily home a big ol' bottle of bubbly which I shall have to let her review sometime.  But I thought it was super cool that all the grapes for Firelands Wine is grown on one of Lake Erie's Islands – North Bass Island! Next, we went to the Wendy Kromer Bakery , (she's only contributing editor for Martha Stewart Weddings – NO BIG DEAL!) where I ate the best thing I have ever eaten in my life . Not exaggerating, not joking, across all food groups, all food types, EVERYTHING, this is THE BEST THING I have ever eaten:
Macaroons + raspberry buttercream + chocolate buttercream + raspberry ganache =HEAVEN ON EARTH!!
Then we headed to the Merry Go Round Museum , where we got to take lots of cool pictures of tons of vintage carousel animals and of course, go for a Merry Go Round ride! It was very fast & fun!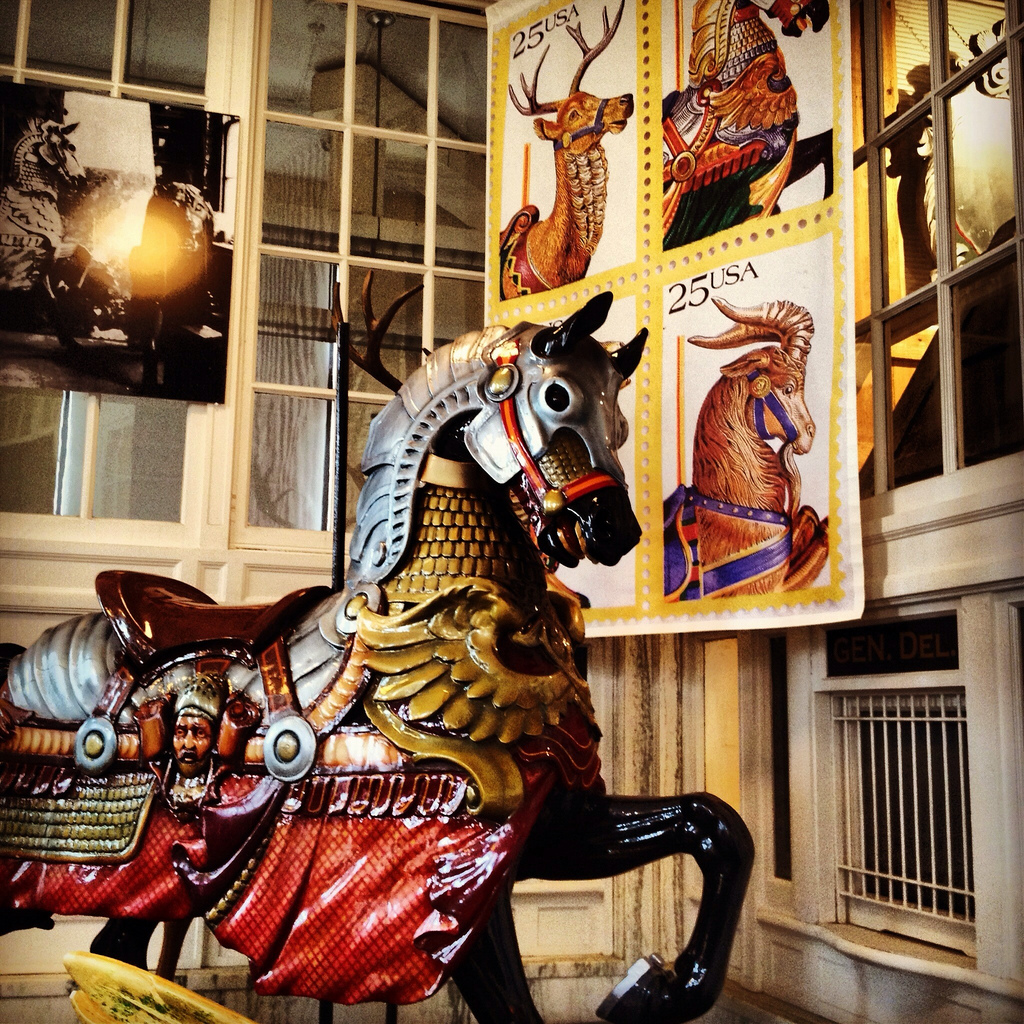 Finally, we finished out our day at the Ghostly Manor Thrill Center , where we literally got just about scared to death in their haunted house (dudes, they are NOT KIDDING with that thing).  But, we also had some fun!  They have 3-D mini-golf and other fun indoor rides and games, plus a skating rink, snack bar, etc. – it's another great birthday party destination. And the married couple who run it and their baby are so freaking ADORABLE.  It's a great little family business!
3-D glasses and a Mountain Dew from the fountain. I can be BOUGHT.

I really can't tell you how much fun Luanne and I had on this tour.  Hanging out with other bloggers Jen of Big Binder (who has lots of amazing pics on her post ), Pauline of Classy Chaos , and Valerie of Social Moms Around Columbus was also a huge part of the fun.  I really, honestly, TRULY can't wait to take my family back to the area this summer so we can explore the beach and Lake Erie's Islands and maybe Bobby can get in a sail or two! To check out all that Lake Erie Shores & Islands has to offer, click here . Thanks to LESI for providing my lodgings and meals!  And for letting me bring a friend!  It was a great trip!  And of course all opinions about it are my very own precious opinions.