Tresemme shampoo and conditioner, two for $7
Two Ragu pasta sauce two for $3
Colgate Optic White toothpaste, $2.99
total = $12.99
coupons I used:
-$3.50 BOGO free Tresemme coupon from RedPlum 1/27 insert
- 40 cents/2 Ragu coupon from same insert
-$4 +UP Rewards from Friday's transaction
=$5.09 + 70 cents tax = $5.79
I got back $2 +UP Rewards from the Tresemme, $1 from the Ragu and $1 from the Colgate, plus $1 from my ibotta coupon app deposited in my PayPal account for the Colgate as well. So basically that cost me 79 cents. WHAT UP!
Now, on to CVS. I had 4 CVS Extra Care Bucks that I needed to use, so I decided to buy some soda for Joshua's upcoming birthday party next weeeknd.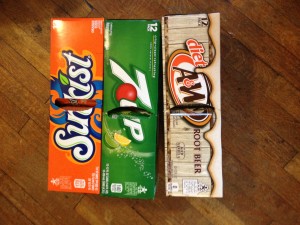 7UP products. It's for the family, I'll have to buy myself a 2 liter of Dew.

Twelve-packs of 7UP products were 3/$10 with 4 ECBs back, so that's what I did. Not too exciting! I used my 4 ECBs I already had, paid $6.70 with tax, and got back another 4 ECBs. Cheap soda FTW!
Well, that's what I did at the drugstore this week! Have you been coupon shopping yet this week? What deals are you gonna get?