I can only imagine the excitement a third grader feels upon opening his lunchbox and finding a (healthy, I might add) replica of his favorite game that his mom lets him play on her iPhone when she needs a moment's peace and quiet. But seriously – it is all. I. Can. Do. to get Kate's lunch packed in the first place. In fact, there have been mornings that I have pleaded "Can't you just buy your (high-fructose-corn-syrup-laden-better-moms-wouldn't-feed-to-their-dogs) lunch at school?" I feel like mom of the freaking year when I remember to write a little note on Kate's napkin. Odds of me making Phineas and Ferb likenesses out of turkey are not good.
And then there are the home improvement projects. Remodel your kitchen using only toothpicks and chewing gum! Crochet your own ziploc bags! Whittle your own dining room table!
Turn a trampoline into a… I don't know… thing that looks pretty but is bound to result in broken bones!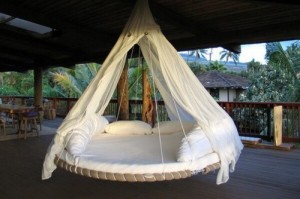 Picture from elegancewithinme.tumblr.com
People. Come on. Let's be serious.
Also – the inspirational quotes? Piss me off. But that's a whole other post.