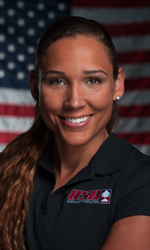 Lolo Jones, who has finally figured out that running is the devil and has switched form the 100-m hurdles to the women's bobsled team.
Here's a list of 10 female athletes to follow on Twitter and/or Instagram. The hashtag is #Sochi2014, in case you were wondering!
And finally, here's a link to my #Sochi2014 pin board , complete with tons of brilliant ideas that I will probably never get around to implementing.
What events are you excited to watch from Sochi?