They both wanted to ride the bike. This was their compromise.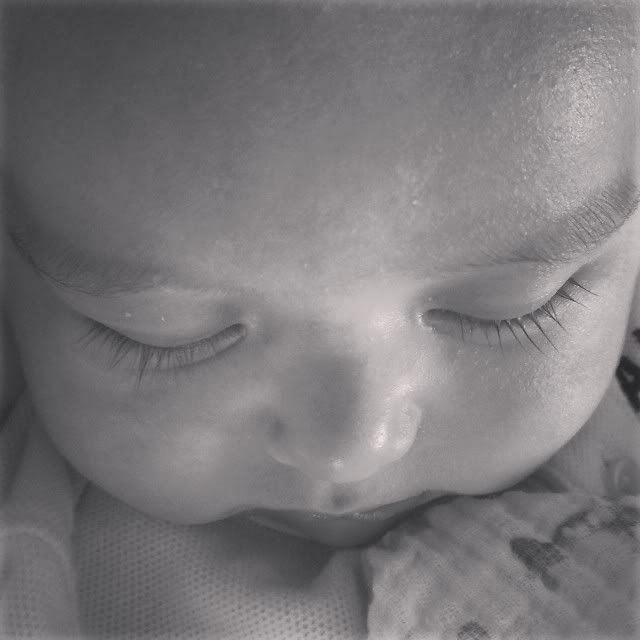 This boy ❤  
Ahoy matey's!   Is mommy guilt normal? Cuz if it is, count me in. If it isn't, count me crazy. The amount of guilt I feel on a daily basis is ridiculous. I feel guilty when Harrison sits in the Rock and Play too long, even when he's content. I feel guilty when Franky builds Lego towers by himself while I fix lunch because I feel like I should be right by his side, building with him. I feel guilty when Marija plays with Legos because I feel like I should be teaching her about Barbie's. I feel guilty when I'm impatient, when I yell out of frustration because they didn't listen the first time, fought with each other, because they tested their limits or did something they weren't supposed to do. I feel guilty when I punish them. Does the guilt ever go away? Am I a horrible person when all I want at the end of some nights is a big friggin glass of wine instead of wanting to read a book to my kids?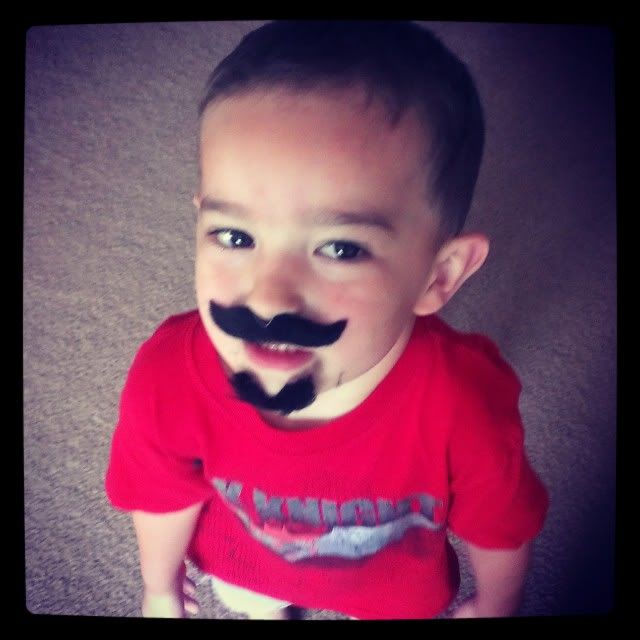 He absolutely cracks me up!  
He wasn't so sure about the swing. He got scared and freaked out, poor baby.

Ry with each of his babies on the days they were born. Top left is Franky, bottom left is Marija and right is Harrison. Ry had to work on Father's Day so we stayed home and had a pretty low-key day, which none of us minded. Ry and I are super low-maintenance with things like mother's/father's day, anniversaries, birthdays. We don't make a big to-do about it or get crazy gifts or anything like that and to be honest, I prefer it that way. If there's something one of us sees throughout the year that we know the other one would like, we get it even if there's no "special" occasion. Or if one of us wants something, we get it rather than waiting to give or receive it as a gift. We tell each other we love each other every day and find the time to sneak away whenever we need it even if it's not a holiday, anniversary or birthday. I like the random, unexpected, last-minute types of gifts and getaways more than the ones that are planned or expected. I hate feeling like I have to do something just because the day says so. I hate feeling pressured. So when it's an out-of-the-blue gift or getaway I appreciate it more and love that giddy feeling I get in the pit of my belly every time.


I'm having the hardest time losing the last of the baby weight and have been at a complete stand still. I'll lose a few then gain a few then lose a few then gain 'em and it's making me crazy. I only have around 5 lbs to lose to reach my ultimate goal, but my eating habits have absolutely sucked and I haven't been getting out for runs as often as I'd like. In an attempt to still be somewhat healthy while giving in to my sweet tooth lately, I've been making treats like this. Sliced bananas with a few tablespoons of Trader Joe's Cookie Butter. OMG this stuff is sinfully good. No joke. I've had a cookie butter and jelly sandwich, cookie butter mixed in my oatmeal, cookie butter with bananas and honey on crackers. You name it, I've probably had it in the last two days. I'm pretty much obsessed with Trader Joe's lately. Ry introduced me to it a few years back and we've shopped there sporadically over the years, but lately we've been doing our weekly grocery shopping there instead of making our usual Kroger or Meijer trips. I can't say I miss the other places and I'm thinking I'll be putting Trader Joe's into the same category as Target trips: better paired with a cup of Starbucks and sans children :)


Oh this bond...there is absolutely nothing better in life than this. I weaned Franky at 12 months and regretted it right after because neither of us were really ready. I let Marija decide when she was done and it was sometime around 20 months. I'll let Harrison decide as well, whether that be at 12 months or 24, it will be his choice.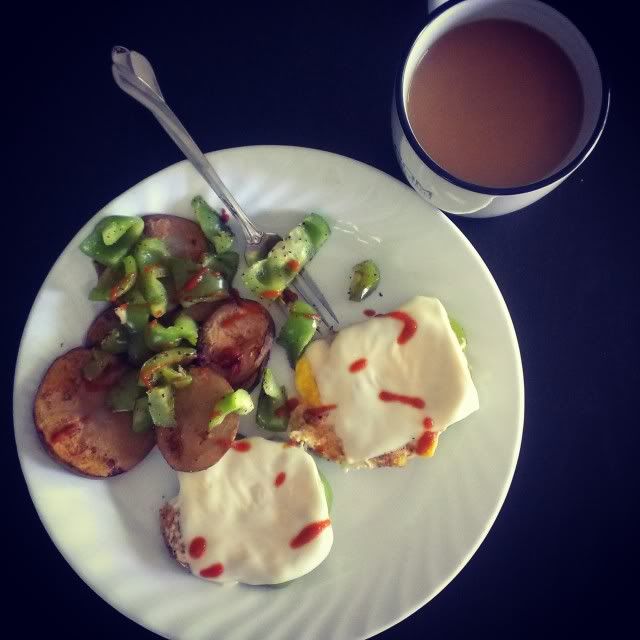 I've been saying I want to get back to how I ate and worked out last year. I ate (mostly) clean and worked out no less than 5x a week. So it's funny, then, that as I was chanting it in my head this morning that I made a fairly unhealthy breakfast this morning, lol. These were potatoes that had cooked in the bottom of the pot when my MIL made her infamous meat and rice grapeleaves a few days ago. I pan-fried them in coconut oil with some chopped green peppers. Then I pan-fried some eggs in green pepper circles, topped them with white cheddar and drizzled them in sriracha sauce. It was somewhere around 450 calories and absolutely delicious.