We got hit with the stomach flu a few days ago. It freakin' sucked and not exactly how I wanted to spend my first week postpartum. It hit me and Franky the hardest, but also got to Ry, Marija and Harrison too. We're always on top of hand-washing, hygiene and sanitization in general, but especially so this week. 

Cat-napping with her baby brother's blanket and bear. 

I've felt so bad for this little guy, who got it the worst of all. We all literally cooped up in our room for an entire day in hopes of not spreading the sickness to anyone else and for much-needed rest.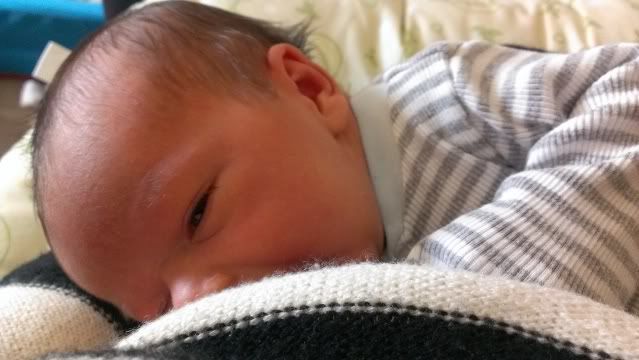 I am obsessed with this sweet baby boy. He is such a good baby, I just can't get enough. He's my easiest baby so far. He's been the best nurser, best sleeper, best traveler, most laid-back. It may sound strange, but even though I've never missed being pregnant, I always missed nursing my babies after they weaned. It is by far the best, most sacred time I ever had with all three babies and I'm loving it just as much the third time around. Something about the feel-good endorphins our bodies release when we feed our babies just does something to me. No other feeling like it on earth. I hold this feeling probably hand-in-hand with natural childbirth. Crazy to think I nursed his big sister a year ago too. How time flies!

I seriously love me a milk drunk baby. 

Tiny, wrinkly, feathery-soft baby piggies. Nomnomnom!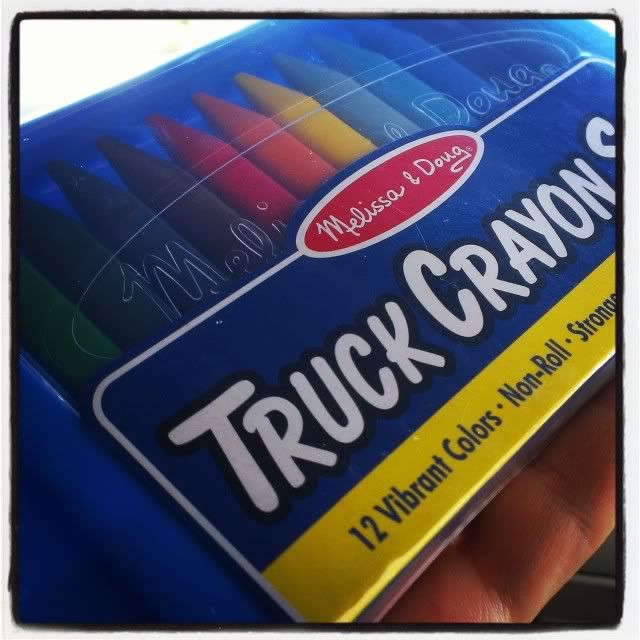 These crayons are AMAZING! They are unbreakable, no joke. They've been stepped on, colored with, dropped, tossed, you name it and there's not so much as a dent on them. I will never buy another brand of crayons again. They were a little pricey, but worth every single penny!


Baby's first fauxhawk! His umbilical cord stump fell out the other day (4.4.13) and he has the cutest little belly button! It looks just like Franky's. Franky's took the longest to fall out, at around 18 days, and Marija's was the quickest at day nine. I swabbed Franky's and Marija's with alcohol to help the process along but left Harrison's alone and his was the easiest.

I am obsessed with these Kroger carts. Triple kid containment! Life with three kids has been easier than I thought it would be but it has also had its difficulties. Harrison is incredibly easy right now and I'm sure it will be much more challenging a year from now, so I'm enjoying this stage while it lasts. The greatest difficulties have been in dividing my time three ways now and making sure that each kid is still getting what they need from me. I sneak in time with Franky while his sister plays and brother naps. I take advantage of Mimi cuddles when her baby brother is nursing. I try to include them in as much of Harrison's care as I can. They like bringing clean diapers and wipes to me and get a kick out of watching me change his diaper, get him dressed or nurse him. They're both especially curious about him eating. They're fascinated that he gets his milk from mommy's boobs and that he doesn't eat the same food they do. They also think it's cool when I tell them they also ate the same way Harrison does when they were babies.

Franky loves holding his baby brother and Marija is always interested in what he's doing. "Dat's Harrison! Harrison's sleeping! Harrison's drinking milk from your boobs!" And Franky had us cracking up the other day. I was in the bathroom and Harrison started crying. I heard Ryan say, "Baba's here, I got you buddy." A few seconds later I heard Franky say, "Baba! You can't help him!!! You don't have any boobs!" I laughed so hard! Yeah, boobs are a big topic of conversation in our family lately, haha. I have so loved having this time with Ryan at home and am already dreading him going back to work in a few days. The kids and I will miss him like crazy and I know it will be a big adjustment for all of us not having him here around-the-clock. I guess I shouldn't really say how life with three is until I've been on the job on my own for a few days, huh? We'll see how I do after next week!