I washed and dried Target brand baby wipes to use as diaper liners because I ran low on the Bummis liners and they work
fantastic
. I read somewhere that they make a better sposie liner alternative because they're made of stronger material and can withstand multiple wash and dry cycles. They aren't meant to be flushed, like the sposie liners, but are a great alternative. So far, I'm loving them and have really liked the cost effectiveness of being able to use them over and over, whereas the Bummis ones were getting tossed because they weren't holding up well in the washer and dryer.
Bummis liner after ONE wash & dry cycle

Target unscented baby wipe after THREE wash & dry cyles.   I also tried Allen's Back Out for the first time and was pretty impressed. I soaked just my inserts in Stink Out and hot water for an hour before ringing them out and tossing them in the washer and it worked well, but I found it worked better in the washing machine with detergent and just skipping the soak routine.


Harrison's fluff is all stuffed and ready to be worn. I cannot wait to see his cute little butt wrapped up in these!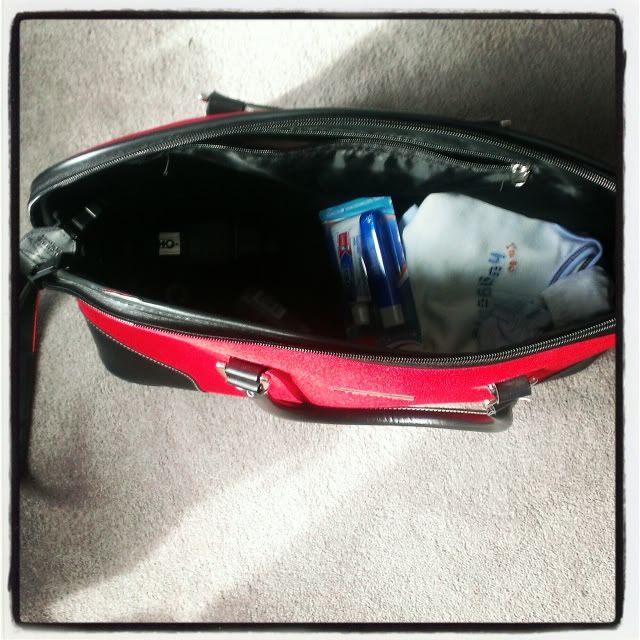 I finally started packing my hospital bag the other day and so far I have a toothbrush, toothpaste, Harrison's coming home outfit (the same one Franky wore), granny panties for me, a nursing bra, my coming home outfit (yoga pants, tank top and maternity sweater wrap) and my camera. That's about it so far and I'm guessing I probably won't be adding too much more to it. I brought so much stuff when I had Franky, not realizing that the hospital would be providing a lot of the same stuff. I brought much less with Marija and was happy that I didn't overpack. I'm bringing even less this time around and plan on fully utilizing the supplies the hospital provides for me. I'm a simple girl and by the third baby, I've realized that less is more.


Marija got to pick out two toys for Bear at the pet store last week and she willing gave up the stuffed heart but would not let Mr. Crocodile go for anything. She even offered Bear one of her favorite babies so she could keep Mr. Croc. A week later and she's literally only put this thing down to take a bath and that's it. He goes to sleep next to her, eats next to her, travels with her wherever we go. Mr. Croc is her new best friend. Sorry Bear, haha.

Speaking of Bear, he was brought up to date on all his vaccinations and even got to be spoiled at the pet store today, thanks to Blue Buffalo sale prices and coupons. My heart ached hearing Franky's distress at taking Bear to the vet because he associated the vet with death. He said that we took Dali to the doctor and then Dali died and went to Heaven with God and that he didn't want Bear to die and that he didn't want to die either. It caught me off-guard because his perception was so honest and real and literal. And for half a second I regretted being so open and honest with him about Dahlia's death and with life in general. I don't like to lie to my kids and I believe in honesty being the best policy. I do my best to tell them the truth in language that is understandable and appropriate for their ages. I've done a lot of thinking lately and am not sure how I feel about telling the kids about the Easter Bunny, Santa Clause and the tooth fairy, only to tell them they aren't real in just a few years. I would rather tell them the truth and explain that it's pretend and all in good fun. Ryan, on the other hand, grew up believing in the magic of all three and wants the kids to have that same kind of innocence and magic. I can't believe how quickly these types of things have creeped up on us as parents. Weren't we just bringing them home from the hospital?

I'm not sure how thrilled I am about Bear's vet's office anymore because every time we go it's a different doctor who tries to push WAY too many unnecessary expenses our way. I love, love, love the vet we usually see, but the last two visits have been with different doctors, none of whom we like much. An example of a crazy expense? Ummm, remember that fatty lump Bear's had for more than five years, which isn't cancerous, doesn't cause him pain and doesn't cause any medical issues whatsoever? Yeah, Bear's normal vet has told us before that it isn't necessary to have it removed unless it starts causing medical issues, which it isn't. The doc today recommended an almost $1,000 surgical removal of said non-harmful fatty tumor. Yeah, I don't freakin' think so. He also tried quoting us with over $1,000 worth of dental work for Bear (seriously, he'd be fine with a good cleaning) and then another estimate of over $400 worth of random skin tests and allergy tests and all kinds of other crap that Bear doesn't need.

It was determined that aside from Bear's food allergy (which the Blue Buffalo has done wonders for) he does have a skin yeast infection, which we picked shampoo up for (Selsun Blue - who knew?! Ha!) and he still has sensitive ears (which he has since I adopted him) so we're continuing with daily ear drops. Between Dahlia's vet and cremation expenses and Bear's annual vet expenses, we've had a very expensive couple of weeks, but are all up-to-date with everything, thank goodness because it'll be one less thing to worry about when we're in the tail-end of bankruptcy stuff and in the beginning of home-buying stuff. I have to say, I'll be especially thankful for the timing of Harrison's arrival, which will be another beautiful reminder of why we've been busting our butts to save money and take care of loose ends since my in-laws have been gracious enough to have us with them.


Harrison's wardrobe is quickly taking over my side of the closet and I am not complaining even a little bit. It makes my heart explode with love seeing all of his teeny, tiny clothes neatly hung up, waiting to be worn. It brings back a lot of memories seeing these clothes because I remember when not so long ago Franky wore the same ones.


Harrison's first monogram, a bag that matches Franky and Marija's, courtesy of his Tata who already spoils and loves him to the moon and back. I think more than knowing how much my babies love their Tata, it warms my heart to know how much she loves them. Seriously, though, no one else exists when Tata is home, especially for Franky. He drops anything and everything he's doing to rush to her, screaming "TATA'S HOME," running with hugs and kisses for her.

See Mr. Croc buckled in all safe and sound next to Marija? Yeah, I was totally not exaggerating when I said he comes with us everywhere.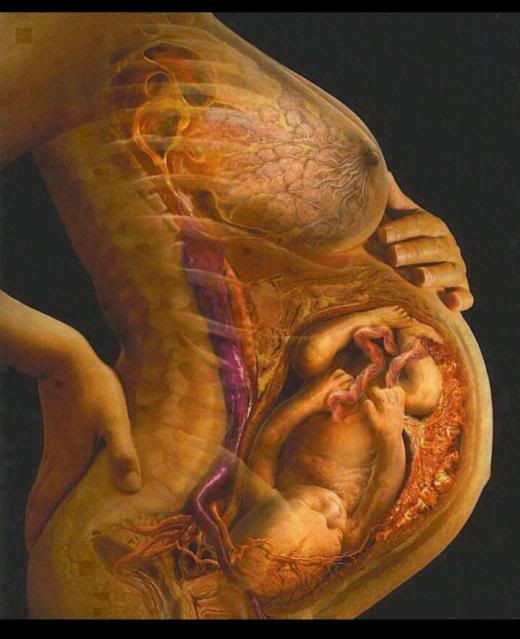 A friend of mine posted this on Instagram and I find it absolutely amazing. For as much as I complain about pregnancy not being kind to me, I really do think it's one of life's true miracles and I feel so lucky and so blessed to have been able to experience this three times. Incredible what our bodies are capable of doing.
I saw my primary midwife this week and everything is on track. My blood sugar logs look good, my weight gain is where it should be, my belly measured at 35.5 weeks and baby boy's heartbeat was in the high 130's. I also had my Group B Strep test but won't get the results until tomorrow. It came back negative with Franky and Marija and I'm hoping it's negative this time too because I really, really don't want to be hooked up to an IV during active labor. My midwife and I talked a bit about my birth plan (no pain meds or epidural to be offered whatsoever, continuous monitoring by portable device, heplock, free use of birth ball and labor tub) which looks exactly like it did with Marija. There are no concerns for whether I can VBAC or not because I've already done it once and little concern for uterine rupture since we've tested my cesarean scar once through a very intense labor with Marija. It does feel good knowing that despite the gestational diabetes, Harrison is measuring right where he should be and I have the green light for another vaginal birth.

I am nervous for delivery day this time around, but for different reasons than the last time. With Marija it was the fear of the unexpected. Having delivered Franky by "emergency" cesarean, I had no idea what to expect with Marija and going in prepared to attempt to labor without pain meds was scary and exciting. This time around I'm nervous because I know exactly what to expect and I get butterflies just thinking about it all. I can't wait for labor and delivery. I look forward to that last push, welcoming my youngest son into the world, Ryan cutting the cord, having my baby boy placed right on my chest and meeting his gaze for the first time. I look forward to the quiet that comes after he's been cleaned up, I've delivered the placenta and been stitched up and I'm able to nurse him for the first time. I'm not sure why, but with Franky and Marija their first nursing session was super memorable, sacred and special to me and I look forward to it with Harrison too. I'm considering investing in a little device that I don't think I'd ever heard of until this past week. It's called a Snuza and it's a motion sensor that clips right to the baby's diaper and can be used anywhere the baby is. My mom got us the Angelcare monitor before Marija was born and I loved it, but since I'll be co-sleeping from day one, I think the snuza will be more what we'll need until we're in our own house and Harrison is in his crib. Apparently the angelcare isn't great for co-sleepers, but the snuza is. And being that Ryan and the kids won't be staying in the hospital with Harrison and I, I think I'll sleep a lot more soundly if I know I have the backup of a motion sensor to alert me if anything were to happen, God forbid. I'm a bit of an over-planner and a total worrier, if you hadn't picked up on that already, haha.

Okay, I'm off to read a bit of Tess Gerritsen's Vanish, watch a bit of Parenthood and fall into a deep, deep, much-needed restful night's slumber :)