Maybe it's that somewhere in my subconscious I can already feel the ground beneath me starting to shift in anticipation of the tiny baby boy who will change my world in ways I already know he will and in ways I won't learn until I meet him. There are moments about Marija's birth that I can remember in crisp, specific detail, and others where I was so overcome with complete joy and elation that they are more hazy, almost dream-like. Franky's birth comes back to me the same, some moments with absolute clarity and others in a cloud. Unlike Franky's birth, where I was so numbed with different medications but in a constant state of pain and disappointment, Marija's birth brings no painful memories, even though hers was completely unmedicated.
The closer I get to Harrison's due date, the more I find myself contemplating what his arrival will be like. Will I go into labor before my water breaks, like with Franky? Will my water break before my labor begins, like with Marija? Will it be a long and dragged-out labor like Franky's or a quick and intense labor like Marija's? I'm secretly hoping for the latter, where everything happens so fast and I'm too caught in the moment to really realize what's happening until it's over. I am thankful that I already know what to expect from a cesarean and a natural delivery and recovery but I wonder if I will be more aware the third time around because I know what to expect either way. I hope I am more aware this time and not so deep into the hypnobirthing that I'm too in the zone.


Franky earned Student of the Month this month, his second time earning it and we are so, so proud of him. His first patch was earned his first month in karate and the second one over a year later. His instructors are really happy with his progress and how far he's come since he started. He listens so well and is becoming such a great helper every week in class.

  Marija is such a stinkin' character lately, she seriously cracks us up with all her shenanigans. It triips me out how much she talks too. She speaks so well and there's very little she can't communicate with us. She knows most of her ABC's, can count to 10 and speaks in full sentences. I've heard there is usually one character in each family and Ry and I have been blessed with two. They definitely keep it lively around here, that's for sure! I am loving how long and thick her hair is growing because it's finally long enough for all of the cute ribbons and bows and ponytail holders I have for her.  

He is very into everything educational lately. He is like a sponge and is forever asking about what things are, how they work and how he can do it himself. We're working on his upper and lowercase letters and teaching him how to trace them and write them out.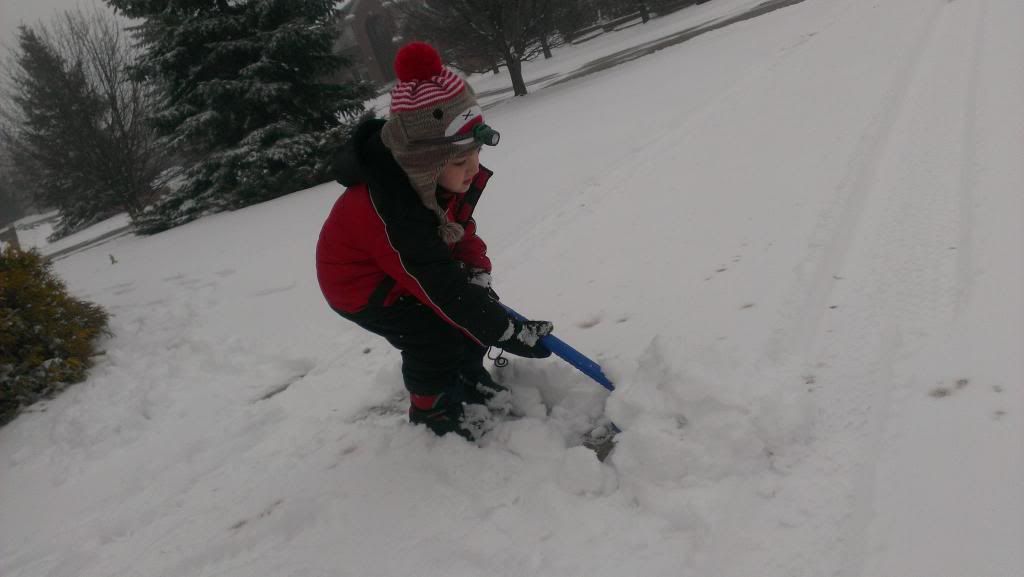 Ryan got Franky this kid-size shovel a few weeks back and was waiting for the next big snow to finally let him use it. We got hit with a few inches last week, so the boys bundled up and headed out to clean up the driveway and sidewalks. Ry said Franky did an excellent job at helping and an even better job at eating the snow. What can I say, he takes after his mom :)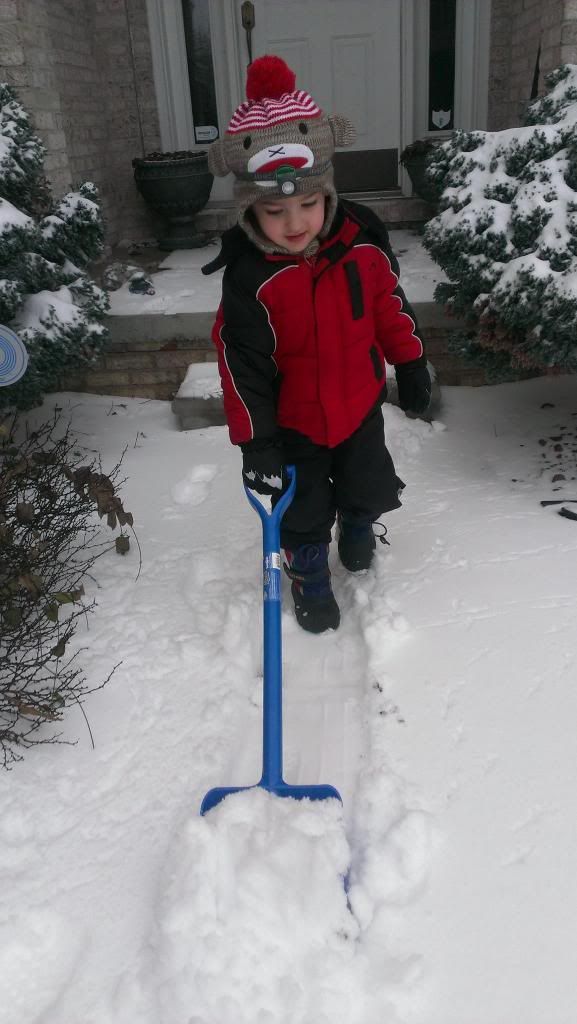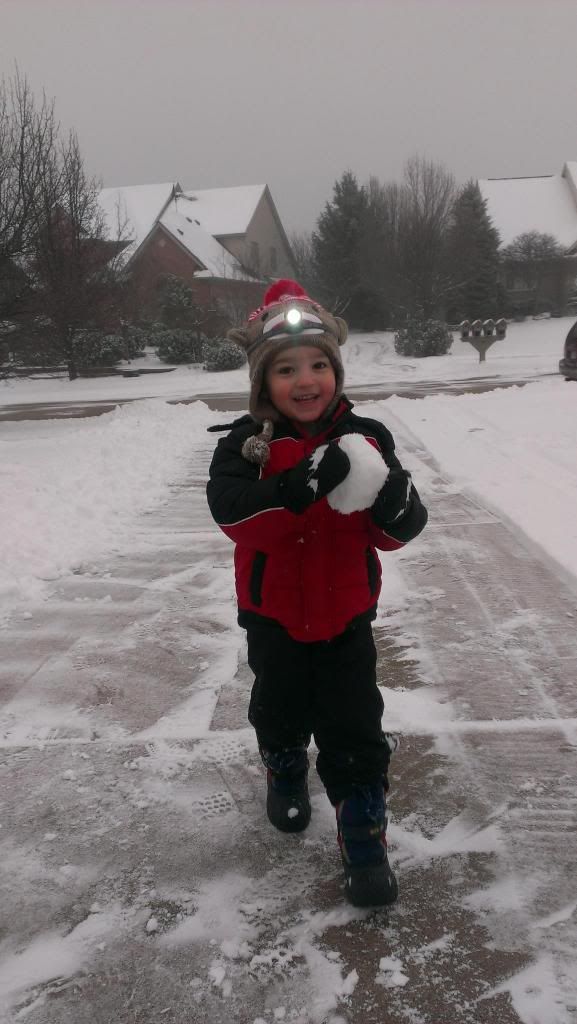 Franky takes snow-shoveling pretty seriously and even insisted on wearing a head lamp to help him see what he was doing, haha!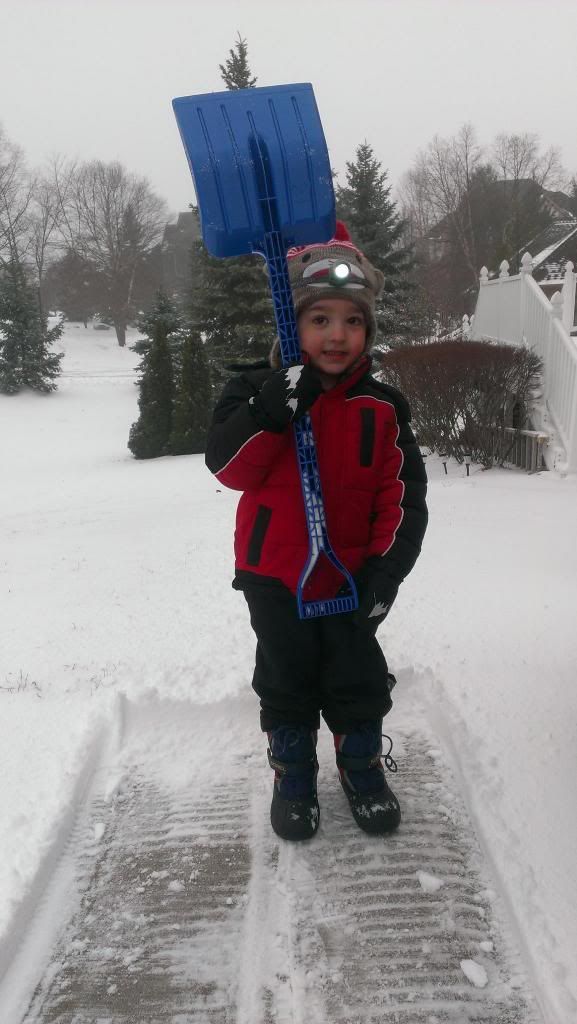 I think Marija gets some of her spunk from her big brother, for sure. This kid is THE biggest character I've ever met in my entire life. He is so funny and comes up with the craziest stuff that when I should be correcting him, I find myself laughing too hard. I asked him if he wanted a snack the other day and looked to find him winking and giving me a thumbs up.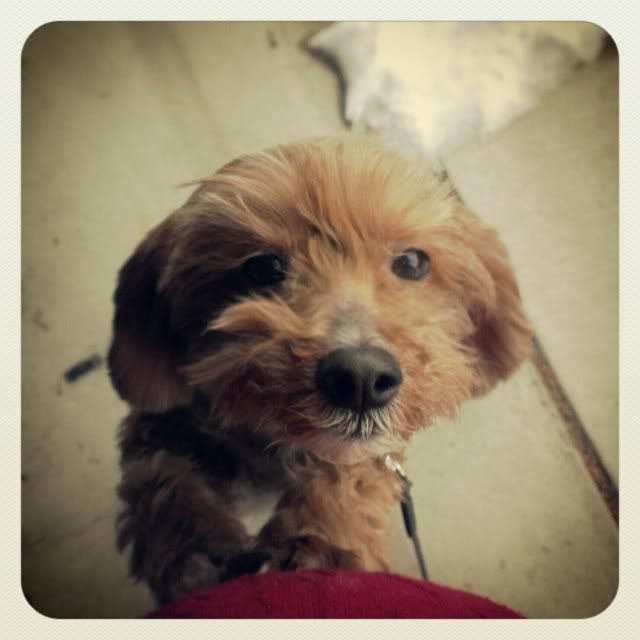 I visited my aunt, uncle and cousins last weekend and brought Bear along for the ride. My cousin, Megan, groomed him up really well because my belly is just too big for me to groom him comfortably anymore. I also got to meet my cousin, Monica's, fiance, which was a lot of fun. Ry and I are standing up in their wedding at the beginning of July and my first dress fitting is just a few weeks after Harrison is born, so hopefully that will keep me motivated to drop the baby weight.
After using specialty shampoo and giving Bear vitamins and fish oil supplements, per his vet, with no improvement to his very itchy skin, we decided to switch his food and see if that helped at all. My cousin Megan works with dogs and suggested that he may have a food allergy. We switched him to Blue Buffalo grain-free food and treats and I swear, in less than a week, his fur is starting to grow in thick and shiny and he is scratching way less than he used to. He would literally sit and scratch at his belly until he made his skin raw. Blue Buffalo is not cheap by any means and it's something we couldn't afford when we had two dogs, but with just Bear, we now have it in our budget to get him food that is much better for him. With how unexpected and quick Dahlia's passing was, we have learned to take nothing for granted. I didn't realize how expensive having two was until it was only one and all the things we couldn't afford before we now have the space in our budget for. Bear has gotten very spoiled in the last week with a fresh grooming, a heating pad for his bed, specialty food and even new toys. He's still on the vitamins and we started his flea & tick meds a month earlier than usual, just in case. He has an appointment this week for his annual vaccinations and heartguard meds.     As terrible as it sounds, I try my best lately to not think about Dali because it hurts too much. I dream about her every few nights and anything more than just a passing thought of her brings me to my knees in tears. She was my first baby girl and losing her has completely knocked me on my ass emotionally. As someone who usually blocks out the sentimental, I feel so ill-equipped to deal with her death. I am so happy we decided to bring her home, but seeing her ashes sitting in a pouch just feels so wrong. She shouldn't be sitting in a box, she should be roaming around and causing trouble like she always did. I'm not sure I'll ever not feel sad when I think about her because it causes physical pain knowing I won't get to tug on her floppy ears or bitch at her for leaving a trail of fur on my pants any time she rubbed up against me. Maybe it will hurt a little less once we put her ashes in a pot with Dahlia's because more time will have passed and I'll have something beautiful to look at when I think of her. At least, that's what I'm hoping for.