I've been jammied up for days now. When I was overweight I was always hot, summer or winter. Since getting to a healthier weight, I am always cold. It's the weirdest thing. Maybe cuz there's less layers or fat reserves to keep me warm? Who knows, but I seriously am always in layers cuz I can't ever get warm enough.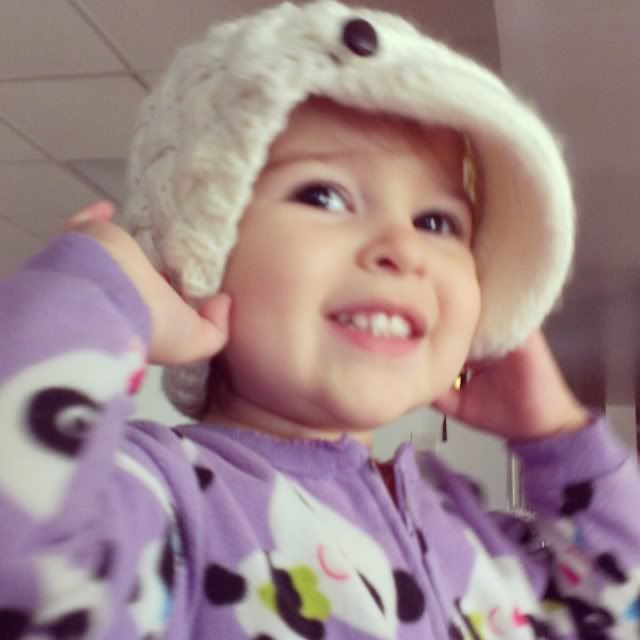 This little goofball loves wearing mama's hats. She's hitting her terrible two's, I think and is really getting super independent, using her voice and testing limits. I have to remind myself on her difficult days that Franky went through the same phase and that it gets easier. He is so easy now at four compared to how he was at two that I sometimes forget how trying the two's can be.

We're thinking about taking her nap away because while she will nap for a good 90 minutes when we let her, she gives us a hard time falling asleep at night. When we don't let her nap, she is super grumpy around naptime but then she lays down, knocks out on her own within 10 minutes and sleeps no less than 12 hours through the night. We took Franky's nap from him around his third birthday, but we probably should have taken it sooner. Some days, when I have a lot to get done, I'll lay Marija down for a nap but then regret it at the end of the night when she is still energetic. I sometimes feel like she's too young to not have a nap and others I feel like the benefits of no more naps outweighs the napping.
 

My little artist loves to paint. He would paint 24/7 if he could.   I'm curious about how Marija will react to having a baby brother. Franky was never jealous of Marija, even though he was really attached to me. He has always been content to play on his own and most times I think he prefers it that way. He was happy to watch an episode of Go Diego Go or Sesame Street and would play with his toys for hours on end. When Marija was born, he mostly stayed away from her but would still come to Ry or I for love and snuggles. Marija isn't nearly as entertained by movies, shows or toys as Franky was (and still is) and she is super attached to me, even moreso than Franky was. She gets jealous if I hold any other kids and gets jealous even if Franky wants snuggles from me. She has to sit next to me on the couch or be on my lap if Franky is next to me. Where Franky wasn't really interested in her much when we brought her home, I think she'll be very curious about her baby brother and will be kind of like a mama bear with wanting to hold and help with him. My approach will be different this time around because I know she's very attached to me so I will have to incorporate her in things a lot more than I had to with Franky. Mostly I'm concerned with how things will go when I need to nurse Harrison. I can't leave the kids unattended so I can sneak to a quiet spot to feed him but I also can't have the kids jumping or climbing around me when he's eating. I'm thinking about getting Marija one of those mini play doll carriers for her to wear her babies in and make it a game when it's time to feed our babies. It will be interesting to see how it all goes :)