This suit is just perfect for Jonah. He had not yet decided to become "one" with the pool, so I like having him covered up top instead of trying to slather him with sunscreen all over his front (once an hour). Plus, it keeps him a little bit warmer when his nutso parents take him to the waterpark in 65-degree weather because Daddy took the day off work and DANGIT we were going!! Ahem.  Both pieces stretch and move really well, which is great, because he decided on Monday that he'd rather run all over the waterpark than get in the freezing cold water (a good call, in my opinion. Although that meant I had to chase him).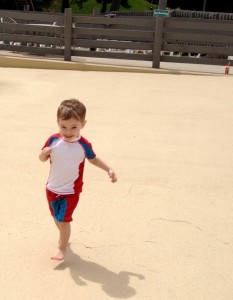 Run, Jonah, run! It's the only way to keep warm!
We couldn't be any more thrilled with our Lands' End suits this year! (I love my SwimMates suit , too!) They really are the best, folks. Last year I had two for Sophie and she took swim lessons every. single. week. for a year and they held up beautifully. As a matter of fact, I just handed them both down to Emily's niece for when she is older! Lands' End for the win! You won't find better swim suits for the whole family this year.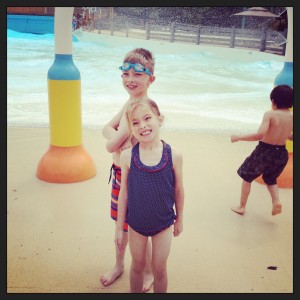 Thanks again, Lands' End, for getting my kiddos ready for fun in the water this summer!