IS NOT OK!! And this costume comes as small as a little girl's 3/4!!
3. Just say no to fishnets. I think I'm going to impose the age 18 rule to fishnets as well. Because fishnets are for women, NOT FOR GIRLS!  And this?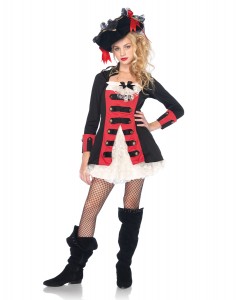 Yo-ho-HO is right.
Comes in children's sizes.
Mamas, don't let your babies grow up to be slutty pirates.
What else can I say? I've seen some pretty crazy whorish stuff out at trick-or-treat!
To be at the head of Jenny's Life Klass, please don't let your baby girl go dressed as a thinly disguised hooker! Dress her in an age-appropriate costume for Halloween and you will get an A+++!!
What are some of your "favorite" Halloween costumes you've seen for little girls?