Next, we sampled some fabulously tasty holiday-themed appetizers. Here's Liz from ALDI telling us about the delicious taste experience on which we were about to embark!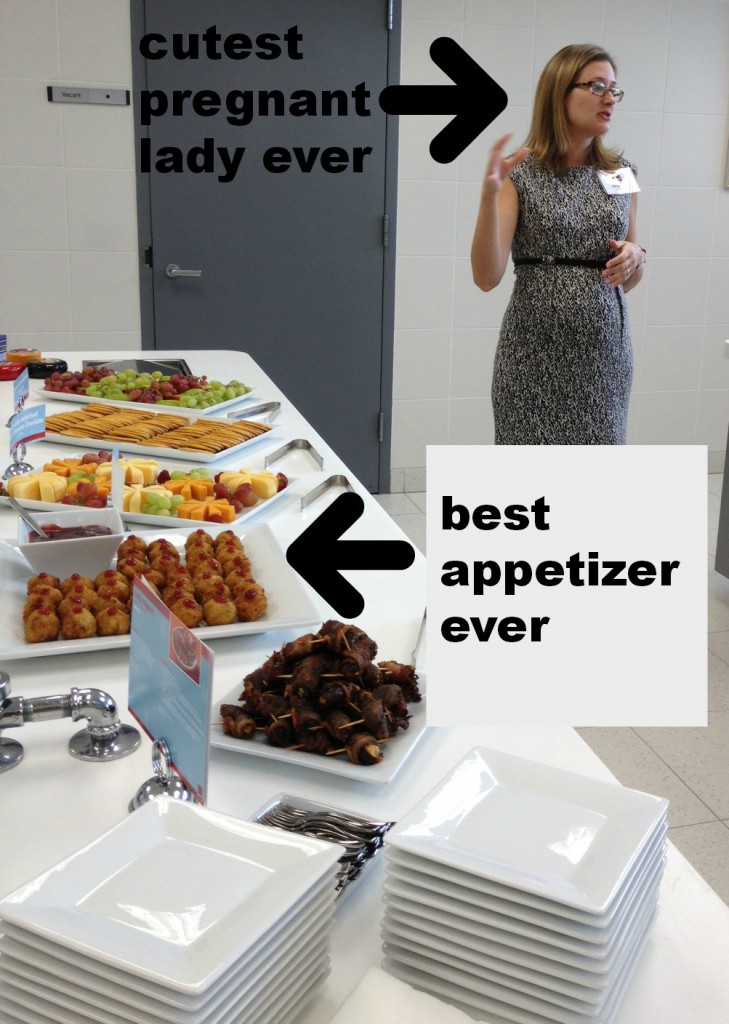 My favorite was the Thanksgiving in a Bite. OMMZeees!! It's ridiculous! You'll be able to get the recipe on ALDI's website starting October 31st.
Start a countdown for this blessed event now.
Just when I thought I'd experienced culinary perfection, the ALDI chefs served us an amazing holiday dinner! A ham with a balsamic-apple cider glaze, the most divine green bean casserole you've ever had, and au gratin potatoes I might shove my grandmother out of the way to get to.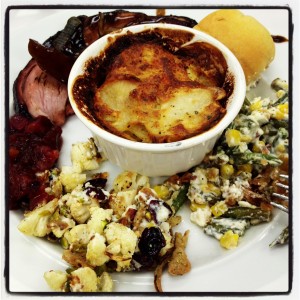 Take me back to this meal. I wanna go baaack!
It was all crazy good! Cray-to-the-zee! And all prepared with food and ingredients from ALDI!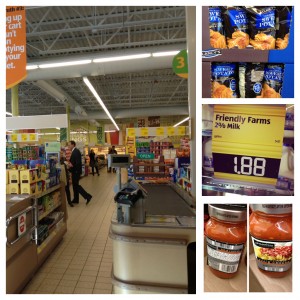 Some scenes from our ALDI store tour
The next morning, after we slept off our food hangover, we got to go on a tour of an ALDI store.  This might've been my favorite part of the whole event! I learned so much, and the very coolest thing I learned I thought it'd be easier to tell you about via quick video
Check out any box or bag of product you have from ALDI and count the bar codes! Isn't that genius? I can't believe I never noticed that before!
Part of the reason ALDI can keep their prices so low is that they run their stores with 3-5 employees at a time instead of 50 bajillion. With only a couple check lanes open, lines can get long. But these multiple bar codes keep cashiers moving your items down the line lickety-split and keep check lanes moving at lightning speed! Also, ALDI employees ALL cashier as well as stock the store, and even part-time employees get full medical and dental benefits. Say what? Can I have a job in about 4 years when Jonah goes to kindergarten, please ALDI?
While on our store tour, we each picked up a secret ingredient to take back to ALDI's test kitchen because we were about to embark on a guacamole challenge!  I LOVES me some guacamole , as you may remember – and my secret ingredient was sour cream. Not very creative, I know, but the list of ingredients they already had in the taste kitchen was extensive! We had a blast making our guac!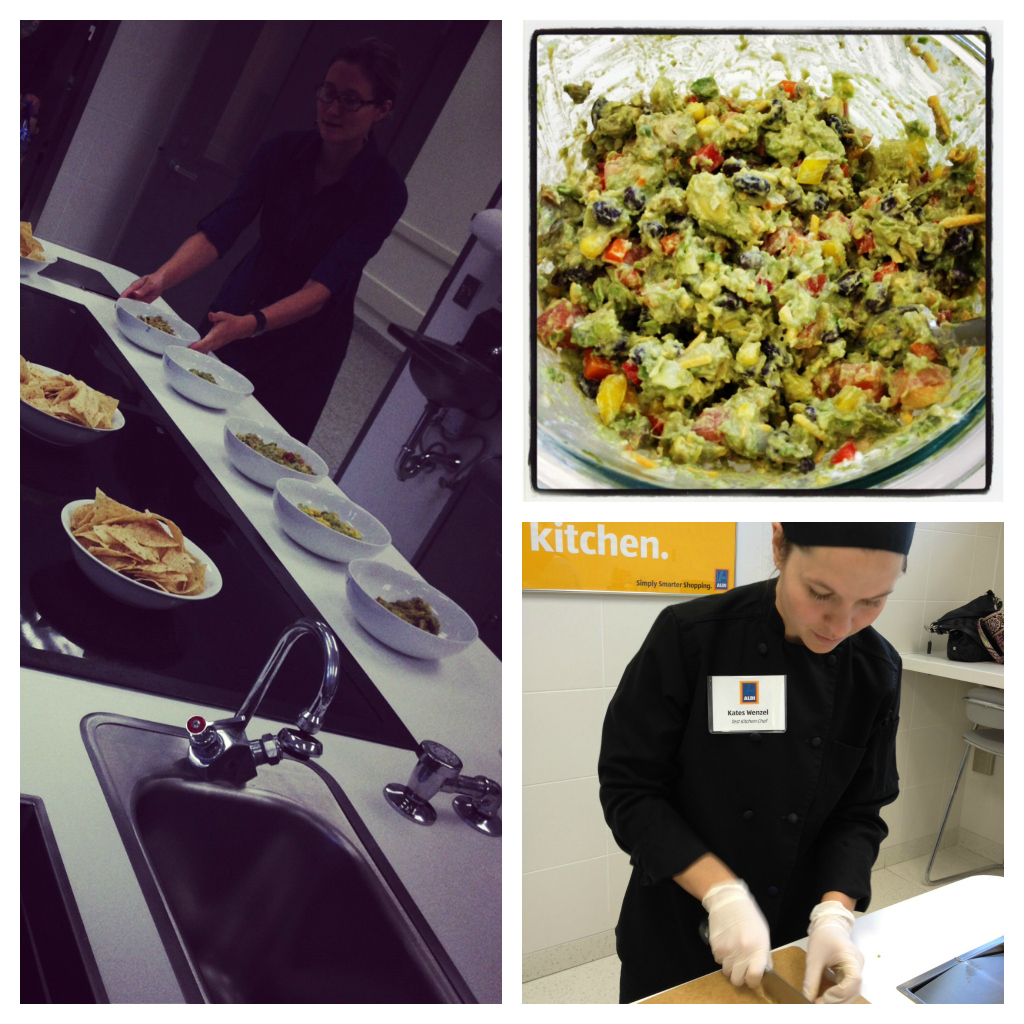 Holy Guacamole! That's mine up there on the right.
We had a taste test and voted for winners and MINE DID NOT WIN. Which, as I'm sure you realize, is a travesty! But I got to have lots of good guac so I let it slide. Then, we moved on to lunch, which was an amazing all-ALDI taco bar! The pork carnitas were to die for!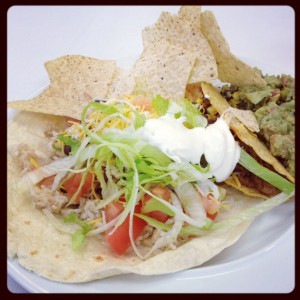 My perfect plate! It was so good!
Everything we ate while we were there was 100% ALDI product and 100% FABULOUS! I couldn't have been more impressed with the chefs or the recipes.
After lunch it was time to go. I was anxious to get home to my babies but sad to leave because in real life? No one drives me around in a town car and prepares gourmet meals for me!
I got home Friday night and Sunday afternoon I ran out to ALDI to do our week's grocery shopping. I tried a few new things based on my experience – like ALDI's chocolate syrup. I am a DIE-HARD Hershey's fan, but I really like the ALDI brand! And it is $1.39 compared to $2.08 for the Hershey's so I think this mama is switching brands! Crazy, right?
The ALDI difference really IS crazy – the great products, the low prices, and the efficient way they run their stores. I was super-impressed and I'm an even happier ALDI shopper now!
So, for those of you who haven't…did I convince you to give ALDI a try?