This is MY FAMILY and not forgetting the camera woman, my lovely sis!
I love this tradition in my family, which started by my mother. Happy Birthday cake cutting ceremony at midnight. The Happy Birthday Song was sung the loudest this year. *Grin*
And as we were eating the super nice brownie cake from Polar, those Happy Birthday wishes and Happy Birthday messages from sms just kept ringing. Lovely!
So at night we for a sumptuous dinner at Sakura International Buffet Restaurant. First visit for 5 of us.
Though my sis's friend's review was a thumb-down, I decided to try new things and be a guinea pig on my birthday. The food varieties were lots! There were some surprises in the choices too.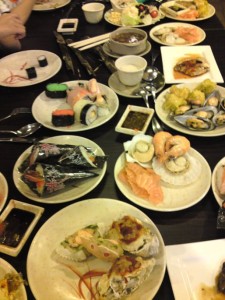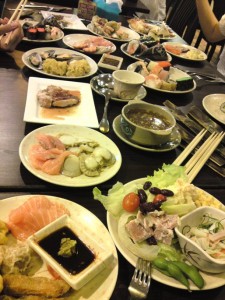 We liked the tepanyakki beef and salmon sashimi the most among the rest. The kids had pizza and nibbled a little from here and there. My fruits prince gobbled down lots of fruits!!! Of 'cos, they did not forget about the 'Chocolate Fountain', its fun plus yum, how can the boys resist such temptations?!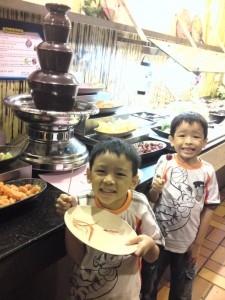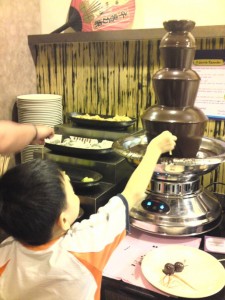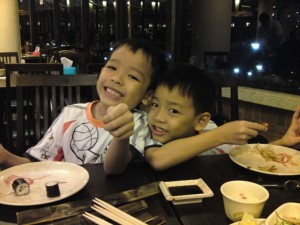 To me, I would give an 'ok' for the food in conjunction with the price. We went to the branch at Clementi Woods Park. What was the eye-opener for us? THE STAIRS!!!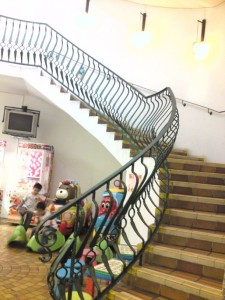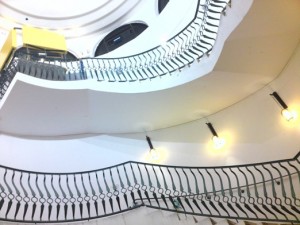 For a certain selection of food, you need to climb up or down the stairs to get what you want! With so much exercises, you can be sure your food get digested faster and hence you can eat more!
There is a mini play area for the kids too at level 1.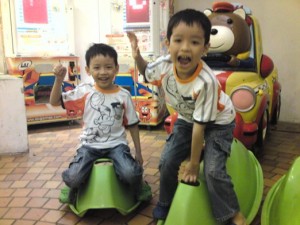 The two tables of separate families beside us were having birthday celebrations too! They sang the birthday song there. It felt as if they were singing for me! *giggle* Allan was cheeky and clapped for me whenever each family completed the Happy Birthday Song. *laugh*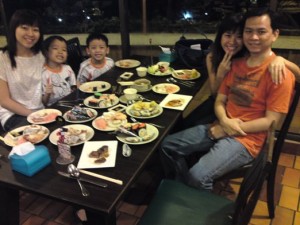 Definitely One of My Happiest Birthday ever this year.