Sophie carefully perused the section of markdowns. I explained to her that we were looking in this section because the shoes cost less here and that way we could buy more than one pair, so more than one child could get new shoes. I told her to pick out two pair. Happily, all the kids clearance was 60% off! Wheeee! You know I love a deal!
Right away, Sophie latched onto a pair of Skechers "Twinkle Toes" shoes. "Hmm, I don't know if we'll be able to afford those, I said. I wasn't expecting them to be marked down that much, but they were only $9.99! "We can get them!" I told her. She was SO excited. Then, she picked out a super-shiny silver pair as well. What can I say, girl loves the bling! Those were marked down to $8.
We paid and the cashier said, "Are you getting some sparkly shoes?"
"We're giving them to the girls who don't have any." she said. I explained she meant the Shoes 4 the Shoeless drop box.
Of course, the cashier was delighted by her cuteness and giving spirit. As was I.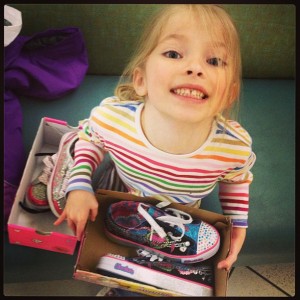 Proud of her picks!
Soph proudly put the shoes in the drop box and then we headed home. I was so proud of her because not only was she excited to give, she never once asked for anything for herself. She was totally content with her Frisch's and her cookie, and her mom. Sophie is not by any means a perfect child, but her sweet spirit about the shoes really touched me. She was really into those Twinkle Toes, and she was really happy that another child was getting them.
After that, we arrived home and popped in the movie Annie, which I'd gotten from the library just for our special night. She'd never seen it and she loved it, which thrilled me because of course it was one of my favorites when I was a kid! She stayed up til 10:45 even though she was sooooo tired. I couldn't believe she made it!
We had the best time together. It was such a gift! I love my little girl and I hope we can have another girls night really soon.
How do you "date your kids"? How often are you able to get in some one-on-one time?