It was healthy, fresh, and pretty!
These cheese-stuffed grilled peppers were good, but they were missing something. What, I'm not sure, but if I make them again I'd change the filling so it had more flavor. I liked the theory, though, and I will probably try them again!
from topappetizerrecipes.net
I never seem to be on the ball enough to marinate meat before we grill it, so I'm always on the lookout for a good dry rub. I found Rock's T-Bone Steak Rub on allrecipes.com, and Andy and I both really liked it. I doubled the recipe for 6 steaks and had a little left over. I'd probably cut back a little on the cayenne pepper next time, though.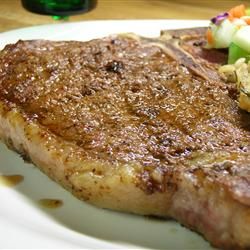 from allrecipes.com
What Pinterest wins have you found recently? Leave a link in the comments so we can repin!