CoverGirl Bombshell Volume by LashBlast™ Mascara: I love the step 1 brush. In my experience, the short bristles allow you to get lots of volume without clumps. The brush and formula on step 2 add great length and do intensify the color. The other thing I love about it is that it is extremely long-wearing.  Just to show you an example, here's me 10 hours after I shot that video, in my fuzzy bathrobe…I did NO eye makeup touch-ups that day. As you can see, the Bombshell mascara (and intensity eyeliner as well) still looks GREAT.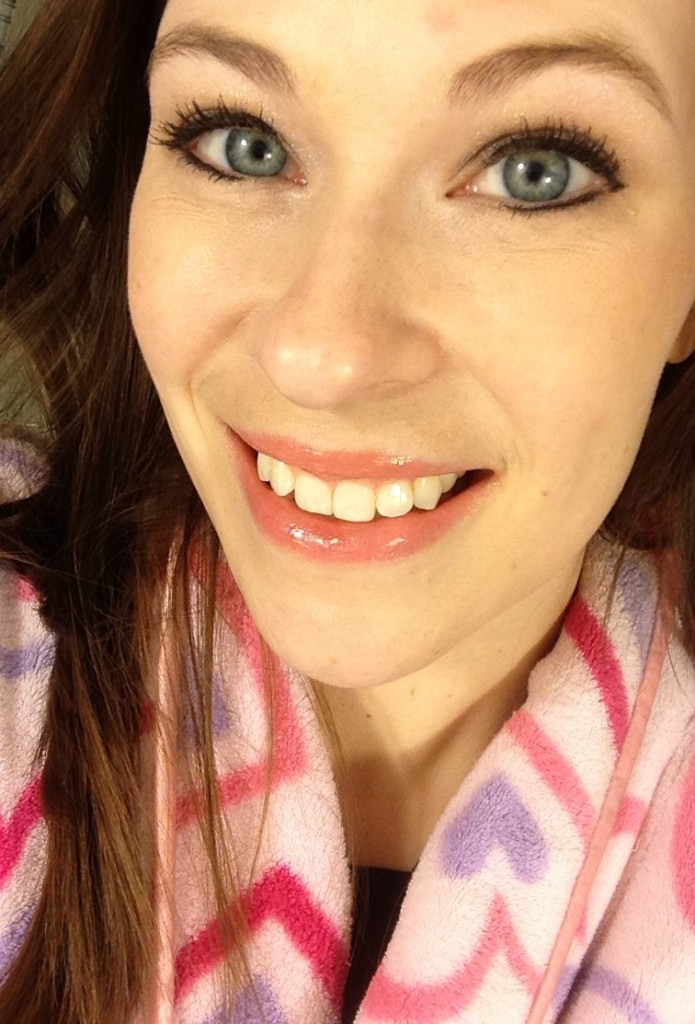 Just a note, the Bombshell mascara comes in three colors: Black, Very Black, and Black/Brown. I am wearing Very Black.
CoverGirl Bombshell ShineShadow by LashBlast: 
I am a sucker for cream eyeshadow anyway, and I am also a SHIMMER QUEEN, so how could I not love these shadows? They really are very, very, shimmery and extremely fast and easy to apply. A little goes a long way, and you can put it on lightly or heavily to customize your look. It stays on fabulously well, and I honestly couldn't love it any more. I cannot wait to get ALL THE COLORS!
CoverGirl BombShell Intensity Liner: 
As I mentioned in the video, I love how the short length of the pen and the felt tip make this so easy to apply. And, as you'll see from my photo above, it is extremely long-wearing. It didn't budge! The intense dark color is awesome for a dramatic look. It's a great product. It also comes in another color, Chocolate Kiss, which I think I'm gonna have to procure as well. I'm wearing Pitch Black Passion in the video and in the photo above. Ok, so NOW you get the chance to win a $100 Walmart gift card so you can go get yourself one heck of a CoverGirl Bombshell look! Here's how to enter, it's really easy! Simply go check out the
Bombshell mascara
,
ShineShadow
, and
Intensity Liner
on CoverGirl's website, then come back here and leave me a comment on which one you would most like to try and why! One winner will be chosen at random on Wednesday, February 5th at 6 pm EST. Good luck and happy BOMBSHELLING!
But anyway…enough of my face. Here's what I like about the products!