How far along: 39 weeks 
How big is baby/milestones: Baby is about 20 inches, 7.5 lbs and is around the size of a small watermelon.
Total weight gain/loss: 30 lbs total, putting me at 148 lbs. 
Maternity clothes: Pretty much all of them. Although today's belly pic outfit consists of one of my husband's t-shirts and a pair of pre-pregnancy, pre-weightloss lounge pants, ha! These pants have lasted through three pregnancies and are probably the most comfortable lounge pants I've ever worn in my life. Sadly, I think they're on their last leg and will have to be retired after today. They are thin and torn in some parts.
Sleep: When I finally knock out, I sleep heavily, but the last three nights its been God-awful. I was up at least 3 times to pee and then up constantly with Marija who had two days worth of a fever and woke up last night puking. I'm sure this is somehow preparing me for the amount of sleep I won't be getting once Harrison is here :) Well, unless he's a good sleeper like Marija was as a baby (no joke, baby girl slept through the night from day one).
Best moment of the week: Hopefully today, haha! I have my 39 week appointment with my midwife and she's stripping my membranes, so if I'm lucky, I'll be meeting my baby boy sometime in the next 24 hours :) Even though I've already had one VBAC, because of my previous c-section, they can't induce me because of the risks. But because of the gestational diabetes, they don't want me going past my due date, so we'll do natural induction methods for now. Not that membrane-sweeping is an induction method, but it can sometimes help trigger labor. It did with Marija, so I have my fingers crossed this time around too. 
Food cravings/aversions: Any and all kinds of fruit, frosted mini wheats, cheesy omelettes, chicken salads.

Symptoms: Really strong BH contractions, more mucus plug shedding, some back pain, sore boobs, sore legs, achy hips. Basically all of the normal late-pregnancy stuff. 
Movement: He has slowed down a lot, but is still pretty active. There are fewer kicks and jabs and lots more cervix head-butting, rolls, wiggles, tiny feet in the ribs.
Gender: Baby boy :)
What I'm looking forward to: My appointment later today and hopefully meeting this little guy soon. The last time I saw one of my secondary midwives, she said that God must make pregnancy so long and so uncomfortable at the end that mothers are basically willing to do anything and go through anything to get them here safely because we're just so done. She was right on. I'm looking forward to membrane-sweeping (unpleasant, uncomfortable, somewhat painful) and unmedicated labor and delivery. I must be out of my mind, right? Nope, haha, I'm just sooo done and ready to meet him already. There are so many changes in our near future with buying a house and, crazy as it may sound, it will be a lot easier on me not pregnant than with a hugely pregnant belly.
What I miss: Everything. Sleeping on my belly, bending over, shaving and painting my nails like a normal human being, not having BH's, eating whatever I want, not being pregnant, lol.
  How I feel: For being 39 weeks, I feel pretty good. Mostly I'm just eager and impatient to meet this little guy.
Belly button in or out: Very much an outie at this point.
Labor signs: Loss of mucus plug, strong Braxton Hicks.
Stretch marks: Just the ones I got with Franky.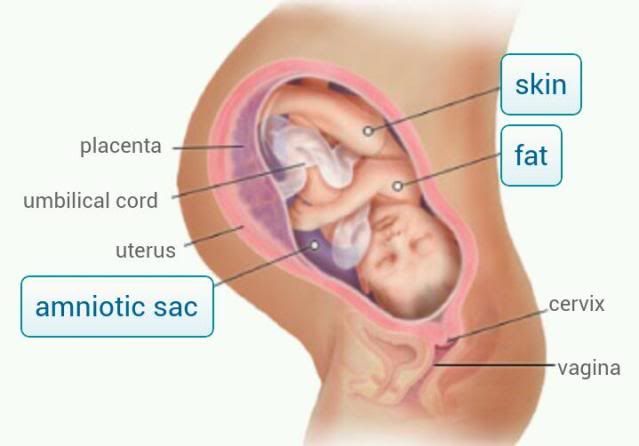 39 weeks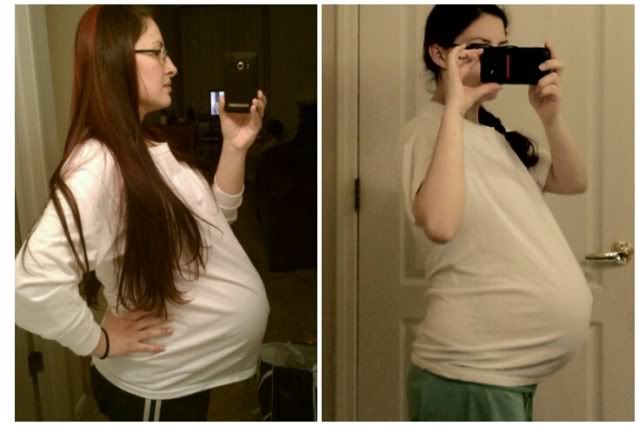 39 week belly with Marija (left) and Harrison (right)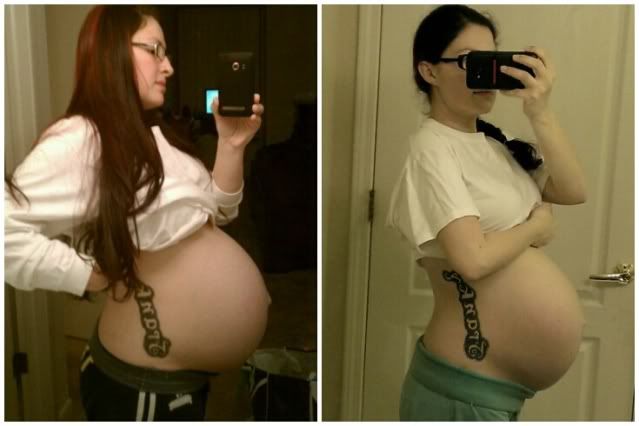 My water had already broken and we were on our way to the hospital in my Marija belly pics :)