How far along: 38 weeks. Harrison's eviction notice is in full effect.  


How big is baby/milestones: Baby is almost 7 lbs and measures 19.5 inches long, about the size of a watermelon.
Total weight gain/loss: 28 lbs total, putting me at 146 lbs.
Maternity clothes: Pretty much all of them. Still wearing pre-pregnancy/pre-weight-loss lounge pants and starting to retire size XS maternity shirts and size 4 maternity pants.
Sleep: It's been better. When I finally doze off, I sleep heavily, thank goodness. I'm still up a few times to pee, and not necessarily because my bladder is full. Lately, the Braxton Hicks have been really intense, wake me up and don't subside until I pee.
Best moment of the week: Realizing how much closer we are to meeting this baby boy. I am seriously so excited to meet him and to soak up every moment of his delicious newborn sweetness and all the squeaks, noises and smells that are a beautiful bonus. If everything goes well, I have less than a week left. I see my midwife midweek this week then again right at 39 weeks, when she'll strip my membranes. If all goes the way it did with Marija, I'll go into labor within hours and will be meeting my baby boy soon after. I can't freaking wait!  
Food cravings/aversions: Baby carrots, which I think I've finally eaten enough of that the craving has subsided, haha. Crushed ice, Glade's Clean Linen scent, any kind of fruit, beer, cold-cut sandwiches. I can't even express my excitement at knowing that in (hopefully) less than two weeks I'll be able to devour a Jimmy John's Italian Nightclub sandwich and chase it down with an ice-cold beer.

Symptoms: Very strong and frequent Braxton Hicks, peeing every .39765 seconds, general irritability, nesting in full force followed by a desire to lay down and rest as much as possible, a need for quiet, serious annoyance at anyone or anything putting any kind of pressure on my belly.
Movement: It's slowing down a bit and involves a lot more stretching and rolling.
Gender: Baby boy :)
What I'm looking forward to: Being done with being pregnant and finally meeting this chubby-cheeked little guy. I told Ry the other day that I can't imagine I'll ever be crazy enough to want to do this on purpose ever again. And if by any chance we are insane enough to have another baby, Harrison will need to be at least four years old. I could have a dozen more babies, but I am sooooooo over being pregnant. Seriously, three pregnancies in four years and I am done with it for a long, long time.
What I miss: Ha! What don't I miss? I miss shaving without maneuvering around the belly and without the assistance of a mirror, bending over without discomfort, not peeing every two seconds, not being so irritable and impatient, cuddling with my kids, sleep, fitting into my old clothes, having energy, eating whateverthehell I want.
  How I feel: Overall, I feel decent. I definitey feel every bit of 9.5 months pregnant and feel myself slowing down and needing to rest a lot more. For as over pregnancy as I am and as ready as I am to get this show on the road, I panic a little whenever I think this might be it and I feel like I'm not ready yet. We have everything in place and ready for Harrison's arrival, but the control-freak in me wants it to happen at the right time, like when Ryan is home. I really, really don't want my water to break when he's at work because that would involve me having to take care of last-minute things with the kids while waiting for him to get home and I just can't imagine early labor being pleasant without a helping hand with the kids. If I'm lucky, it'll be like my labor with Marija, which didn't really become intense until after we'd already checked into the birthing center.
Belly button in or out: It's a full-on outie at this point.
Labor signs: Really intense BH contractions the last few days. They were strong enough, frequent enough and lasted long enough last night that I thought it might have been the real thing. I drank a lot of fluid and laid on my left side in hopes they'd go away and after a few hours they finally did. Holy moly were they ever intense. They brought back lotsa memories from labor contractions with Marija and I'm guessing I'll be having another back labor.
Stretch marks: Just the ones I got with Franky.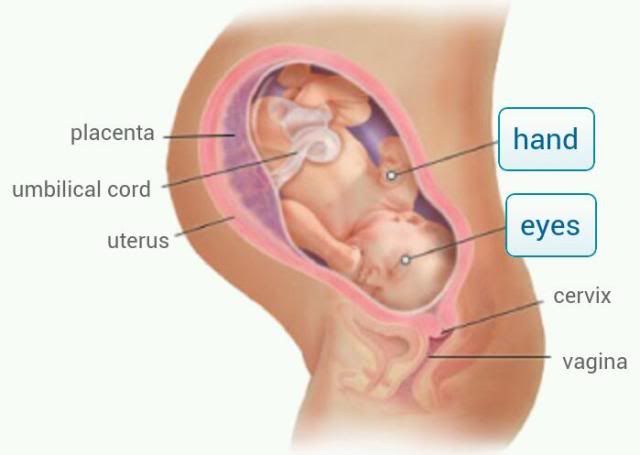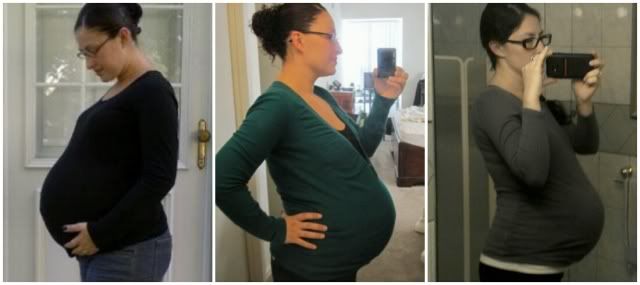 38 weeks Franky (left) Marija (middle) Harrison (right)R