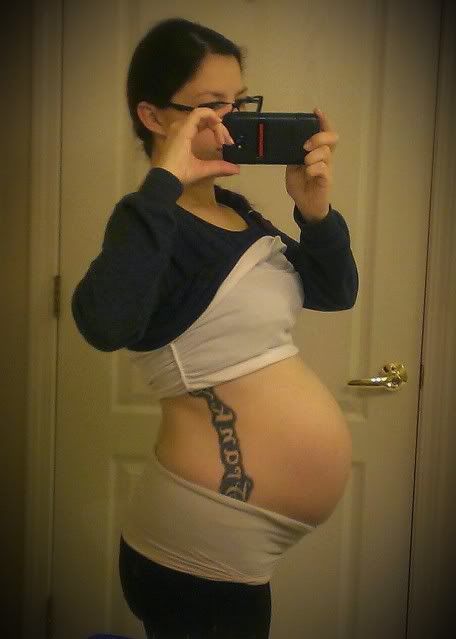 How far along: 36 weeks. I feel like these last few weeks are flying by!  
How big is baby/milestones: Baby weighs almost 6 lbs, measures 18.5 inches and is about the size of a large cantaloupe.We'll find out for sure at my growth scan this week :)
Total weight gain/loss: 26 lbs total, putting me at 144 lbs.
Maternity clothes: Almost all of them, with the exception of pre-weightloss/pre-pregnancy lounge pants. Everything else is maternity and I'm making what I have work until I deliver. I didn't really buy all that much maternity stuff this pregnancy because I knew I'd be happy wearing leggings and sweaters through the winter. I bought three pairs of pants and about a dozen tops to mix and match throughout the pregnancy and I'm glad I did it that way because I didn't spend much and I'd rather buy cute stuff after Harrison's here instead :)
Sleep: It's been good, for the most part. I still wake up to pee at least once, still get up with Marija at least once because my shifting and getting into more comfortable positions wakes her up and I've been staying up way too late watching episodes of Parenthood and reading chapters in Vanish. I should be going to sleep when the kids do, around 7pm, but most nights I'm not asleep until after 9.
Best moment of the week: Finding out that Harrison and I are right on track with everything at my appointment this week. Also learning that my Group B Strep test came back negative, so I won't have to be hooked up to an IV pole during labor. 
Food cravings/aversions: Cottage cheese, mandarin oranges, green olives, baby carrots, amaretto coffee creamer, carrot cake, crushed ice, spinach salads, cantaloupe, any kinds of clean, fresh scents. Still loving Fresh Scents White Cotton scent packets and Glade's Clean Linen smell.

Symptoms: Stronger and sometimes painful Braxton Hicks, peeing every five minutes, general irritability.      
Movement: Lots of strong wiggles and rolls. He likes to head-butt my cervix and jam his little feet into my ribcage. Sometimes the movements take my breath away because they're so strong and sometimes painful. Gender: Baby boy :)
What I'm looking forward to: My next appointment coming up, which includes a regular appointment with my secondary midwife on one side of town followed by a biophysical profile at the main hospital. I am very curious to see how Harrison is measuring and how he's growing.
What I miss: Bending without discomfort, eating whatever I want, sleeping on my belly, being in shape, having energy, working out.
How I feel: Really good, overall, especially for being 9 months pregnant, so I shouldn't complain, but I am so ready to meet this little guy.
Belly button in or out: It's starting to creep out.
Labor signs: None, thank goodness.
Stretch marks: Just the ones I got with Franky.

36 weeks 

36 weeks with Franky (left), Marija (middle) and Harrison (right)