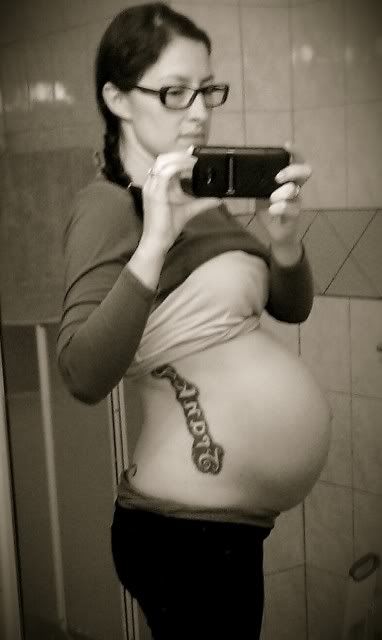 How far along: 35 weeks. Whoa. No joke, I got a serious adrenaline rush just typing that.  
How big is baby/milestones: Baby is just over 18 inches long and weighs around 5.25 lbs, about the size of a honeydew melon.
Total weight gain/loss: 25 lbs total, putting me at 143 lbs.
Maternity clothes: Pretty much all of 'em.
Sleep: It's been pretty good this week so I can't complain.
Best moment of the week: Feeling this little dude move and wiggle around. For as much as I'm over being pregnant, I'm also savoring these last few weeks of not having to share him. I know how hectic it can be the first few weeks with settling into life with a newborn and with all of the visitors, so I'm trying to rest and just enjoy the quiet moments while I can.
Food cravings/aversions: Fresh Scent's White Cotton scent packets. Yep, I'm still walking around sniffing these throughout the day. Craving raw baby carrots, cottage cheese, carrot cake, beer, crushed ice, any and every kind of fresh fruit, especially honeydew and cantaloupe. I was joking with Ry the other day that for the first week after Harrison is born I want nothing but cereal, oatmeal, cold cut sandwiches and fruit for every meal. I was only half kidding :)

Symptoms: Having to pee every 19 seconds, stronger and sometimes painful Braxton Hicks, sore and fuller boobs, itchy belly and back, general irritability, nesting like crazy.     
Movement: Ohhhhh yes, this little wiggle worm is doing a number on my ribs this week. He's usually either jamming his little limbs into my ribcage or butting his little head down into my cervix.
  Gender: Baby boy :)
What I'm looking forward to: Meeting this little guy. Five weeks seems so far away yet so close at the same time.
What I miss: Sleeping on my belly, shaving like a normal human being, beer, carbs, bending over without trouble.
  How I feel: Really good, overall, just so ready to finally meet this baby boy and get back to feeling like myself again, which includes working out and eating normally.
Belly button in or out: It's pretty much flat at this point.
Labor signs: None, thank goodness.
Stretch marks: Just the ones I got with Franky.

35 weeks  babycenter.com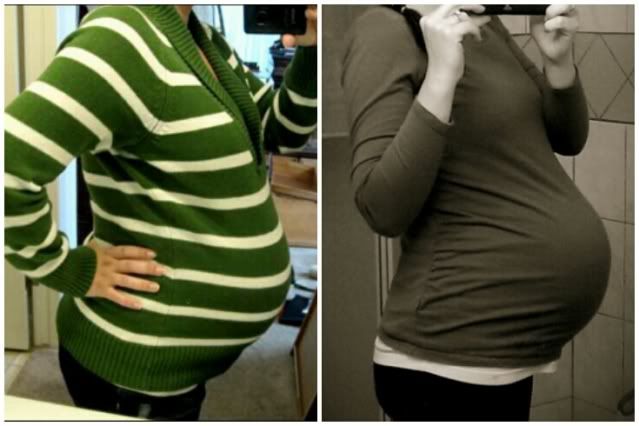 35 week belly with Marija (left) and Harrison (right). I don't have a 35 week pic from Franky.