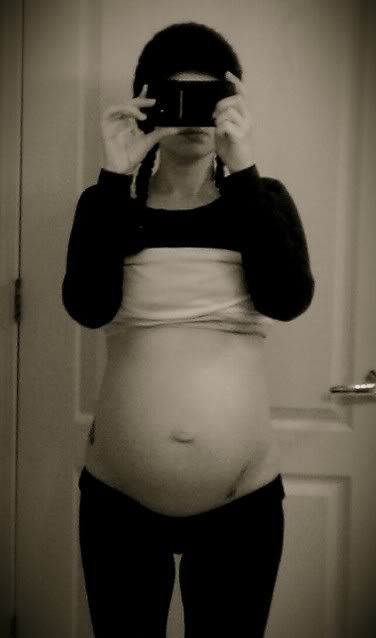 And a front view, just for fun

 

How far along: 33 weeks! 
How big is baby/milestones: Baby weighs a little over 4 lbs, has passed the 17 inch mark, and is about the size of a pineapple.
Total weight gain/loss: 22 lbs total, putting me at 140 lbs. I think I've been at a plateau with my weight gain for the last month or so, which I'm sure has a lot to do with the modified diabetic diet. Harrison is still gaining and growing the way he needs to, so my OB and midwife aren't concerned.  
Maternity clothes: Pretty much all of 'em, although I do mix maternity with non-maternity, pre-pregnancy, pre-weight-loss clothes
Sleep: It has sucked this week. I'm still up a few times to pee but it's been especially sucky since Dahlia died.  
Best moment of the week:  Finding out that Harrison is still head-down, is measuring perfectly and that my GD isn't affecting his size at all. He measured 4 lbs 5 oz, which is in the 39th percentile. That seems so tiny to me considering Franky was always in the 90th percentile and Marija was always in the 60th.
Food cravings/aversions: Fish served mexican-style with lots of lemon and cilantro, rice pudding w/cinnamon, cottage cheese w/pepper, Fresh Scents White Cotton scent packets, raw baby carrots, olives, bananas.

Symptoms: Braxton Hicks, sore boobs, some sciatic nerve pain, general irritability.    
Movement: Almost always, although it's not so much kicks and jabs as much as wiggles and rolls now.
  Gender: Baby boy :)
What I'm looking forward to: Getting newborn CD inserts so I can prepare his diapers, finishing up with organizing his things and finally meeting this baby boy.
What I miss: Sleeping on my belly, bending over without discomfort, holding my kids in my lap, eating whatever I want.
  How I feel: Good, overall. I'm still battling this stupid sinus infection, but it hasn't gotten worse, so I can't complain.
Belly button in or out: It's pretty much flat at this point.
Labor signs: None, thank goodness.
Stretch marks: Just the ones I got with Franky.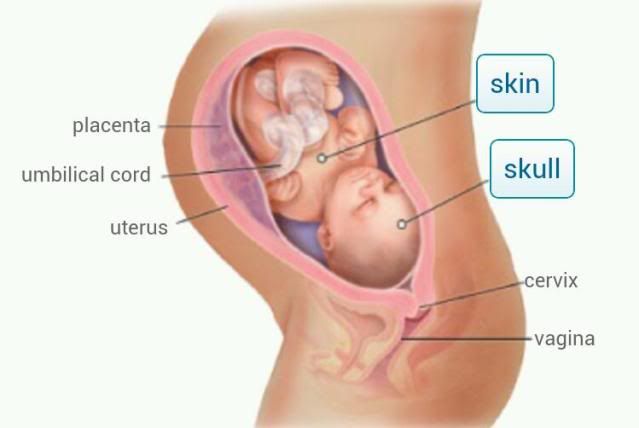 33 weeks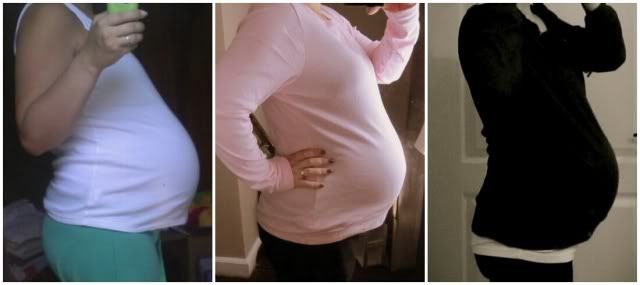 33 weeks with Franky (left), Marija (middle) and Harrison (right)

And a collage of 33 weeks with just Harrison, cuz who doesn't love a collage, right? :)