How far along: 31 weeks. Holy moly. If I had to guess, I'd say I have about 7.5-8 weeks left. Franky was born two days before his due date and Marija was born a week before hers. I'm told that often times subsequent children are born a little earlier than the ones before them and that the labors are faster. So if I follow that theory, I'd say little man will come at 38.5 weeks and that my labor will be around three hours with him (my labor with Franky was 20 hours before c-section and Marija's was less than five from my water breaking to when I pushed her out). My mom said her labors were progressively quicker and quicker with each kid, lasting around 32 hours with me and less than an hour with my little sister, who is the youngest of us four. That makes me nervous and happy at the same time, haha. If my labor with Harrison is anything like it was with Marija, then I have nothing to worry about.
How big is baby/milestones: Baby is about 16 inches long, weighs about 3.3 lbs and is around the size of four navel oranges, (according to my babycenter app). We'll find out for sure where he's measuring at our next growth scan :) It will be kind of trippy if he really is only at the 7ish pound mark at birth, which will make him my smallest baby yet. Don't they usually say each baby is bigger than the one before it? I guess I shouldn't be surprised cuz smaller each time has been the trend with my babies. Although Franky's size had a lot to do with me having undiagnosed gestational diabetes with him. I was looking up the risks and I could seriously go off on my previous OB for being so dumb. Thank God it all ended up okay and Franky got here safely, but the risks are terrifying.
Total weight gain/loss: 23 lbs total, putting me at 141 lbs.   
Maternity clothes: Pretty much all of them at this point. The only non-maternity clothes I'm wearing are my pre-pregnancy, pre-weight-loss clothes in size L. I'm glad I hung onto a little bit of my bigger clothes to wear throughout this pregnancy because they are super roomy and really comfy. They'll be going to Goodwill after I deliver as more motivation to get back into pre-baby shape quickly. As if having a bridesmaid dress fitting around 3 weeks after delivering isn't motivation enough, this will help it along. I'm determined to be one of those skinny bitches who bounces right back after I deliver. If I did it once, I'll do it again. Or at least that's what my mantra has been lately, haha.
Sleep: It could be better, could be worse. I'm up a minimum of once per night to pee and once per night because of Marija, who wakes up and cries for me. She must sense something big is about to happen. I shouldn't bring her into my bed for night time snuggles because once Harrison is born no one besides he and I will be sleeping in my bed (he'll be in a co-sleeper next to me for the first few months), but I can't help but take advantage of the night time snuggles while I still have them. Her warm body curls perfectly into mine and she snuggles her golden-curled little head right under my chin and I can't ever say no.  
Best moment of the week: Realizing how close we are to meeting this little guy. The nesting bug is starting and I'm slowly rearranging and making little corners in our room for his things. I know the bug will hit me strongly in the next week or so, which is about when it has hit in the past. I'm looking forward to purging and organizing :) 
Food cravings/aversions: This week's cravings included anything with cinnamon and sugar/honey (like the banana drizzled in honey and cinnamon I had for a snack this morning, OMG I already want another one, so yummy!) fresh mango (which I inhaled in about ten minutes flat - no joke, after the grocery store I cut it up with a plastic knife in the van and ate it right out of the skin on our drive home), tuna salad (I hooked up a mean, low-carb tuna pasta salad the other day that was so good and so hit the spot), pasta in general - which I've indulged in guilt-free thanks to Lean Cuisine and Healthy Choice meals (I like the Lean Cuisines better because they seem to be more flavorful and better quality meat, if that makes sense), birthday cake golden oreos - OMG are those ever delicious! I'm allowed two for a snack and you better believe I savor every single bite, oatmeal - Kashi makes a really yummy one that is within my carb limits, Jimmy John's Italian Nightclub - I'm telling you, the craving is so strong I might make Ryan stop to get me one on our way to the hospital before I deliver, lol. Corona with lime - is it March yet?!? I think that sums it up for this week's cravings.

Symptoms: Frequent peeing, Braxton Hicks - everything triggers them nowadays. If Harrison kicks a certain way, my uterus tightens up. If I'm on my feet too much, I get BH's. If one of the kids even barely grazes against my belly, I contract. I got them all throughout my pregnancies with Franky and Marija too, so it's nothing new, but this time around I get seriously irritated with anyone putting pressure on my belly or when I have to stop and take breaks when we're out and about. I'm typically a very active person, so having to take it easy is getting old. I keep reminding myself that I don't have much longer before this little man is here and we can all resume life as normal. I can't wait! Other symptoms include some shortness of breath when I lay down or sit up too fast, I'm super hormonal and irritable and crave personal space. Like I need a constant bubble of at least one foot around me at all times. I don't want to be hugged or touched or breathed on or anything that involves anyone coming within a foot of my bubble. I mostly only feel this way when I'm sitting down. Very strange. I blame it on the hormones, lol.    
Movement: Always! This boy never sleeps!
  Gender: Sweet baby boy :)
What I'm looking forward to: Having this little guy in my arms. And oddly, labor, delivery and recovery. I'm more anxious this time around, thouugh. I'm excited for him to be here, but now that I know what to expect, I'm a bit more nervous. Not nervous about something going wrong, just nervous because I know how intense it will be. I think I will be even more aware of everything this time around. Also looking forward to those blissful first weeks with him. I wouldn't say I've had a specific favorite part of any of the kids' ages because it's been so much fun watching them grow, but their newborn phases were especially sweet. Seriously, what could be sweeter than a deliciously soft and heavenly-scented newborn baby with all of their little noises and squeaks? My absolute favorite moments on earth with each of my babies, and soon with Harrison, was when they were just weeks old and would nurse with their tiny fingers splayed out on my chest, listening to the soft, melodic rhythm of their inhale, gulp, exhale, squeak, inhale, gulp, exhale, sigh. Love it.
What I miss: Not being so easily annoyed, sleeping on my belly, shaving with ease, painting my toenails without feeling like I ran a marathon right after, having energy, beer, cheesecake, going for runs, being active.
  How I feel: Overall, really great, so I shouldn't complain. I'm just not a fan of being limited to what I can do, physically, so having to slow way down has taken some major adjustments on my part.  
Belly button in or out: It's still kinda half-flat and half-in.
Labor signs: Nope!
Stretch marks: Just the old ones!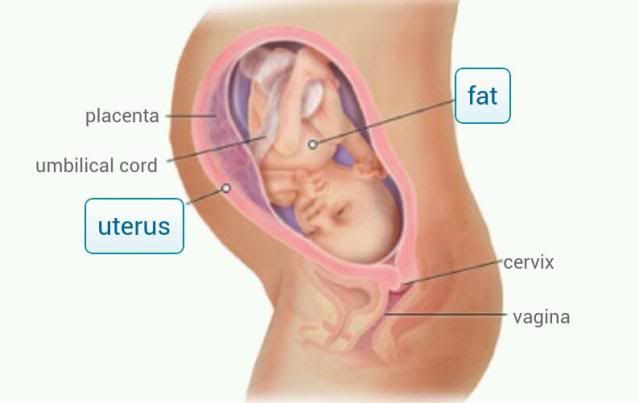 31 weeks

babycenter.com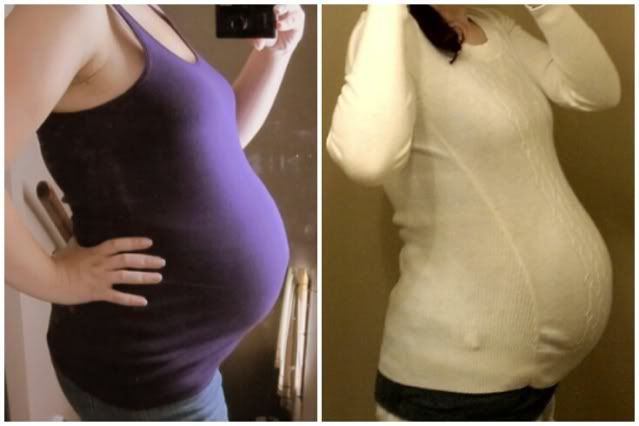 31 weeks with Marija (left) and Harrison (right) I never took a 31 week pic with Franky.