How far along: 30 weeks. 30 weeks! Eek! 
How big is baby/milestones:  Baby is about 15.7 inches long, weighs almost 3 lbs and is about the size of a head of cabbage.
Total weight gain/loss:  22 lbs total, putting me at 140 lbs. I'm guessing a few lbs are from water retention, for sure, because just a few days ago my wedding set was loose on me and this morning it was snug. And the delicious (and not low-carb) dinner I had at my aunt's house last night helped too, Im sure, haha. I am happy to see I'm not losing any more weight, so I must be doing something right :)
Maternity clothes: Pretty much all of them, which I rotate frequently and try to mix and match so I can stretch what I have for the next two months.
Sleep:  It's blah. I wish I could get a solid 8 hour stretch, but between being restless at bedtime and then waking up to pee at least twice a night, I'm lucky to get a three-hour block at a time, which I guess is good preparation for when Harrison is here and I'm up for middle-of-the-night feedings.
Best moment of the week:  Learning that baby boy is right where he should be with everything, despite the gestational diabetes.
Food cravings/aversions: Sparkling cranberry juice (I can have the Ocean Spray diet stuff and still be within my carb limits), chocolate (oh how I'm loving the Skinny Cow desserts right now!) and shrimp fettuccini alfredo (which I totally indulged in guilt-free thanks to a Lean Cuisine meal that was totally within my limits - yay!). I don't really like doing pre-packaged, diet or processed meals or drinks much, but considering my limited options with the GD, every now and then I don't think is too terrible. My rule is everything in moderation. I'm also still craving the smell of Glade's Clean Linen carpet powder and have to sniff it at least once daily.

Symptoms: Having to pee all the time, plugged ears feeling (had it with Marija too and it didn't freakin go away until after she was born - GAH!),Braxton Hicks and a bit of what my midwife called an "irritable uterus," where any kind of pressure causes Braxton Hicks. I also have a bit of irritability in general with having any kind of pressure on my belly, like an elbow, knee or foot when the kids sit or lay next to me. I can't stand any pressure whatsoever, drives me absolutely crazy and I'm finding I'm tellling the kids that they're not allowed to touch mama's belly AT ALL unless they're super gentle. It's not so much painful as just uncomfortable, especially when it triggers BHs.
  Movement:  Lots and lots :) He's very rarely not moving. I still say he's my most active baby yet.
Gender: Sweet baby boy :)
What I'm looking forward to: Meeting this little guy and seeing the expressions on his big brother and big sister's faces when they meet him. And I won't lie, since Ryan is going to be with Franky and Marija after Harrison is born and it will just be H and I at the hospital for the most part, I'm totally looking forward to the peace and quiet while we're there. Yes, even with midwives, pediatricians, lactation consultants and nurses coming in every two seconds, it would still be peace and quiet in between, haha.
What I miss: Restful sleep, beer, cheesecake, being able to snuggle my children really close.
How I feel:  Tired, but good, overall.
Belly button in or out: It's creeping closer and closer to out, but right now it's still kinda half-in, half-flat.
Labor signs: Nope, thank goodness!
Stretch marks: Just the ones I got with Franky, nothing new.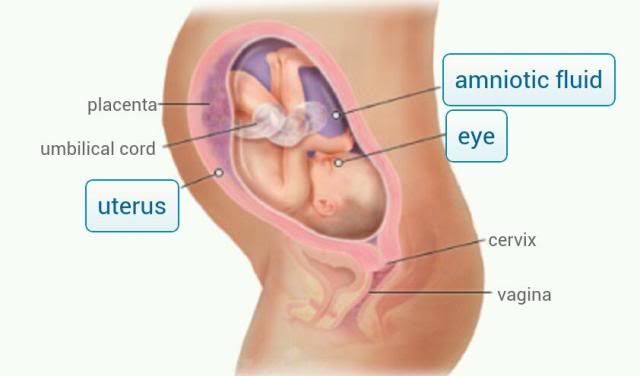 30 weeks

babycenter.com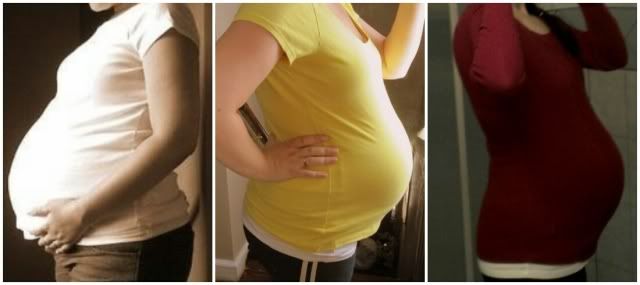 30 weeks Franky (left), Marija (middle), Harrison (right)