Binbin's 'fishless' legs
I learned from Binbin and started to put my feet down onto the tiny pebbles so that the fishes could not get to the sole of my feet. Only then could I truly calm down….
As for my drama king Keatkeat, Hhhhmmm…. it was money down the drain. He refused to put his feet down at all. After much persuasion, he agreed to put his feet down, but he kept moving his feet in the water, and NO FISH could have a PROPER Nibble on his feet. *eyes rolled*
Watch drama king in action here:
So don't be fooled by the video. Though his feet are in, but they are constantly in action, so none of the fishes were on his feet at all. Only a couple on his calf.
(Allan did not know that he needs to hold his phone horizontally for filming. So the video is compressed. Well, cannot blame him, he was with his very first Samsung phone for 4 days only. )
While the kids were at A&W earlier, Allan spotted a big 'Massage' signage just opposite the road diagonally facing the restaurant and went off to check the price while the kids ate.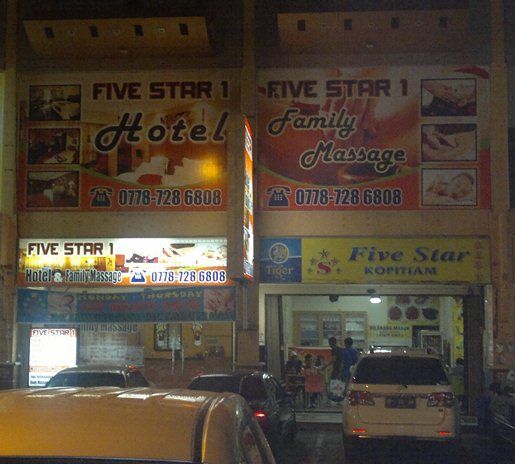 We agreed that THAT would be our last stop for the day! Thanks to the awesome rates!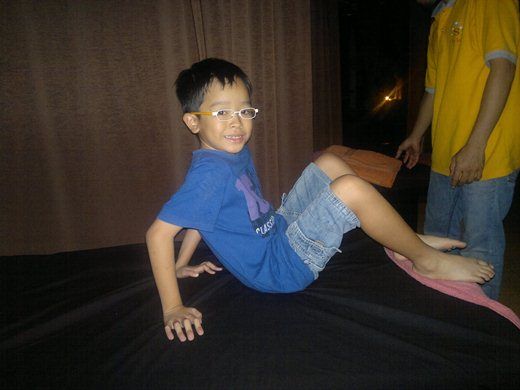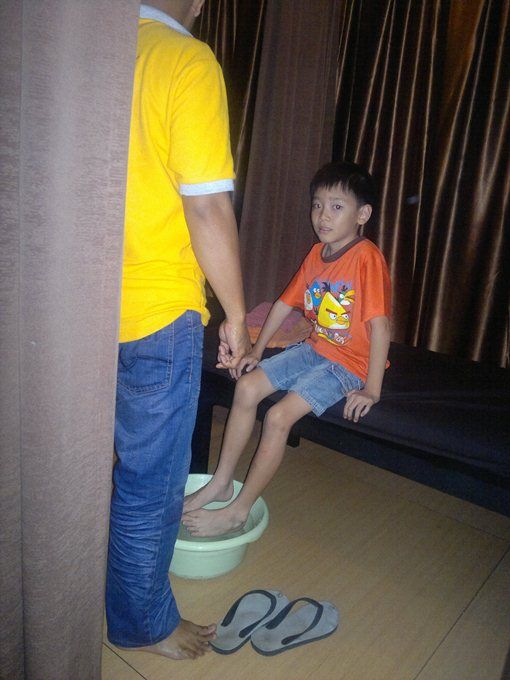 This is the first time I had a full body massage ON A BED. It was small and made of wood. When the masseuse was with me on the bed at the same time for certain moments during the massage, I fear that the bed would break!!! 'Cos it creaked so loudly with every move she made! *laugh*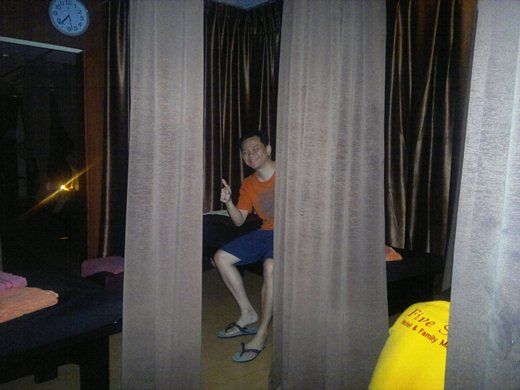 Full Body Massage 1hour and 15min (but only lasted for 1 hour), total bill for four of us was 280,000. One person cost SGD$9.59 only!!! Soooooooo affordable! It was THIS reason that made us want to come back to Batam for the second time! *Super Duper Grin*
After a great massage, we went back to Nagoya Hill to 'ta-bao' (take-away) our dinner. While we were ordering our pizza at the entrance of Sarpino Pizza restaurant, their neighbour, Pizza Hut crews were twisting balloons for my boys!
I felt so uneasy because we did not order from them. Then again, we are in a different country and different culture, so maybe its normal for them to do such things, even to non-customers. *shrugged*
Some reviews on Nagoya Hills said that its a bore, I don't know why. *shrugged* We totally enjoyed our time there! Same place, different people, different views. You must experience it yourself before you know if you like the place. *wink*
We loved it so much, we went back again the next day and spent the whole day there! Find out what we did in the next post. *wink*
2nd Batam Trip during the School Holidays