How far along: 29 weeks. Holy cow. And next week, 30 weeks. I don't know why reality hits with a quickness every time I hit the 30 week mark.  


How big is baby/milestones: Baby weighs around 2.5 lbs and is around 15 inches, or about the size of a butternut squash.
Total weight gain/loss: 21 lbs total, putting me at 139 lbs.
Maternity clothes: Almost all of them. At this point, the only pre-pregnancy clothes I'm wearing are my pre-weightloss ones. None of my post-weight loss clothes fit. I'm stretching the maternity stuff I do have out until the end because with about 10ish weeks to go, it's not worth investing in something I'll only wear for two more months. I'd rather wait until after Harrison is born to invest in cute summer clothes :) 
Sleep: Still waking up at least once a night to pee and sometimes having a bit of pregsomnia where it takes me a while to finally drift off.
Best moment of the week: Seeing another 3D image of Harrison's sweet little face and finding out he's right where he should me size-wise.
Food cravings/aversions: Salmon Florentine, mashed cauliflower and spaghetti squash from Ruby Tuesday, which Ry picked up for me last night. Omg was it ever good. The odd thing this time around is once a strong craving is satisfied, it goes away. I'm now craving fettuccini alfredo, which I'll be making this week using modified ingredients (dreamfields low-carb pasta and a cauliflower/white bean/almond milk cream sauce in place of the alfredo sauce). Also, I'd kill for a heaping bowl of sugary cereal, a massive slice of cheesecake and a bowl of strawberries bigger than my head...Alas I'll have to wait on those last ones. I told Ry that my first meal after Harrison is born has to be a Jimmy John's Italian Nightclub sandwich and a slice of New York cheesecake. And then we'll either need to have a date lunch or a visit to my mom so I can indulge in an ice-cold Corona with EXTRA lime. I'm not a big drinker and never really have been, but for some reason a frosty beer sounds SO good lately.

Another thing, remember when I said last week that my craving for the smell of Glade's Clean Linen carpet powder wasn't as strong this time around as with Marija? Yeah, the craving has kicked in full-effect these last few days and I have to smell it multiple times a day. I vacuum with it daily and carry it around so I can get a quick sniff fix whenever I need one, haha. Dial Gold's smell craving has moved to the back burner this week.

Symptoms:  Increased Braxton Hicks contractions, but mainly only when I'm not drinking enough fluids or if I'm doing too much physically. Some difficulty falling asleep, having to pee a lot more often, some sciatic nerve pain. And the mama bear overprotectiveness has kicked in big time this week. I know I will find it amazingly adorable and sweet when Franky and Marija hold their baby brother and will be a requirement for sibling photos, but I won't want other non-sibling littles holding him, if that makes sense. Strange, yes. But it's one of those things I'm thinking I won't budge on when Harrison is a newborn. I'm not a super huge fan of young kids holding or carrying around babies in general, but when it's my babies, I'm especially protective.  
Movement: Always =)
  Gender: Sweet baby boy ♥
What I'm looking forward to: Washing and installing Harrison's car seat. Last week Ry and I cleaned out and detailed the van and started rearranging seats. Franky's carseat got moved to the back center, Marija's stayed where it is in the center row and Harrison's is sitting in Franky's old spot in the center row. Last year, Ry got headrests with built-in DVD players as joint birthday presents for the kids and they're behind the driver's and passenger seat, so we're being mindful that the older kids can still watch from where their seats are. Ry is wanting to get Franky a booster seat in the next few months, so when that happens I'm thinking he and Marija will both get moved all the way to the back, Harrison will stay in the center row and then we'll have one open spot for passengers or as a convenient nursing spot when we're out and about.  
What I miss: Sleeping on my belly, having energy and going for runs. I am seriously excited to get back into working out and especially going for runs once my midwife gives me the all-clear after delivery.
  How I feel: Really good, overall.
Belly button in or out: In, but creeping closer to flat.
Labor signs: None, thank goodness!
Stretch marks: Just the old ones.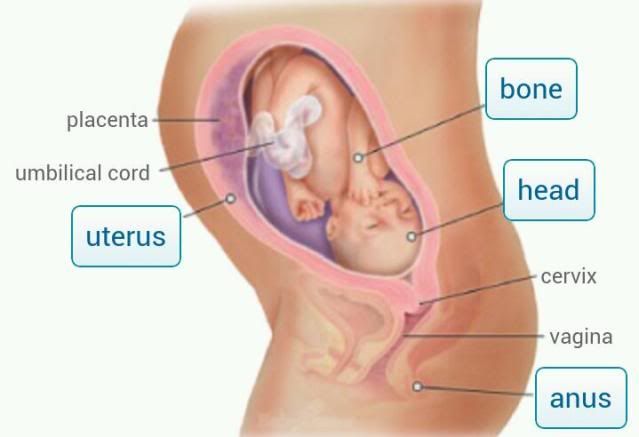 29 weeks (

babycenter.com

)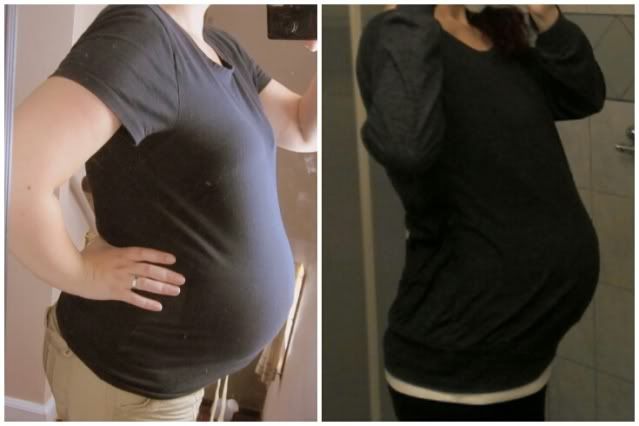 29 weeks with Marija (left) and Harrison (right). I never took a 29 week pic with Franky, unfortunately.