How far along: 28 weeks.


How big is baby/milestones: Baby weighs around 2.25 lbs, measures around 14.8 inches from the top of his head to his heels, and is about the size of a chinese cabbage.
Total weight gain/loss: 21 lbs total, putting me at 139 lbs.
Maternity clothes: Almost all of them. I'm really hoping I can stretch what I have out through the rest of my pregnancy because with just under 12 weeks to go, I don't want to buy anything else I know I won't wear for much longer.  
Sleep: I have a hard time shutting my brain off at night to fall asleep lately, but when I do finally knock out, I sleep well. When the kids go to bed, that's my time to relax and unwind so even when I'm dead-tired, I feel like I need to make the most out of the quiet time, when really I should just go to sleep when they do. I wake up at least once, sometimes more, to pee.
Best moment of the week: Finding out that Harrison is head-down and not having to take the 3-hour GTT.
Food cravings/aversions: Cheesecake (which I can't have until after Harrison is born - Gah!), trail mix, salads, crushed ice, any kind of fruit, the smell of Dial gold soap, aversion to the smell of breath of any kind - be it fresh or funky, can't stand the smell of it.

Symptoms:  Some sciatic nerve pain, braxton hicks, fatigue, irritability, some dizziness if I don't follow the modified diabetic diet. I'm following it 100% so far, but even when I'm taking in the carbs I'm allowed per meal, my blood sugar is always low when it's time to test. But if I increase the carbs per meal, then I feel like crap cuz my sugar spikes and drops rapidly. I guess better too low than too high, so I'm sticking with the plan for now.  
Movement: Always =)
  Gender: Sweet baby boy ♥
What I'm looking forward to: Rearranging car seats in the van to install Harrison's seat, washing a few more baby things, starting on packing the hospital bag and rearranging things in our room since we'll most likely still be with my in-laws when Harrison is born.
What I miss: Sleeping on my belly and cheesecake.
  How I feel: Really good, for the most part.  
Belly button in or out: In, but creeping closer to flat.
Labor signs: None, thank goodness!
Stretch marks: Just the old ones.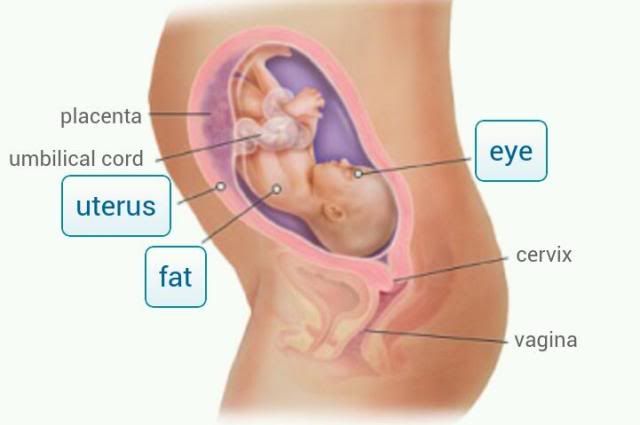 28 weeks (babycenter.com)
28 weeks Franky (left), Marija (middle), Harrison (right)