How far along: 25 weeks. It is seriously tripping me out that I have less than 15 weeks left. It seems like not that long ago I was just barely finding out I was pregnant and Spring felt like a lifetime away. Now it's right around the corner. Eek!

  How big is baby/milestones: From head-to-heel, baby is about 13.5 inches long, weighs about 1.5 lbs and is about the size of a rutabega (no idea what that even looks like, lol).
  Total weight gain/loss: 17 lbs total, putting me at 135 lbs, I think. I forgot to weigh myself this morning, but yesterday morning I was at 135.
  Maternity clothes: All of them, with the exception of a few pairs of pre-weight-loss/pre-pregnancy yoga pants and hoodies.
  Sleep: I sleep well once I fall asleep but have a hard time turning my brain off to fall asleep and still wake up at least once to pee.
  Best moment of the week: Finding out Harrison is okay and that I'm not a preterm labor risk right now.
  Food cravings/aversions: Greek yogurt with pineapple chunks, cold oatmeal with fruit, Tim Horton's potato soup, milk chocolate, orange juice with pulp.
  Symptoms: I learned that I probably have sciatica, thanks to Little Man sitting on a nerve. I had minor back pain when I was pregnant with Franky and Marija, but never sciatica. It's only on my right side, is sporadic and is mostly in one spot between my hip and butt. It feels like an ache that nothing gets rid of. Crazy! Also, Braxton Hicks, a bit of pregnancy insomnia, some dizzy spells (but only when I don't properly balance my carb-to-protein ratio), heartburn if I don't keep the meals in small portions, so I've been trying to eat 4-5 small meals a day instead of 3 big ones.
  Movement: Lots and lots. And I'm reading about belly mapping and can usually feel around and tell where his back and head are. Such an amazing feeling.
  Gender: Sweet baby Boy ♥
  What I'm looking forward to: The spotting and mucus plug loss stopping. Seeing my midwife in a few weeks and getting my one-hour glucose test out of the way. I'm going to talk to my midwife and ask if I fail the one-hour, that I can just assume I have gestational diabetes and skip the three-hour test, which is hell for me. I've failed my one-hour test every time in the past and had GD both times (undiagnosed with Franky), so if I fail it this time I'm going to just assume I have it again. It wouldn't disappoint me because I haven't had much of a sweet tooth lately and eat really well for the most part anyway, so it wouldn't be a super drastic diet change.
  What I miss: Sleeping on my back and belly, being able to cuddle with the kids in my lap comfortably.
  How I feel: Really good for the most part and really grateful for Harrison's health and safety.
Belly button in or out: Innie
Labor signs: Lost part of my mucus plug and am a fingertip dilated. Thankful that Harrison looks good and that I'm not at an immediate risk for preterm labor as long as I keep taking it easy.
Stretch marks: Just the old ones.
25 weeeks, babycenter.com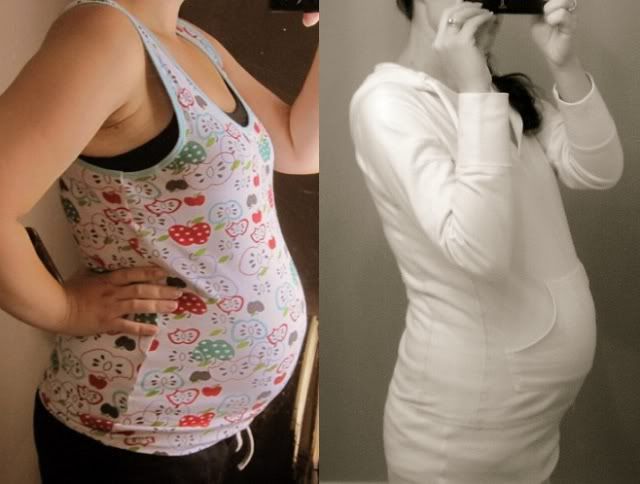 25 weeks with Marija (left) and Harrison (right). I never took a 25 week pic with Franky.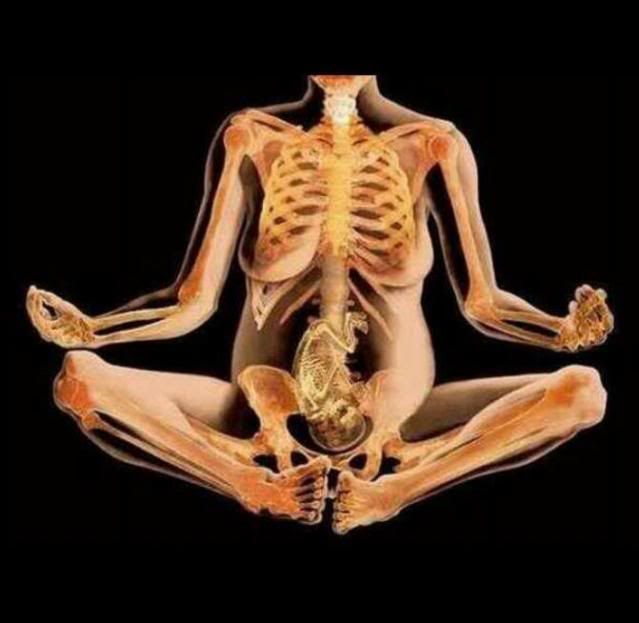 How amazing is this photo? I so wish I knew where the original image came from, but I found it on Instagram and the user saw it on facebook.