How far along: 21 weeks, which is crazy cuz I already feel like I've been pregnant forever but feel like it's flying by so quick all at the same time.

How big is baby/milestones: Baby boy weighs about three-quarters of an pound and is about 10.5 inches long - about the size of a carrot.

Total weight gain/loss:  14 lbs total, putting me at 132 lbs.


Maternity clothes: Yes, almost all of them. Although the outfit I'm wearing today (above pictures) is non-maternity, but pre-weight-loss size L clothes.
Sleep: Not as much as I'd like. I've been especially tired the last few days. Almost a week of the kids not sleeping as well as they usually do from a cold they had followed by a few nights of letting the kids stay up past bedtime and then a 4am wake-up call from my princess and I'm just tired. And tired for me equals impatience and a craving for quiet, which isn't always possible with a preschooler and a toddler. Maybe it's that they're especially whiny and clingy and argumentative with each other on days I have the patience for it the least or maybe it's because I'm feeling impatient that it seems worse than it actually is. Either way, I've been taking full advantage of quiet time, which for us is when Marija naps and Franky plays while I doze on the couch.
Best moment of the week:  Aside from lots and lots of crazy kicks and jabs from Harrison, I am loving the attention the kids are paying to their baby brother. Franky is very aware of the baby brother growing in my belly right now, whereas he didn't really get it when I was pregnant with Marija. He often asks to lay his head on my belly to feel for baby brother's kicks (which he has! He gets the biggest thrill out of it!) and talks a lot about how "baby Harrison is growing and kicking in mama's belly."
Food cravings/aversions: Still craving old-fashioned oats, run through a food processor until they're like powder, then mixed with almond milk and, lately, with banana slices. Also spiced chai tea sweetened with half & half.

Symptoms: Having to pee a lot more often, hungry a lot more frequently, pain in my umbilical hernia and diastasis recti, get tired more easily, breast soreness.
Movement:  Lots and lots and lots =)
Gender:  Boy, baby Harrison Ryan ♥ And he better stay a boy haha. I had a thought the other day that what if they were wrong and we sold and donated all those girl clothes and hung onto all the boy stuff only to have to turn around and buy girl stuff and sell the boy stuff. Gah! Ryan reassured me that he is most definitely a boy because the goods he flashed at our anatomy scan were definitely boy parts. What I'm looking forward to: Seeing Harrison during our follow-up ultrasound this week. I am excited to see him but for some odd reason, ultrasounds make me feel on edge anymore. I used to look so forward to them but I think ever since the NT scan and finding out we lost one of the babies, I subconsciously prepare myself for bad news before every scan, which is so not like me. I hate feeling that way because I know Harrison is fine and growing beautifully and nothing is wrong, but I'm still on edge. I am really hoping he's head down this time around. I know he can flip up until delivery day, but from 20 weeks on, Franky and Marija were both head-down, so it would put my mind at ease if Harry is head-down soon.
What I miss: Sleeping on my back and belly. Having energy for more than a day at a time.
How I feel: Tired, but good. And really grateful for Harrison's health and well-being as well as the health and well-being of Franky, Marija, Ryan and myself.
Belly button in or out: Innie.
. Labor signs: Nope!
Stretch marks: Just the old ones.
21 weeks,

babycenter.com

  The further I get into this pregnancy, the more it reminds me of my pregnancy with Franky. I still get queasy and nauseous every now and then and some foods just do not agree with my stomach. Like thin pasta noodles and hearty tomato sauce, which really bums me out because those are two of my favorite food items. Toss me some fetuccini alfredo and my belly is haaaaappy (for at least an hour before it's growling again), but give me some angel hair in tomato sauce and the heartburn and indigestion hit me like a mack truck to the stomach. The dizzy spells are starting again, just like they did with Franky. They aren't as frequent or as strong, but they are definitely there. I got the dizzy spells with Marija too, but they were mostly controlled by what I ate. If I stuck to a protein rich, minimal carb diet, then they were all but non-existent. This time around, even if I up the proteins and down the carbs, I still get a few dizzy spells a week. I am betting on another gestational diabetes diagnosis in a few weeks.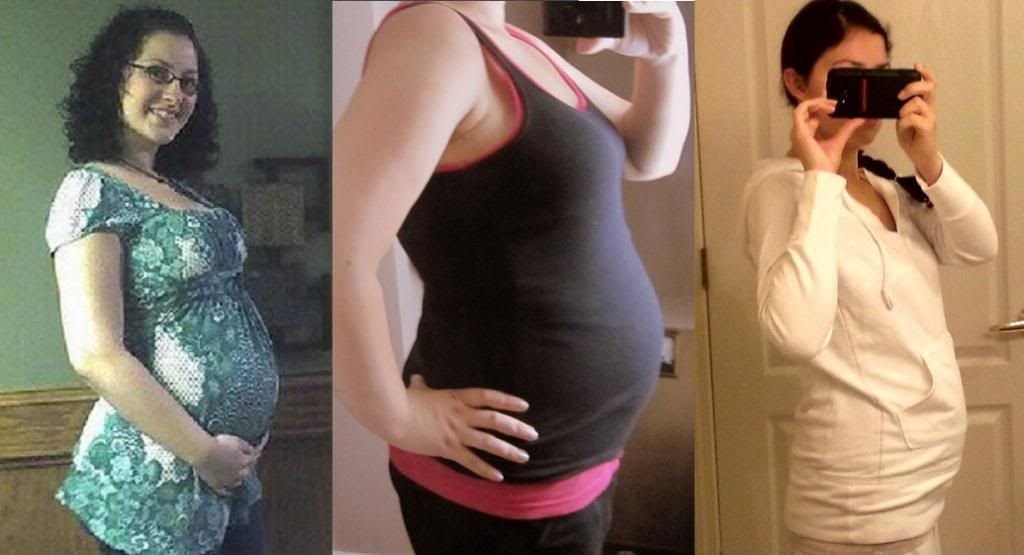 21 weeks, Franky (left), Marija (middle), Harrison (right).