How far along: 20 weeks, half way there!

How big is baby/milestones: He's about 10.5 oz now, is around 6.5 inches long and is about the length of a banana.

Total weight gain/loss:  13 lbs total, putting me at 131 lbs.

Maternity clothes: Yes, almost all of them. I do have a pair of yoga pants and a few size L lounge outfits that I wear around the house and will hopefully fit into for a few more weeks. Everything else is maternity.
Sleep:  I wake up at least once to pee or get more comfortable, but this week I've been waking up no less than 5x a night. The kids both have had colds for about a week and they don't always sleep well when they're stuffed up. Hoping for better sleep this week!

Best moment of the week:  Hanging Harrison's clothes up in the closet =)
Food cravings/aversions: No big aversions and mostly only craving things as they pop into my mind. The only constant cravings (which were the same ones I had when I was pregnant with Franky and Marija) are Jimmy John's Italian Nightclub and Corona with lime.

Symptoms: I have to pee a lot more, have some pain from my umbilical hernia and diastasis recti, breast tenderness, shortness of breath when I lay down and can't seem to get enough sleep.
Movement:  Lots and lots =) I can't remember the last time I used my doppler because he moves around so often that I don't worry much. I can't tell if it's his head or his little feet, but he does this weird thing where I can feel him jab my upper belly and cervix at the same time and it is the weirdest feeling ever. Marija used to do it a lot too and I swore one day she was gonna kick or punch a little hand out one day. I'm saying the same thing this time around too, haha!
Gender:  BOY =) Our little Harrison Ryan. Ry said the nickname "Harry" is growing on him. I might have to say it out loud a few times for it to feel right. I like "Sonny' and "Reese" more than "Harry," but I might have to meet him and see what fits best.
What I'm looking forward to: Rocking the belly over the holidays. I've never been pregnant over the holidays before, so I'm excited to be able to indulge in delicious holiday meals and not worry about sucking in right after. This year I can let it all hang out =)
What I miss: Sleeping on my belly.
How I feel: Really good for the most part.
Belly button in or out: Still an innie.
. Labor signs:  Nope!
Stretch marks:  Just the old ones.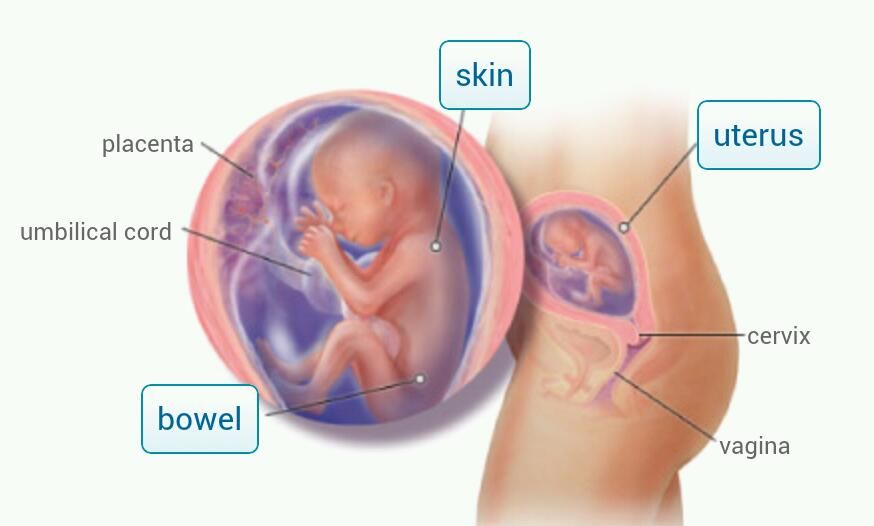 20 weeks, babycenter.com I've been thinking a lot about Harry's (trying to feel it out, haha) birth day lately and how different it will probably be this time around because I know what to expect. I'm really hoping for another unmedicated VBAC and as long as he's head-down on delivery day, that's how he'll be born. I'm not sure if Franky and Mimi will be present for his birth because I'm going to really want Ryan's help while I labor, like last time. And with my sister, who helped with Franky while I labored with Marija, being almost 3,000 miles away, I just don't know how it would work having the kids there. We still have to talk to my MIL and ask if she'll want to be present for Harry's (there it goes again!) birth and if so, see if either she'll help with the kids while I labor or if not, see if the kids will stay behind at home with her. I loved having her there when Marija was born because she'd had four natural deliveries of her own and it was comforting to have someone else on my team who had experienced it and knew what to expect. Somehow it eased my worries knowing she was there. I'm not sure if my mom will be there this time around as well as my cousin, Monica, who is Franky and Mimi's Godmother (she'll be Harry's Godmother as well).


20 weeks with Franky (left), Mimi (middle) and Harry (right) The further along I get, the more and more I realize just how differently I carried each of my babies. I wonder if I'd have carried so differently if I had started off at the same weight with each pregnancy. I started off with Franky at around 150 lbs, started with Mimi at around 173 lbs and started with Harry at 118 lbs. I'm also curious to know how I'll do weight-wise after Harry is born. I lost all of my baby weight with Franky and Mimi within two weeks of delivering, but then put it all right back on. I tend to hold onto weight when I'm nursing, so I wonder how that will work this time. I'm hoping this time if it all comes off after delivering that it stays off, haha! If Harry is born around the last week of March, then my 6 week follow-up would be at the beginning of May, which is when I'd be able to jump back into exercising so I can fit back into all my shorts and tanks from last summer (fingers crossed!).