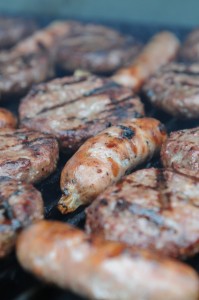 Joel Furhman, MD – Author of Eat for Health, Eat to Live, Cholesterol Protection and other nutritional books.
Disease Proof Your Child Part-1 (VIDEO)
Disease Proof Your Child Part -2 (VIDEO)
Dr. Furhman provided some food for thought in his recent newsletter.  I find it very interesting and a must share with you.
For those of  you who have children, especially young children, you will find this information very helpful.  Please share this information with others.
Get your children hooked on healthy foods instead!
Dr. Furhman includes a healthy alternative for a sweet treat or after school snack.
Pop'ems Stuffed Baked Apples – Serves 4
Ingredients:
4 Large apples
12 Dr. Furhman's Date Nut Pop'ems, any flavor
cinnamon
nutmeg
Instructions:
Using an apple corer, or sharp knife, core the apples. Squeeze three pop'ems together to form a log. Stuff the pop'ems in the center of apple. Place apples in a baking pan, and sprinkle apples with cinnamon and/or nutmeg. Bake at 375 degrees for 1/2 hr.
Another idea is to core an apple and spoon almond butter, cashew butter or peanut butter into the center and top with raisins and/or unsweetened coconut, or place a date/coconut roll in the center, instead of the nut butter. These may also be either baked or left as is.
DrFuhrman.com | 1-800-474-WELL(9355)
Copyright © DrFuhrman Online, Inc. 2009 All rights reserved.