What sort of exercises are good for drop sets?
Almost any weighted exercise could be performed using this method, but good ones to choose are those where the weight can be decreased quickly. This is where weight machines are particularly useful because you can just move the pin up the weights in the stack as you progress through the drop set. Dumbells can also be used (for example, for biceps curls) but the other folk in the gym might get a bit annoyed with you if you hoard all the weights. If you have a trainer or workout partner with you, they can help to unload barbells.
Below are a few examples of exercises that work well for drop sets, as well as the main muscles they involve:
1. Lat Pull-Downs: Simply move the pin up the stack as you progress. This works the latissimus dorsi, biceps and supporting mid-back muscles.
(Click for source)
2. Assisted Pull-Ups and Triceps Dips: Pull-ups work mainly the latissimus dorsi, as well as other supporting muscles in the back. Triceps dips will target the triceps (bet ya wouldn't have guessed that one), as well as the shoulders and chest. When using this machine, it helps to have a workout buddy who can quickly adjust the weight stack at the side as you move through sets.
Click for source
Click for source
3. Cable Chest Fly: This works the pectorals, as well as the deltoids and biceps. Again, simply move the pin further up the weight stack as you go.
Make this face too! (Click for source)

4. Barbell Squat: This one is best done with a partner who can offload the weight from each side of the barbell as you progress. The move targets the glutes, quadriceps and hamstrings.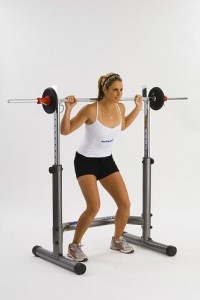 (Click for source)

5. Overhead Shoulder Press: This exercise can be used for drop sets focusing on the shoulders if you are training alone. If you don't have access to an overhead press machine but can use several sets of dumbells, seated overhead shoulder presses can be done instead.
Click for source
And that is your fitness education for today!! Time for me to head to work. I hope you have a fabulous Friday and a great weekend. See you back here on Monday!